Trump relented and ordered immigrant families be kept together — but it's a temporary fix
Amid growing outrage, President Donald Trump signed a hurriedly drafted executive order that addresses children being separated from their families.
Here's the thing, though: It was not immediately clear to what extent the order will actually halt separations long term.
What the order says: The order directs the Department of Homeland of Security to keep detained families together.
What the order doesn't address: Right now, the administration can detain families together for up to 20 days. This deadline is based on a 1997 settlement that restricts the detaining of children. After 20 days, authorities will have to separate children from their families, unless a judge or Congress takes action.
So what happens now? Trump's order directs Attorney General Jeff Sessions to file a request with the federal judge in California overseeing the 1997 settlement, to ask for changes that would allow DHS to detain families for as long as their cases are pending.
As for the children already separated, there are no immediate changes planned for them. A spokesperson said, "It is still very early and we are awaiting further guidance on the matter."
Meanwhile, UK Prime Minister Theresa May and the Pope have criticized the child separation policy.
Former president Barack Obama finally addressed the policy, saying, "Are we a nation that accepts the cruelty of ripping children from their parents' arms, or are we a nation that values families, and works to keep them together?"
You should also know that a Facebook fundraiser to help immigrant kids has raised nearly $16 million as of this writing — donations were pouring in at a rate of $4,000 a minute. Here's what they plan to do with it.
And notably, airlines don't want to be used to transport immigrant children separated from their parents.
A white police officer shot and killed a black man. Then he successfully sued the city for discrimination.
The 2015 police killing of Ricky Ball rocked Columbus, Mississippi. The cop who shot him, Canyon Boykin, was fired and indicted on manslaughter charges. Then he sued — and settled with — the city for racial discrimination.
Boykin said he was unfairly fired for being a white cop who'd killed a black person, and received an undisclosed amount from the city. He has yet to go to trial — but he could walk away without punishment.
Boykin claims he was a victim of "uninformed public pressure." He would not have been fired, his lawsuit stated, "except that he is white and the deceased was black."
Mississippi is one of 16 states yet to update its police deadly force statutes to meet constitutional requirements, meaning it's nearly impossible for an officer to be found guilty of murder or manslaughter.
SNAPSHOTS
The company that owns Tinder just bought one of Tinder's biggest rivals. The dating app Hinge positions itself as a less sleazy, more friendly version of Tinder. Now it's been purchased by Match Group, the company that owns Tinder, along with OkCupid, Match.com, and PlentyOfFish. Yes, that's right, all of the love you find comes from the same company, and nothing is real.
Gina Rodriguez is using her Jane the Virgin money to cover tuition for an undocumented student. The money was allotted to her campaign for an Emmy nomination — such campaigns usually cost what Rodriguez described as an "insane amount of money," spent on styling and makeup for attending events. Rather than do the same sort of campaign for a fourth time, Rodriguez asked if the money can be used to pay for a scholarship. Now that money will cover the Princeton tuition for an undocumented student.
It's official! Pete Davidson has finally confirmed his engagement to Ariana Grande. The internet has been filled with rumors that the Saturday Night Live comedian and the pop star got engaged, but Davidson and Grande have been quiet about it until now. Davidson was a guest on The Tonight Show Starring Jimmy Fallon last night, and Fallon asked him how he's handling it all. Davidson's response: "It's fucking lit, Jimmy. It's so lit."
There is a Creed II trailer now. And it looks so good.
All Amazon Prime members can now try clothes at home before paying for them
Amazon Prime Wardrobe, a service that lets you order sets of clothes without paying for them so you can try them at home, and return within seven days if you don't like them, will now be available to all Prime customers in the US.
Like all big moves from Amazon, there is a strategy and a timing behind it — making Prime Wardrobe available to all Prime members comes just as the online retail giant is ramping up its push into fashion, with its own private-label brands.
By 2021, some analysts believe Amazon will be the top apparel seller in the US, pullig in an estimated $62 billion in annual apparel sales. That puts it comfortably ahead of TJ Maxx and Macy's.
Can't wait to walk in to the Amazon grocery store with my Amazon shirt and my Amazon shoes to buy an Amazon avocado. The future: not what you thought it would be.
This Japanese grandma overheard a Colombian soccer fan practicing "congratulations" in Japanese and gave the fan her lucky kimono
Remember yesterday, when I said I was bad at being a cynic? Well, I'm on a streak here.
This is another World Cup story. A 71-year-old Japanese grandmother got to witness her team defeat Colombia on Tuesday.
As she was leaving the stadium, she noticed a Colombian soccer fan practicing how to say "omedeto" — "congratulations" in Japanese — and she was so touched by this, she gave the young woman her lucky kimono.
People can't stop ugly-crying over this story and I can't blame them.
Just look at the pair: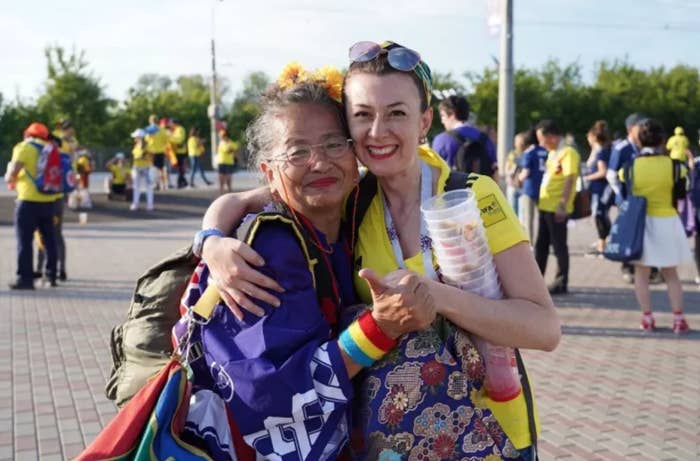 Enter your email below to sign up for the BuzzFeed News newsletter: