They wanted the world to pay attention to migrants. But the attention came at a price.
In this newsletter, we've extensively covered the caravan of hundreds of migrants traveling from Central America to the US border to seek asylum.
At first, the aim of those organizing caravans was to draw attention to the criminal assaults that vulnerable migrants endure along the way. But then the goal shifted.
They mapped out safe routes for the migrants to take. They established safety practices, like training people in how to run security perimeters to keep from being victimized by gangs of thieves and worse.
With this most recent caravan — ranging from 1,200 to 1,500 migrants — things were different. The sheer size of the caravan made the trek safer because they were able to walk in the open.
Then with a tweet from Donald Trump, everything changed. It was unprecedented attention: The glare of international spotlight upended the usually unseen journey of Central Americans fleeing to the US. Cameras every day. Phones ringing on repeat.
Now, in an incredible piece, our reporter Adolfo Flores — who traveled with the caravan — has delivered the inside story of a long walk under the lights.
Quick brief:
PSST
There is a question on the census this year that's freaking people out — because it's never been asked before. That question is, "Is this person a citizen of the United States?"
On our new podcast The News, our reporters lead a thoughtful discussion about the implications of this question. Spoiler alert: It's major drama. The episode is so good. You can find it on Apple, Google Play, Spotify, or wherever you get your podcasts.
Two Trump stories you need to know about
The first: Trump lawyer and human headline magnet Rudy Giuliani said that President Trump "probably" has the power to pardon himself in connection with the Russia investigation.
Giuliani told George Stephanopoulos on ABC's This Week that "He has no intention of pardoning himself but he probably — not to say he can't." He also noted that if the president pardoned himself, it "would lead to, probably, an immediate impeachment."
The second: Trump has uncanceled his Singapore meeting with Kim Jong Un. Despite a will-they-or-won't-they narrative arc that's been more dramatic than The OC, the North Korea summit is once again set for June 12.
While we're on this, a North Korean official hand-delivered a letter from Kim. The letter is very, very big. The internet had jokes. Seriously, look at how big the letter is: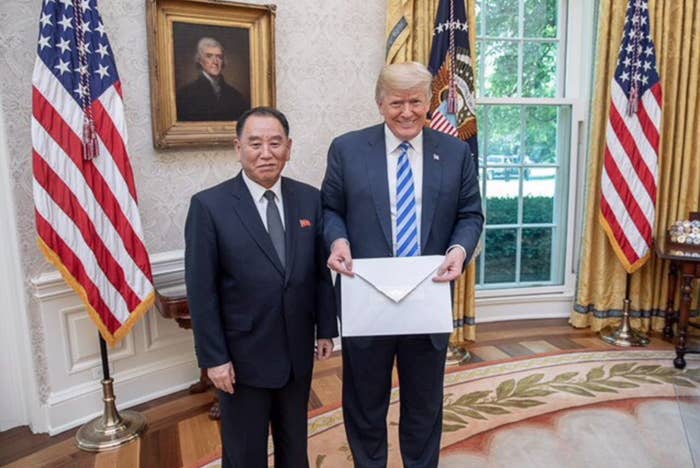 Taylor Swift gave a moving speech about Pride Month and people absolutely loved it
Taylor is currently on her Reputation tour. On Saturday, at a show in Chicago, before performing "Delicate" (her best song — I'm willing to die on this hill), she gave a speech to mark LGBT Pride Month.
From the speech: "It's very brave to be vulnerable about your feelings in any sense, in any situation. But it's even more brave to be honest about your feelings and who you love and that you know that that might be met with adversity from society."
Taylor added that "this is a month where I think we need to celebrate how far we've come but we also need to acknowledge how far we still have left to go."
People were really moved by Taylor's speech, which she apparently delivered while wearing a rainbow dress.
Blast from the past
The sports world has been comfortable with pressuring and ostracizing athletes since long before the NFL was punishing players for making political statements by taking a knee.
Our series Future History 1968 brings an eventful year in news to life on your phone. The newest episode explores when Muhammad Ali won it all — and lost it all — during a turbulent time for civil rights. You should watch it.
Google backs away from controversial military drone project
A few weeks ago, about a dozen Google employees quit in protest over the company's involvement in something called "Project Maven."
Beyond the cool name, the project was a controversial contract that Google had with the Pentagon to use the tech company's artificial intelligence technology to speed up analysis of video images, and it could be used to improve the targeting of drone strikes.
Google's involvement ends in 2019, and now the company says it will not pursue it further. It's been widely reported that the drone project has sparked an identity crisis inside the company.
People are praising Benedict Cumberbatch for saving a cyclist from four muggers
An Uber driver said he was taking Benedict Cucumberblanche and his wife to a club, when Camberbob "saw four guys were pushing around a Deliveroo cyclist."
That's when Cambosquash left the car and got involved, "pulling the men away." The driver said it was "surreal" to see "Sherlock Holmes fighting off four attackers just round the corner from Baker Street."
The incident happened in November. When reached for comment, and I'm not making this up, Cumberbatch told the Sun, "I did it out of, well, I had to, you know..." As you might expect, the internet can't stop loving the man.
Until someone can tell me in one sentence or less what exactly Dr. Strange's superpower is, I vote we make Cumberbatch the hero we need. (If you think you can manage this, hit the reply button.)
Be brave,
Elamin
Enter your email below to sign up for the BuzzFeed News newsletter: