Self-preservation is trumping loyalty in Trump's world
The story of the last few weeks in President Donald Trump's life can be understood through the prism of eroding trust.
In the last week alone, former loyalist Omarosa Manigault Newman made tapes public, and the New York Times reported that White House counsel Don McGahn was fully cooperating with the special counsel's probe.
Our reporter Tarini Parti wrote a deep analysis of the pressures the president is facing: "Trump … has learned, especially in recent weeks, how fickle his allies can be, and he is making his frustration and paranoia clear."
The consequences of this are not theoretical: According to two sources close to the White House, there's now widespread speculation in the president's orbit of how long Trump will continue to stick with McGahn. On the other hand, removing McGahn over his cooperation with Robert Mueller's probe could expose Trump to even more risk from investigators.
As Parti notes, "The list of loyalists turned rats or potential loyalists turned rats in Trump world is growing."
#MeToo leaders react to Asia Argento reportedly agreeing to pay off a man who said she sexually assaulted him as a teen
Asia Argento was one of the first actors to accuse movie mogul Harvey Weinstein of sexual assault. She became one of the faces of the #MeToo movement. This week, the New York Times reported that Argento paid off a man who accused her of sexually assaulting him.
Leaders of the movement emphasized the need to press on with the movement's work in light of the story. Tarana Burke, who founded the #MeToo movement, commended the "brave young men" coming forward with their accusations as part of the movement.
Burke tweeted, "Sexual violence is about power and privilege. That doesn't change if the perpetrator is your favorite actress, activist or professor of any gender. And we won't shift the culture unless we get serious about shifting these false narratives."
Rose McGowan wrote that she and Argento had bonded over "the shared pain of being assaulted by Harvey Weinstein." She added, "My heart is broken. I will continue to work on behalf of victims everywhere."
SNAPSHOTS
The Confederate "Silent Sam" statue at the University of North Carolina was torn down by protesters. Around 300 protesters marched through Franklin Street in Chapel Hill, before eventually gathering around the base of the statue, chanting "hey, hey, ho, ho, this racist statue has got to go." By 9:30 p.m., the statue had been torn down and protesters buried its head in dirt. According to reports, a small group used a rope to bring the statue crashing down.
A teacher was suspended for posting her pole dancing video on her private Facebook page. Kandice Mason, a North Carolina teacher and part-time pole dancing instructor, was suspended after a Facebook video she posted of her performing in her home was forwarded to administrators. Mason said that she has been pole dancing in her home for years, to exercise and de-stress, and had already taken steps to make her Facebook more private. When we asked for comment, a school representative didn't give specifics, but cited a policy that employees should be "role models," even when not at work. Mason holds three degrees: a master's in psychology, a bachelor's in English, and a certificate in phlebotomy.
Surprise: Kevin Spacey's new film was an absolute flop of epic proportions. The film, Billionaire Boys Club, made $618 in its opening weekend. Yes, you read that right.
Measles cases have hit a record high in Europe, according to the WHO. The numbers are staggering: More than 41,000 children and adults in Europe have been infected with measles since January, and 37 people have died. The World Health Organization says the number of cases during the first six months of 2018 was higher than any other annual total in the past decade. Health experts are concerned about poor immunization coverage and inadequate disease surveillance.
The man accused of killing his pregnant wife and two daughters allegedly confessed. Christopher Lee Watts of Colorado told investigators that he strangled his spouse after seeing that she had done the same to their children, according to court documents that were unsealed yesterday. Despite Watts' alleged description of the incident, prosecutors charged him with killing all three victims. Prosecutors charged Watts with five counts of first-degree murder, one count of unlawful termination of a pregnancy, and three counts of tampering with dead bodies.
Trump called on a Latino border patrol agent and remarked how he "speaks perfect English." It happened at an event honoring federal immigration agents. The president invited US Customs and Border Protection agent Adrian Anzaldua to the podium to say a few words. As Anzaldua came up, Trump said, "You're not nervous, are you?" and, apropos of nothing, added, "Speaks perfect English." It's not clear why the president made the comment as Anzaldua walked up to the podium, and the White House did not respond to a request for comment.
The MTV Video Music Awards happened last night! A bunch of highlights: Some people are mad that Madonna made her tribute to Aretha Franklin about herself; Ariana Grande brought her mom and grandma onstage, which is adorable; Tiffany Haddish shaded Fifth Harmony, so Nicki Minaj stood up for Normani; Teyana Taylor has more abs than I can count. But let's be honest here — what you really want is the super awkward moments.

Beto O'Rourke could be the Democrat Texas has been waiting for
If we play word association, and you say "Texas," it's unlikely that "Democrat" will end up in my top 10 words. Actually, make that 20.
Beto O'Rourke is out to change this. Not in the playing sense — he's audacious enough to think he can become the first Democrat to represent the state in the Senate in 25 years. To do so, he'll have to unseat Sen. Ted Cruz.
Here's the thing: What seemed impossible six months ago appears to be entering the realm of viable, actual possibility. In a state that has consistently voted for the other team for the last three decades, recent polling places O'Rourke just two to six points behind Cruz.
Anne Helen Petersen wrote a fantastic profile of O'Rourke, as his campaign blazes across the Lone Star State. From that profile: "A Beto O'Rourke speech … makes people believe … that the country doesn't have to feel the way it does right now, that people who think differently can still have a conversation, that you can be conservative and vote for a candidate without an 'R' beside their name."
This newlywed's coming out message to her younger self will leave you emotional
Before Grace Baldridge set off on her honeymoon with her new wife, Elizabeth, she tweeted out a lovely thought. Then she stopped checking her phone.
By the time she checked it again, her tweet had over 40,000 retweets.
That's because the tweet contained two photos — one of her with three best friends on prom night, and the other with the same friends on her wedding day. The caption was a simple letter to herself: "I know you're afraid to come out to your friends now. But don't worry. They're gonna be your bridesmaids one day."
The internet is in love with this heartwarming story.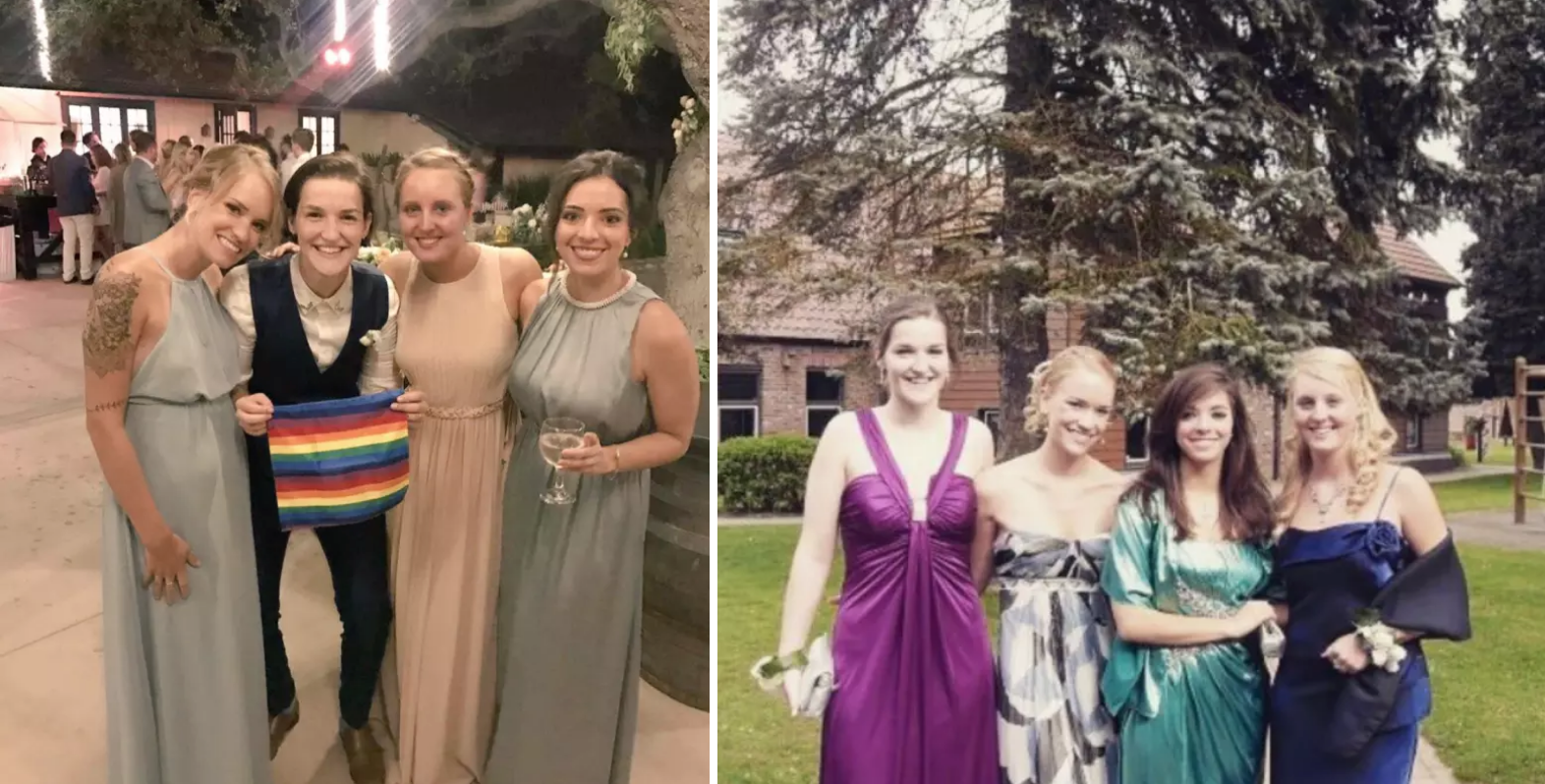 We asked Grace if she had any advice for her past self. She said, "I'd say, 'When you outgrow the dark, lonely security of this closet you've built, when you feel brave enough — your friends are waiting for you right outside. They've been there this whole time. Whenever you're ready.'"