Russian intelligence officers have been indicted for hacking Hillary Clinton's presidential campaign
A dozen Russian military officers were indicted Friday by a federal grand jury for hacking the Clinton campaign and two Democratic organizations. The indictments are the latest to come out of special counsel Robert Mueller's office.
The defendants, all members of the Russian intelligence agency GRU, are accused of conspiring to hack into computer networks, steal documents, and orchestrate their release with the goal of interfering with the 2016 presidential election. The indictment also alleges a scheme to hack into state government networks to steal voter information.
Here are the names of the Russian officers and exactly what they're accused of doing. Friday's indictment brings the total number of Russians accused of interfering in the 2016 election to 25.
The indictment says that on the same day that President Donald Trump asked Russia to hack into Clinton's emails, Russia did in fact try to do just that.
The fallout
Trump is, of course, meeting with Russian President Vladimir Putin today. The White House said the indictments wouldn't stop the meeting from happening. A source close to the administration told us the timing "makes for good TV."
Meanwhile, senators had urged Trump not to go ahead with the Putin meeting. Republican Sen. John McCain said, "If President Trump is not prepared to hold President Putin accountable, the summit should not move forward."
Speaking of the meeting...
Here's what to expect from Trump's summit with Putin
The two leaders just met in Finland, as Trump continues his international man of mystery tour that started last week with a two-day NATO summit, followed by a UK visit.
Putin and Trump will take part in a joint press conference after their talks. Experts expect Putin and Trump to discuss NATO, as Putin views the organization's expansion as a provocation. The two leaders will also talk about sanctions that the US has placed on Putin's "inner circle." Here are five other topics to watch out for.

The Trump diplomacy doctrine continues to unfold — British Prime Minister Theresa May revealed the president's private Brexit advice to her: He told her to sue the EU.
SNAPSHOTS
A woman killed her father after discovering his child porn photos of herself and kept it secret for 12 years. Barbara Coombes was sentenced to nine years in jail for killing her father, burying his body in his garden, and keeping it a secret for more than a decade. Coombes was gardening at her father's home when she discovered explicit and indecent photos of children, including those of herself. According to court proceedings, Coombes suffered 40 years of verbal, physical, and sexual abuse at the hands of her father before she "snapped," hitting him with a shovel. She buried her father in the garden, only meters away from her bedroom window.
France beat Croatia to win the World Cup. The French are champions of the biggest event in soccer after a 4–2 victory over dark horse Croatia. This is the second time that France has lifted the trophy, the first being in France 20 years ago. And because it wouldn't be the World Cup final without drama, Pussy Riot ran onto the pitch in protest during the game.
It's Amazon Prime Day, and retailers are planning their own deals to compete with the online shopping giant. Retailers like eBay, Target, Kohl's, and Forever 21 are offering discounts around Prime Day to rival Amazon. Now that Amazon counts more than 100 million Prime members, retailers feel pressure to compete with sales events like Prime Day, or else they risk losing their share of consumer spending. By the way, if you're planning to shop the Amazon Prime Day deals, you can support our journalism at the same time by starting here.
A diver who rescued boys from the flooded Thai cave said Elon Musk's submarine plan was a publicity stunt. British rescuer Vern Unsworth said the tech mogul could stick his submarine "where it hurts." Musk had made headlines with news he had designed a mini sub designed to carry the boys to safety. Unsworth, who was involved in the operation, said the submarine "had absolutely no chance of working." His comments didn't sit well with Musk, who attacked Unsworth and challenged him. Musk bizarrely called him a "pedo guy."
Scarlett Johansson quit that movie where she was set to play a trans man. The actor announced she's stepping away from the role in Rub and Tug after mounting backlash. Johansson's casting was criticized by trans actors Trace Lysette and Jamie Clayton, who expressed their disapproval of cisgender people portraying trans people, citing how few roles there are for trans actors. In a statement, Johansson said, "I've learned a lot from the community since making my first statement about my casting and realize it was insensitive."
Queer Eye has been renewed for a third season, and this time they're going to a new city. The Fab 5 will be leaving their Atlanta loft and heading to Kansas City, Missouri. We don't know a lot yet, but we do know we're getting eight new episodes. Yaaass, henny.
Downton Abbey is being turned into a film, and the whole cast is coming back. After the show ran for six seasons, it's now getting the movie treatment. Production is set to begin this summer.
Meghan Markle and Kate Middleton went to Wimbledon together for their first event as sisters-in-law. The two royals arrived to watch the women's singles final between Serena Williams and Angelique Kerber. Serena is, of course, an old friend of Meghan's, and attended her wedding to Prince Harry. Kate is the official royal patron of Wimbledon, having taken over that role from the Queen in 2016.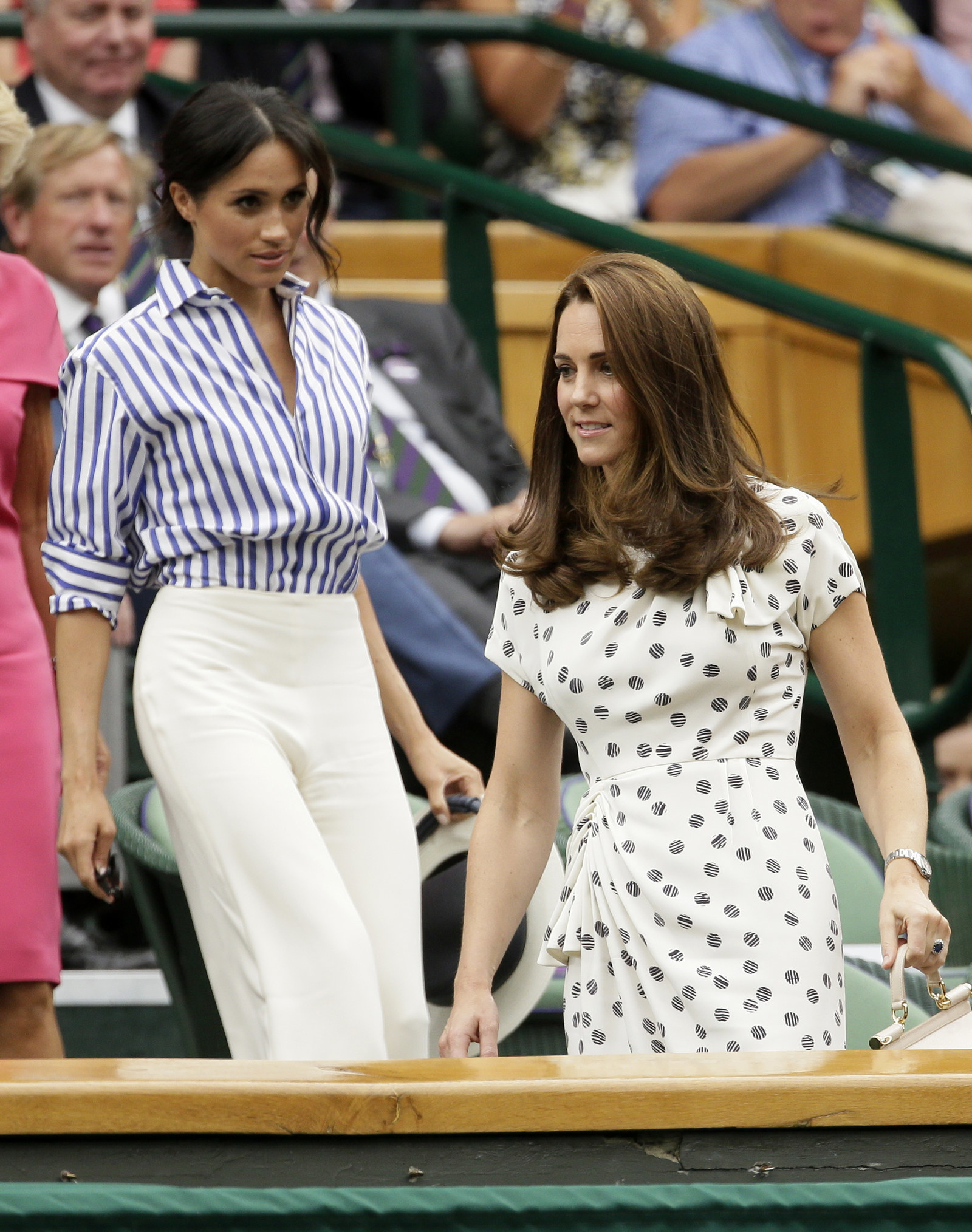 The #PlaneBae saga ended with a statement from the woman asking to be excluded from this narrative
You remember the story — a woman documented the meeting of two strangers on a plane, and it went viral.
Now, in a statement released through her lawyer to maintain her anonymity, the woman whose encounter was documented says her personal information has been made public, and she has been "doxxed, shamed, insulted and harassed," in part because of "patently false information" about her private life.
The woman stressed that "#PlaneBae is not a romance — it is a digital-age cautionary tale about privacy, identity, ethics and consent."
Rosey Blair, who originally tweeted the story, has apologized for taking away the woman's story, saying that turning it into her own "was wrong on many levels." There's a massive backlash against her for sharing the saga.
Serena Williams' husband paid an emotional tribute to her after she lost the Wimbledon final
This weekend, Williams missed out on another Wimbledon title to Angelique Kerber. It has been a long road to recovery for Williams, who almost died giving birth to her daughter, Olympia, 10 months ago.
After her loss, Williams said: "It's obviously disappointing, but I can't be disappointed. I have so much to look forward to. I'm literally just getting started."
Williams added, "To all the moms out there, I was playing for you today, and I tried."
Her husband, Alexis Ohanian, cofounder of Reddit, wrote on Instagram: "Days after our baby girl was born, I kissed my wife goodbye before surgery and neither of us knew if she would be coming back. We just wanted her to survive — 10 months later, she's in the #Wimbledon final."
He ended his post with, "She's just getting started. And I couldn't be more proud." People really loved the touching tribute.