Morning Update: To Reiterate, None Of This Is Normal
US mercenaries kill politicians in Yemen, Elizabeth Warren's genetic test, a new migrant caravan is coming. Your BuzzFeed News newsletter, Oct. 16.
US ex-soldiers worked as mercenaries to kill politicians in Yemen
The United Arab Emirates hired US ex–special ops soldiers to carry out targeted assassinations in war-torn Yemen, a BuzzFeed News investigation reveals.
These elite US fighters were given years of specialized training by the US military to protect America. But then they worked for a different master: a private US company hired by a tiny desert monarchy to kill political rivals.
This isn't normal, right?
No, it's not. To give you an idea of how wild this is: We contacted an ex-CIA official who worked in the UAE, and he didn't believe Americans would be allowed to participate in such a program.
But after checking, he called back astonished and described it as "almost like a murder squad."
Private mercenaries operate outside the US military's chain of command and there is no clear system for holding them accountable.

There's also the question of who is a terrorist and who is a politician — and who gets to choose.
The American mercenary company's first target in Yemen was a local leader of Al-Islah, which the UAE considers an arm of a terrorist group. But many experts insist it's a political party.
Who organized this?
The company, Spear Operations Group, was incorporated in Delaware and founded by Abraham Golan, a Hungarian Israeli who lives near Pittsburgh. Despite the murky legality and ethical concerns, Golan fully admits to his involvement.
"I was running it. We did it," he said.
Golan said his team is no "murder squad," and its targets were legitimate partly because they were deemed terrorists by a US ally. But one of his top lieutenants said he couldn't rule out that a target might just be someone the UAE crown prince "didn't like."
Elizabeth Warren took a genetic test and says the results prove she has Native American ancestry
In a slickly produced video, Sen. Elizabeth Warren made public the results of a genetic test, offering it as proof of her Native American ancestry.
The results were reviewed by a professor of genetics at Stanford, who concluded that she "absolutely [has] Native American ancestor in [her] pedigree."
The wider context here: The test comes after Warren, a possible contender for the 2020 Democratic Party ticket, was repeatedly mocked by President Donald Trump for claiming Native American heritage. The president has referred to Warren as "Pocahontas" often.
This is not normal: A reporter asked Trump if he would now make good on a promise he made to donate $1 million to a charity of Warren's choosing if she took an ancestry test that proved she had Native American ancestry. After initially denying making the promise, the president said, "I'll only [donate] if I can test her personally. That will not be something I enjoy doing either."
Focus on the big picture: Warren's fight on Trump's terms shows exactly why the president will dominate the Democratic primary, writes Ben Smith: "Trump retains quite a bit of real estate in all of our minds. But that doesn't mean he should be the editor-in-chief of every publication, the president of every network."
SNAPSHOTS
A caravan of 1,600 Honduran immigrants has crossed into Guatemala, hoping to reach the US. It's the second caravan of this size to head toward the United States this year. In March, a group of at least 1,200 Central Americans departed toward the US from near the Mexico–Guatemala border, triggering an angry reaction from the Trump administration. It was not clear whether this new group would be allowed to travel all the way to the US border.
The NYPD plans to charge at least nine Proud Boys and three leftist protesters with riot and assault. The announcement comes after police were heavily criticized over the weekend for their response to the riots in New York City's streets. The chief of detectives showed previously unreleased footage of the clashes between the two groups, which shows the protesters throwing a bottle at a group of Proud Boys, who are wearing their signature uniform of black and yellow Fred Perry polo shirts and red Make America Great Again hats. The Proud Boys responded by throwing them to the ground and beating them.
Hillary Clinton said that Bill's affair with an intern in her twenties wasn't an abuse of power. She made the comment in an interview with CBS Sunday Morning, and added that her husband was right to have not resigned. Clinton received some pushback from the host: "There are people who look at the incidents of the '90s and they say, 'A president of the United States cannot have a consensual relationship with an intern; the power imbalance is too great."" Clinton responded that Monica Lewinsky "was an adult" and added: "But let me ask you this: Where's the investigation of the current incumbent?"
A woman was fired after a video showed her blocking a black man from entering his apartment building. In three videos posted to Facebook by D'Arreion Toles, the man who was followed, the woman is first seen blocking Toles' entry into the downtown building, demanding to know which apartment he lives in. Then she follows Toles to his door. The incredibly awkward and uncomfortable videos have been shared more than 140,000 times. The woman, identified as Hilary Brooke Mueller, was fired from her job.
Sears has filed for bankruptcy and plans to shut down 142 more stores. Sears Holdings, which owns Kmart as well as its namesake stores, made the announcement after several years of dwindling sales and mounting debt. Farewell, old friend — people remember the wonderful, weird, and sometimes bad things about Sears.
Piers Morgan mocked Daniel Craig for parenting his daughter, and people aren't here for it. Professional foot-in-mouth-putter/TV personality Piers Morgan fired off one of the many tweets he shouldn't have fired off yesterday after a photo of Daniel Craig wearing his baby daughter surfaced. Morgan, apparently newly anti-parenting, seems to believe that tending to small children is somehow a violation of Craig's James Bond duties. He hashtagged his bad opinion with a bad hashtag, #emasculatedBond. People rightfully took Morgan to task for the dreadfully dim thing he decided to share. I didn't reach Morgan for comment, but he's probably somewhere beginning sentences with "a real man would...". At any rate, here's Morgan's tweet: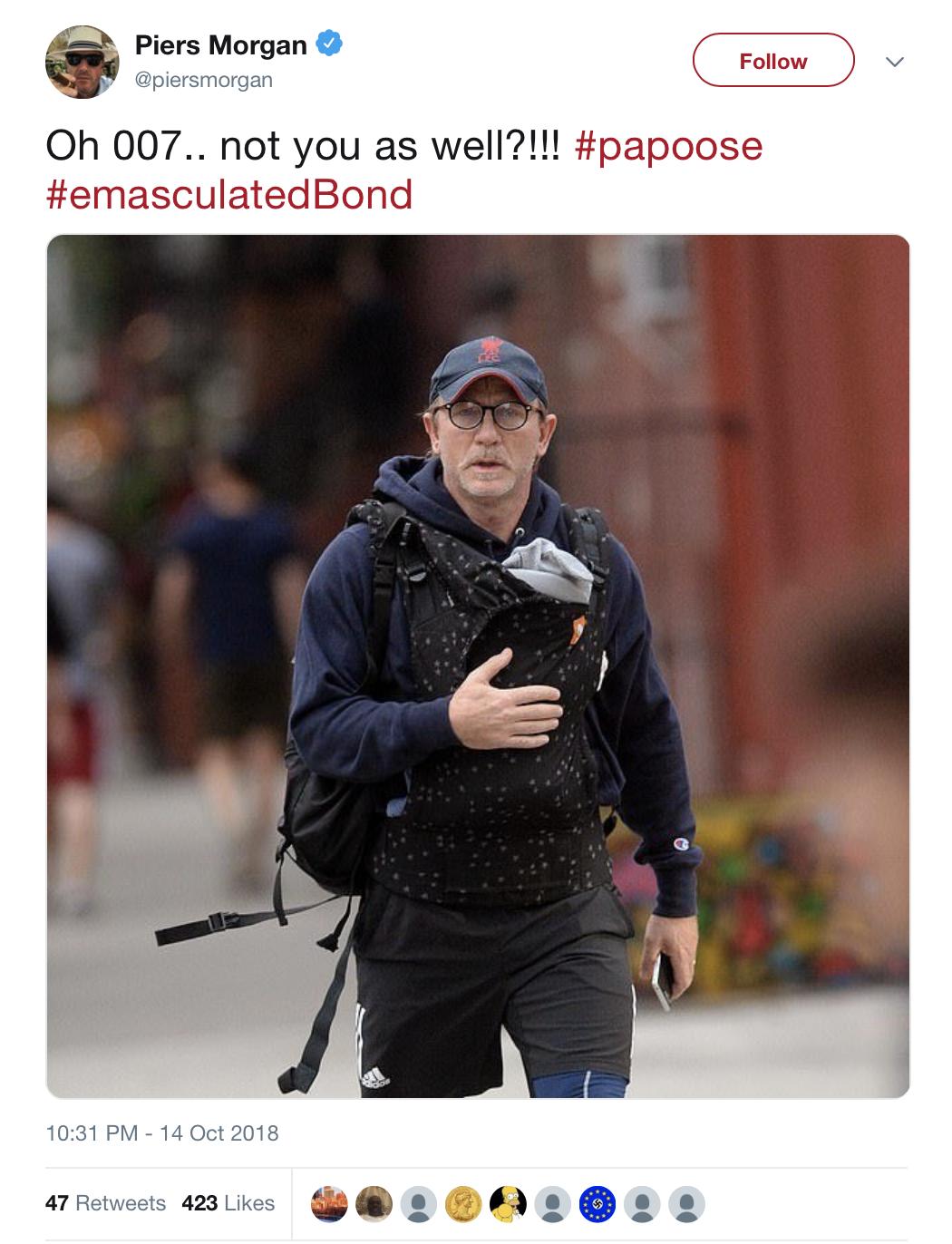 The Google Pixel 3 is a very good phone. But maybe phones have gone too far.
When did this happen? When did we get cool slabs of metal attached to our hands and learn to stare at the devices in our palms and not at each other?
These questions are rhetorical, of course: You're probably reading this on one of those devices, because they've done a lot for us; they've connected us in ways we never thought possible.
But as companies feel the pressure to keep producing new devices, the improvements inevitably get smaller, more incremental. Meanwhile, the time we spend thinking about our relationships with those devices is diminished.
Which brings me to Mat Honan's review of the new Google Pixel phone. Honan's review is that the phone is a good phone — he recommends it, even — but it's also tinged with the existential. What the hell are we doing, Honan asks, and when did we decide this is how we want to live?
It's a review that's so much more than a review and it's well worth your time.
These Muslim girls entered and won a Marvel cosplay competition and people love them
The joy of people showcasing their cosplay talent is a wonderful thing, and it was on display this past weekend at the New York Comic Con.
Maliha Fairooz, a student mental health therapist, convinced her friends to dress up as all the Avengers and enter into a cosplay competition. The group turned heads at the convention — and won the competition — but their cosplay skills would take them even further: They got viral love for their mad skills and for nailing their costumes.
Here they are, killing it: