Vladimir Putin denied having compromising information on Donald Trump
No one thinks that went well.
Yesterday, after private one-on-one meeting lasting two hours, President Donald Trump and Russian President Vladimir Putin delivered a joint press conference that occasionally veered into the absurd. Putin denied that Russia has any compromising information on Trump, claiming that when Trump visited Moscow in 2013, "it would never occur to anyone that he would think of running for president."
Trump, for his part, said he doubted Russia interfered with the 2016 presidential election — even though US intelligence services said that it was the case. On top of that, special counsel Robert Mueller, who is investigating collusion between Trump's campaign and the Russian government, has levied charges that say Russia did interfere.
Asked outright whether Trump believed his own intelligence agencies or Putin on the question of meddling in the US election, the president said, "He [Putin] just said it's not Russia. I will say this: I don't see any reason why it would be." Trump repeatedly slammed the FBI and Mueller's investigation as the real enemies.
The fallout
Fox & Friends weekend host Abby Huntsman — who is the daughter of the US ambassador to Russia — said Trump threw his country "under the bus" for Putin.
John McCain said Trump is "unwilling" and "unable" to stand up to Putin, and that "no prior president has ever abased himself more abjectly before a tyrant."
McCain's not alone among Republican politicians — many of them think the press conference was "disgraceful," and blasted Trump's defence of Russia.
At one weird moment, Putin gave Trump a soccer ball as gesture to celebrate the World Cup. Trump tossed it to Melania, saying their son Barron will have it. Here are 10 other totally normal things that happened during the joint press conference.
The last word goes to our reporter Emily Tamkin, who filed this piece of analysis on the ways Putin owned Trump: "It was Putin who walked away looking the master strategist."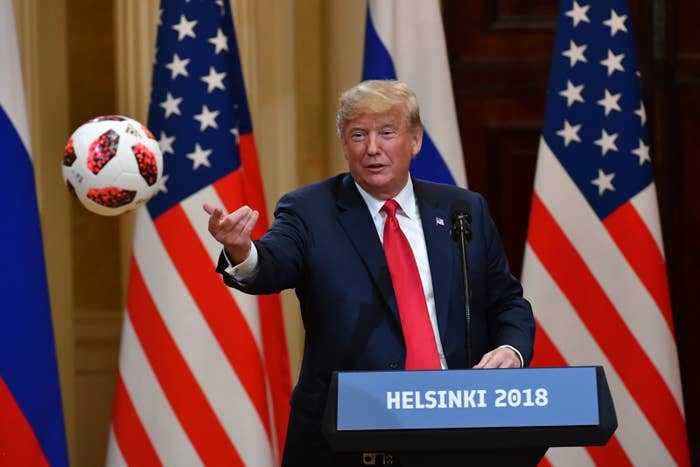 A judge has temporarily stopped the Trump administration from deporting reunified families
The US government is still in the process of reuniting children separated from their families, under significant pressure to meet a judge's deadline set for next week.
While the process of family reunification is ongoing, the American Civil Liberties Union has argued that deporting parents and children immediately after they were reunited would not give a parent enough time to decide what would be best for their child — to leave the country with the parent or to stay behind to pursue other options, such as asylum claims.
The ACLU asked the judge for an order delaying deportations for one week once a family is reunited. Judge Dana Sabraw agreed to a temporary hold while he considers that request in the coming days.
The government said it had identified 2,551 children in government custody, ages 5 to 17, who may be eligible for reunification by Sabraw's July 26 deadline.
SNAPSHOTS
Amazon's website crashed on Prime Day and people were not pleased. Shoppers who were terribly excited to hand over every last dime to Amazon for Prime Day sales were met with a cute, dog-themed error page instead of pages of deep discounts when they visited the site. It's unclear what caused the website to crash. As you can imagine, people had strong feelings, but very good jokes came out of the ordeal.
A lava bomb hit a tour boat in Hawaii and injured nearly two dozen people. The steam-related explosion early Monday sent chunks of lava into the air, piercing the roof. Photos showed the damage and red-hot chunks of lava on the boat operated by Lava Ocean Tours, which is one of just four companies that are permitted to take tours to view the lava entry into the water. A passenger wrote: "I was in the boat directly underneath this explosion. Lava boulders came through the roof. We thought we were going to die."
A 7-year-old girl was hit and killed while trying to get help for her dad after surviving a car accident. DeSandra Thomas died as she texted with 911 trying to get help for her injured father after he crashed their car while drunk, police said. Thomas was struck and killed crossing the highway early Sunday morning, according to Michigan authorities. The little girl's father had allegedly been driving under the influence when he swerved and crashed into an abandoned car, and shot through some fencing.
A bunch of new emojis are coming to Apple phones. The list of new arrivals includes bald heads, curly hair, a kangaroo, and a face with pleading eyes. While I'm generally over most of the new additions, I can get on board with the new cupcake emoji. That's long overdue. Here's what they all look like.
The MAGA trolls have met their match in Sacha Baron Cohen's Who Is America?
One thing that has made itself abundantly clear over the last two years: The media as a whole is mostly unprepared to cover the new world of trolls.
A few journalists have managed to get to grips with the message boards and the fake news makers and meme creators, but by and large, it seems news media can't quite keep up with this ecosystem.
Enter Sacha Baron Cohen's new show, Who Is America? By now, you must've seen the clip circulating in which Baron Cohen convinces former and current members of Congress to back a program that would arm kindergartners with guns ("Kinderguardians").
Generally speaking, we know the Baron Cohen schtick of going undercover to expose absurdity. But, as Charlie Warzel writes, because "the #MAGA style of politics is less an ideology than it is about breaking the system through an insurgent style of media hacking and alternate-reality creation," Baron Cohen's brand of recklessness works particularly well.
Here's Warzel again: "Baron Cohen isn't just unafraid but giddy to break the system and all the conventions and civility that come with it. He wholly rejects the 'they go low, we go high' ethos, opting instead to wrestle in the mud with his subjects."
People are praising this model after she breastfed her baby as she walked the runway
Mara Martin walked for a Sports Illustrated show last weekend in Miami. She was one of 16 women chosen as part of the magazine's open-call model search.
As a finalist, she got to walk the catwalk, and brought along her 5-month-old baby with her.
After Martin's Instagram page was flooded with well-wishers and praise, she wrote, "I can't believe I am waking up to headlines with me and my daughter in them for doing something I do every day."
The baby, doing what babies do, was just chillin' the whole time: