To get this newsletter in your inbox, sign up right here.
Here's how climate change is already impacting the US (Hint: It's not good)
The impact of climate change is not a future theoretical possibility — it's already wreaking havoc across every corner of the US. That's what a major new government report released Friday says.
The report, a collaboration between more than 300 federal scientists and outside experts, concludes that the effects "are intensifying across the country."
What's ahead, according to scientists, is more of the worst: more damaging wildfires in California, more storms dumping intense rain on Texas, more coastal flooding at high tides in Florida, and other mayhem. Climate change will also hit the US economy hard.
What's with the timing? Some observers complained the administration had purposely released the report on the Friday after Thanksgiving to deflect attention from its findings.
Meanwhile, Australian students are skipping school to take a stand against political inaction on climate change.
The US has fired tear gas and closed the largest crossing from Mexico after migrants marched to the border
Near the San Ysidro border crossing, hundreds of Central American migrants evaded Mexican police, crossed a small river, and marched down a side street.
With helicopters circling overhead, US authorities fired tear gas and, according to witnesses, rubber bullets, as some of those marchers approached a metal fence that separates California and Mexico.
Altogether, the unprecedented confrontation lasted nearly two hours before the migrants appeared to withdraw and return to the stadium where they have been camping for days.
Critics say the incident is the fault of President Donald Trump and his policies.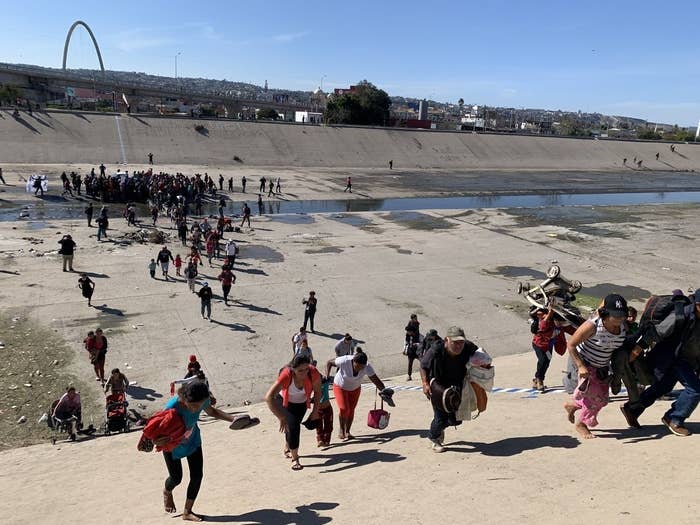 SNAPSHOTS
The EU has approved a Brexit deal with the UK. The leaders of the other 27 member states have formally endorsed Theresa May's proposal, leaving its fate in the hands of the British Parliament.
Indian officials aren't sure how they'll recover the body of the US missionary killed by a remote tribe. Authorities say they've completed three expeditions to North Sentinel Island but are struggling to figure out how to recover John Chau's remains. Chau was killed while illegally visiting the protected island, trying to convert the Sentinelese tribe to Christianity. An expert told us, "I don't believe there is any safe way to retrieve the body without putting both the Sentinelese and those attempting it at risk."
A winter storm has hit the Midwest with strong winds and snow, stranding travelers going home after the holiday. Some people are making the best of being trapped.
Dead sea lions have been washing up on Washington's shores with bullet wounds and other horrific injuries. Since September, at least 13 have been reported dead, including six that were confirmed shot, in Puget Sound and Hood Canal, according to a volunteer group that responds to reports of stranded or dead sea lions.
A pair of genetically edited babies might have been successfully born in China. A Chinese scientist is claiming to have helped create the world's first genetically edited babies after a couple gave birth earlier this month to two twin girls whose DNA was engineered to have the capability to ward off HIV and AIDS. If true, the stunning scientific achievement raises serious ethical questions about how, and when, we should edit our species, experts say.
Jameela Jamil said she hopes celebs like Cardi B who sell detox teas "shit their pants in public." The Good Place actor is sick of famous people hawking the teas on Instagram, tweeting, "not that they actually take this shit. They just flog it because they need MORE MONEY." Jamil namechecked Cardi, who'd posted sponsored content for one of the brands. The Kardashian sisters, along with a pile of lesser-known Instagram influencers, regularly try to sell "detox" teas.
Justin Bieber confirmed he is married to Hailey Baldwin on Instagram. In a belated Thanksgiving post, the singer said it was his first Thanksgiving as a married man, and his first time hosting. No word yet on whether Bieber makes decent stuffing.
"It was like a war in the classroom. It was a nightmare."
On Valentine's Day, 17 people were shot and killed at Marjory Stoneman Douglas High School in Parkland, Florida.
The tragedy left traumatic memories seared into the minds of survivors who lost their friends, parents who lost their children, and teachers who tried to heroically protect their students.
Sadly, the Parkland community would not be the last to grieve because of a mass shooter. Last month, 11 people were killed in a Pittsburgh synagogue. This month, 12 people died in a California bar.
The awful trauma in Parkland gripped the nation. From its heart sprang a movement to change gun control laws across the US.
In intimate and raw testimonies given to filmmaker Jeff Vespa, the parents and teachers and students of Parkland revisited that day in February, its pain, and what they lost. Every single one of these is worth watching.
This woman really made a feeding chart for her cat and people understand her hilarious struggle
Look. Cats are devious. They're cunning. We know this.
Emily Koziel and her roommates experienced this brilliant strategizing from their cat, Otto.
He's a bossy cat who's a bit overweight these days. But here's the thing: Otto, a genius, manages to get fed multiple times a day by convincing all four roommates, separately, that he's hungry.
Koziel posted her solution to the problem on Reddit, where it went viral, because everyone could immediately relate.
The solution was this feeding chart: