Morning Update: They've All Come To Look For America
Somehow, the US and Canada are in a huge fight, Anthony Bourdain tributes, De Niro swears on live TV because De Niro. Your BuzzFeed News newsletter, June 11.
World leaders managed to reach an agreement at the G7. Then Trump tweeted.
The G7 meeting was one for the history books. If you're wondering "What just happened?!" I got you.
First of all, what is the G7 meeting? The G7 is short for the "Group of Seven." Its members are the seven largest advanced economies in the world. (Separately, the Group of Seven is a group of Canadian artists, but that's for another day.)
Didn't it used to be the G8? Great memory. Yes. Russia was kicked out of the G8 in 2014 over its annexation of Crimea from Ukraine.
So now it's the G7. Got it. What happened? Well, President Trump went and met his fellow world leaders. They made a deal. Then Trump pulled out of it.
How important is this deal? The G7, for better or for worse, represents the stability of the liberal international order. Countries negotiate and negotiate, but customarily they come to an agreement to represent unity.
Why did Trump pull out of the deal? He says Canadian Prime Minister Justin Trudeau made "false statements" at a press conference. He went on to say Trudeau was "dishonest and weak."
He pulled out because of Canada? What did Canada do? We'll get to this in one second. Remember that going into this G7 meeting, Trump was forging ahead with imposing tariffs on aluminum and steel coming in from Canada and the EU.
Right. And what's their response? Well, Canada says it's going to respond with retaliatory tariffs that come into effect July 1. That isn't new. What is new is that Trudeau said, "Canadians are polite. We're reasonable. But we will not be pushed around."
And that's what made Trump pull out of the deal? Yes. But then the US–Canada relationship got even worse.
Oh gosh, there's more? White House trade adviser Peter Navarro said there was a "special place in hell" for Trudeau. US National Economic Council Director Larry Kudlow said Trudeau "really kind of stabbed us in the back."
Anything else? Yeah, Trump played down Russia's annexation of Crimea from Ukraine, only saying "something happened." He called for the group to let Russia rejoin.
This is a lot. Can you sum it up on one all-time iconic picture? You bet I can: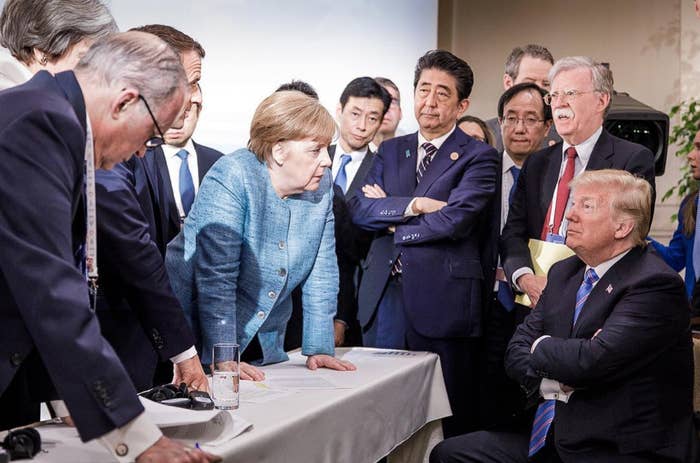 All the ways people are remembering Anthony Bourdain
So many people were deeply affected by the death of Anthony Bourdain, and I want to highlight some of the incredibly moving tributes. Bourdain killed himself Friday. Since then, kind words about his impact have flowed.
Chefs all around the world paid tribute to Bourdain's influence on them and the food industry as a whole.
Prominent writers and celebrities also wrote about how Bourdain moved them. From Barack Obama: "He taught us about food — but more importantly, about its ability to bring us together. To make us a little less afraid of the unknown."
Marilyn Hagerty is a food columnist who wrote a warm-hearted and earnest review of a new Olive Garden in town. When it went viral and the internet had its snark, Bourdain defended her — and pushed to have her columns published in a book.
Here's what Hagerty said: "Anthony Bourdain spoke up for me at a time when people all over the country were making great fun of the column I write. To have a man of his stature rise up and befriend me, it meant a lot to me."
Meanwhile, people shared their favorite Bourdain passages and revisited his best tweets.
PSST
I love the new episode of our podcast The News. I especially loved the really thoughtful discussion of free speech and hate speech on the internet, and felt smarter listening to our reporters discuss the issue.
You can find it on Apple, Google Play, Spotify, or wherever you get your podcasts from.
SNAPSHOTS
Thousands of people in Florida were approved to carry concealed guns without being fully checked. A lone employee was in charge of running names through the FBI database. This employee wasn't able to log in, but never reported the blocked access, investigators found. During that time, anyone with a criminal record or who had been banned from possessing a firearm because of a mental health issue could have slipped through the system.
The Israeli army edited a clip of a medic they killed to make it look like she said she was acting as a "human shield" for Hamas. In the full clip, 21-year-old Razan al-Najjar actually says, "I'm here as a rescuing human shield to protect and save the wounded at the front lines." Najjar was killed when she was shot in the chest in Gaza on June 1, as she tended the wounded.
Robert De Niro just said "fuck Trump" during a live awards show. No, he did not elaborate. The veteran actor's gleeful invective at the Tony Awards elicited a shrieking standing ovation from a very flabbergasted Broadway audience. After the audience calmed down, he transitioned to introducing Bruce Springsteen as though none of that had just happened.
The Duke and Duchess of Sussex looked unreasonably cute at the Queen's birthday parade. There's nothing further here, except for all the photos of them slaying together. Here's one: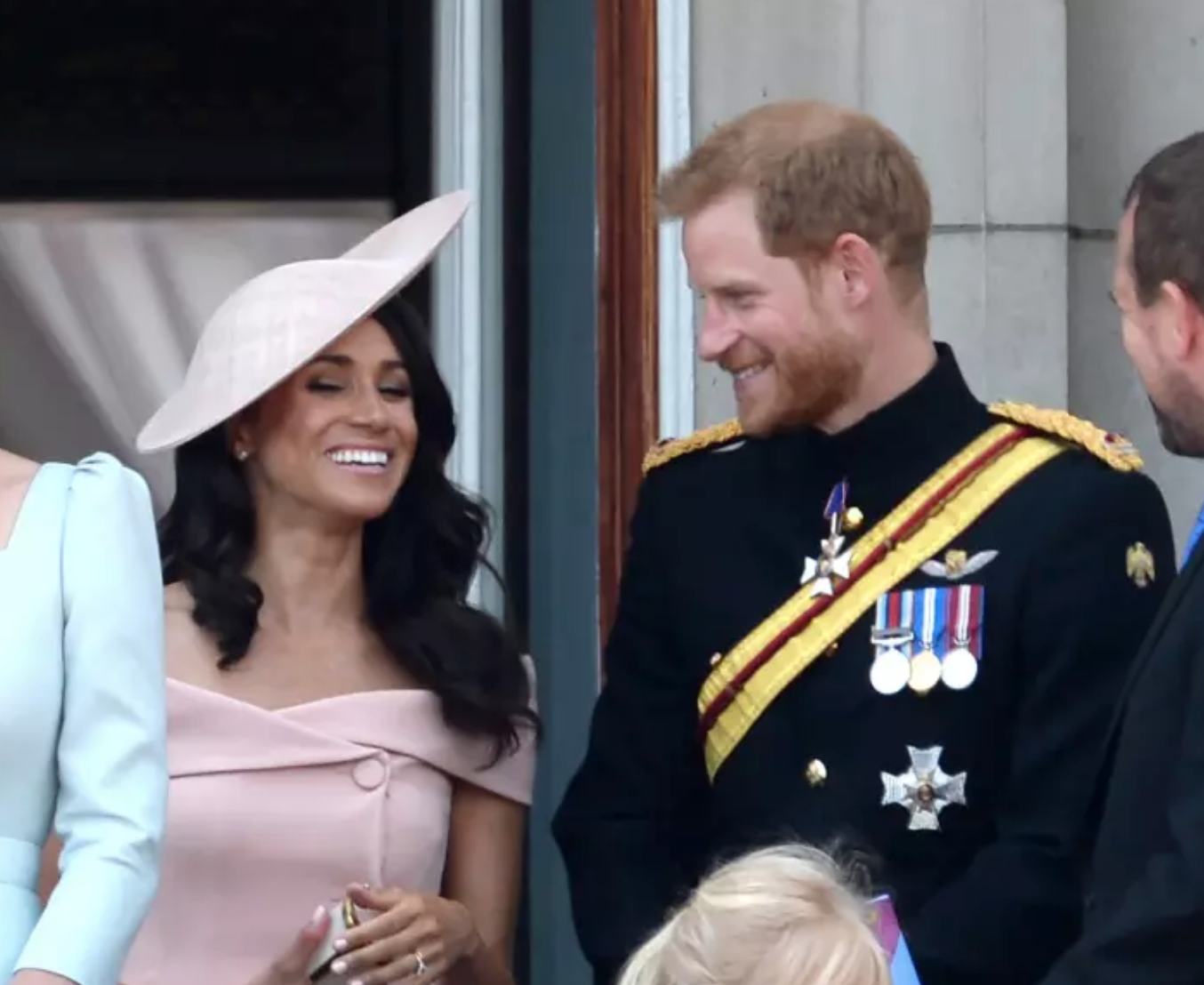 It's an absolutely awesome time look for a job in the US right now
On today's edition of Why I Envy People Graduating In 2018: If you're just starting to look for a job right now, you've struck gold.
There is a record number of job openings now, but it gets better: There are more openings than there are people looking for jobs. What a time.
According to data released by the Bureau of Labor Statistics this week, there were 6.7 million job openings versus 6.3 million unemployed people at the end of April. This is the best it's been since the government began keeping track in 2000.
The job categories with the most openings now are: medical nurse, management, driver, retail, and food.
The family of a missing 2-year-old said their dog stayed by her side for two days until she was found
First things first: People are celebrating after Charlee Campbell was found, having been missing for two days. Officials say the 2-year-old was dehydrated and had tick bites, but was otherwise unharmed.
But we don't get just one good ending here — there's another beautiful story: Charlee's family is calling their dog, Penny, a hero for staying by the toddler's side for nearly two days.
Investigators are still trying to determine if she was in the woods near her home, an area that officials say they searched up to six times.
But in the meantime, Charlee's grandmother says Penny the pup is getting extra treats these days, including hamburgers. "This is our hero right here," she said.
Just look at this face: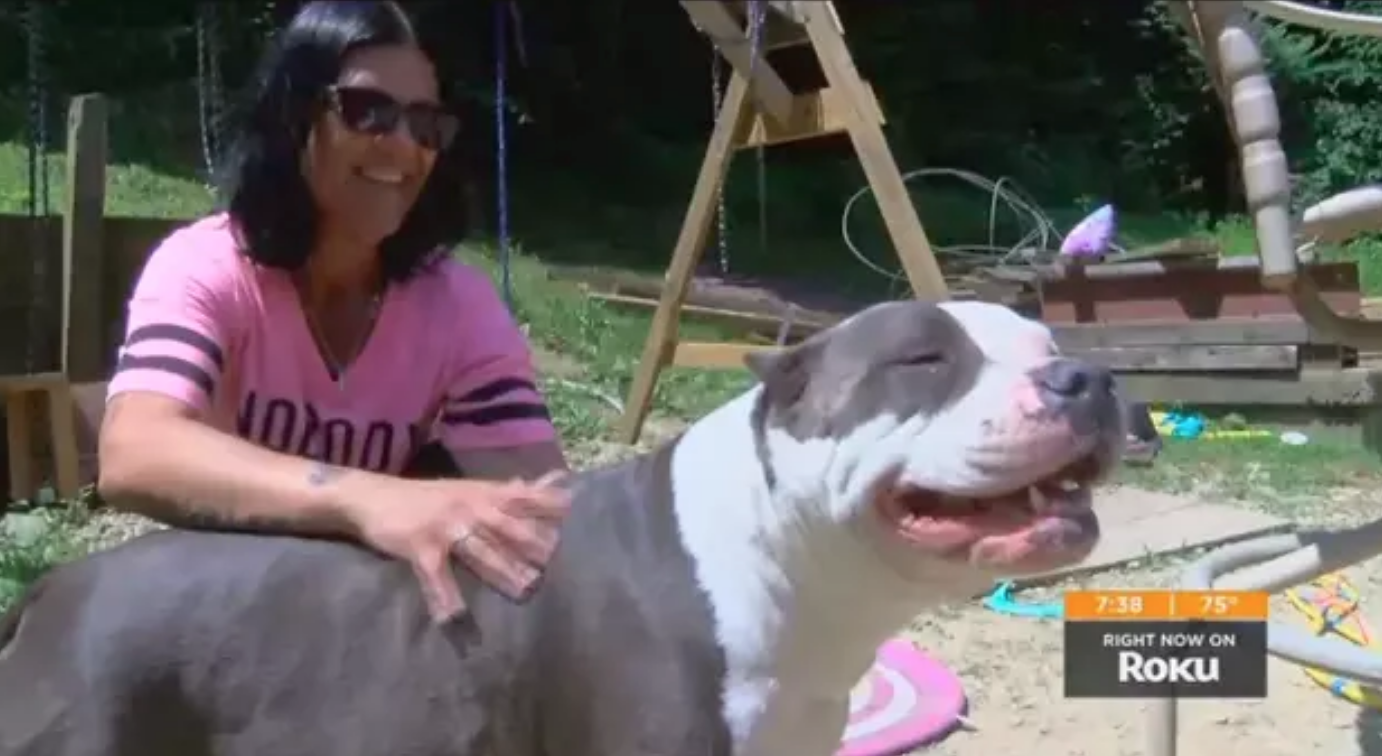 Choose to be a hero,
Elamin
Enter your email below to sign up for the BuzzFeed News newsletter: