Inside the Trump administration's secret war on weed
According to documents we obtained and staff we interviewed, the White House has put together a secret committee of federal agencies from across the government.
That committee's function is to combat public support for marijuana. Its work includes portraying state legalization measures in a negative light and painting the drug as a national threat.
The documents show the committee instructed 14 federal agencies to submit "data demonstrating the most significant negative trends" about marijuana and the "threats" it poses to the country.
The committee went as far as complaining in one memo that the narrative around marijuana is unfairly biased in favor of the drug. But rather than seeking objective information, records show the committee is asking officials to portray marijuana only negatively, regardless of what the data shows.
Everyone's watching to see what Robert Mueller does by next Friday
All eyes will be especially focused on the special counsel over the next eight days.
That's because there's an "unwritten 60-day rule" at the Justice Department that asks public prosecutors to avoid public actions that might influence elections.
With the midterms coming up, that cutoff date falls on Sept. 7 — next Friday.
A bit of background here: The "rule" isn't an actual rule — what the department policy says is that prosecutors may "never select the timing of investigative steps or criminal charges for the purpose of affecting any election, or for the purpose of giving an advantage or disadvantage to any candidate or political party."
But does that mean Mueller can pretty much do whatever he wants? Not quite. The policy may not be on the books, but it is taken seriously by Justice Department officials. Here's how the Inspector General's report put it: "The 60-Day Rule is not written or described in any Department policy or regulation. Nevertheless, high-ranking Department and FBI officials acknowledged the existence of a general practice that informs Department decisions."
So what happens now? None of this means Mueller will shut down his operation after that date passes — it just means he's unlikely to take any step that would be seen as a new "public disclosure" during the 60-day period.
SNAPSHOTS
Germany has been rocked by days of far-right violence. Thousands of rioters have taken to the streets in the city of Chemnitz targeting foreigners, and far-right protesters clashed with anti-fascist counterdemonstrators. Authorities say 10 people are under investigation for giving banned Nazi salutes and several people have been treated for injuries since Sunday. Meanwhile, the arrest of an Iraqi man has sparked concerns of links between the far right and police in the city.
An immigration raid on a rural Texas assembly plant was ICE's largest at a worksite in 10 years. Agents from ICE's Homeland Security Investigations division made the most arrests at a single worksite in more than a decade when they picked up 160 suspected undocumented employees at a trailer manufacturer. Authorities said they were acting on a tip that the company had knowingly hired workers with fake documents. The arrests are part of the Trump administration's renewed focus on businesses suspected of employing undocumented immigrants.
A mystery woman recorded dragging wrist restraints was the victim of an abusive, suicidal boyfriend, police say. She was first seen in a haunting surveillance video, half-dressed as she rang doorbells for help. The video, captured by a homeowner's doorbell camera, traveled across social media after it was posted by the Montgomery County Sheriff's Office in Texas. Police told reporters that the woman had been identified and was safe with family members. But, they said, she had been the victim of an abusive boyfriend who apparently went on to kill himself.
A woman tennis player was penalized for fixing her shirt on the court at the US Open. During a break in her match, Alizé Cornet put on a fresh shirt. When she returned to play, she realized her shirt was on backwards. She quickly took it off and put it back on. For that, she was slapped with a code violation. Women's Tennis Association rules dictate that players may only remove shirts while off court. No such rules apply to male players, who took their shirts off frequently Tuesday, to deal with the blistering heat.
Kanye West apologized for his infamous slavery comment and promised to "do better." A few months ago, the rapper opened his mouth and an ill-advised thought came out — he said slavery was a "choice." Now, he says he's sorry about that comment and for wearing a Make America Great Again hat. In a wide-ranging interview, Kanye also discussed the pressures he feels competing in the fashion world and against the likes of Drake.
Prince Harry got on stage with the cast of Hamilton yesterday. I am jealous. Nothing further.
Tess Holliday is rocking a swimsuit on the cover of Cosmo UK. The model and body-positivity activist was interviewed for the magazine's October issue about mental health, the #MeToo movement, and diversity in modeling. People are so excited to see her on the cover. In sharing the news, Holliday wrote, "If I saw a body like mine on this magazine when I was a young girl, it would have changed my life." Here's the shot: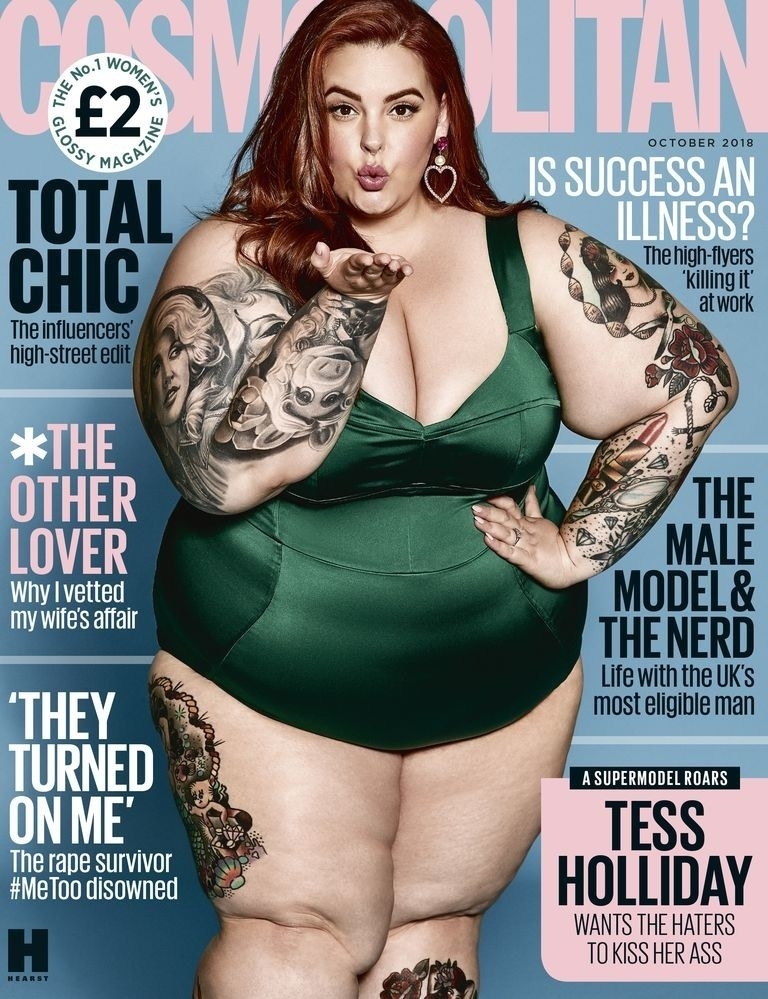 This is how Russian propaganda actually works in the 21st century
A group of news websites in Eastern Europe claimed to do independent journalism. We've unearthed evidence that, in fact, Russia discreetly funded them to pump out stories dictated by the Kremlin.
Our investigation, done in partnership with Estonian newspaper Postimees and investigative journalism outlet Re:Baltica, shows that Russian state media created secret companies in order to bankroll websites in the Baltic states — a key battleground between Russia and the West.
Here's the thing: Russia's attempts at influencing the region should be taken seriously. In the Baltics, Russia directly borders the European Union, and NATO has a big military presence.
Perhaps more importantly, though, the region is home to hundreds of thousands of ethnic Russians. Remember that Russian President Vladimir Putin annexed the Crimean Peninsula from Ukraine in 2014 under the pretext of protecting the interests of "Russian speakers."
People are cracking up over how this woman and her boyfriend hilariously duped her dad's security camera
First of all, as parents everywhere know, when young couples say goodbye, they definitely do not kiss or touch. It just does not happen.
Twenty-year-old Ana Rosell's dad bought a security camera to monitor the front door, since the family doesn't have a peephole.
Rosell said her dad then joked with her "about how now he would have evidence" of what she and her boyfriend do outside when she's dropped off at night.
So when Rosell's boyfriend brought her back to the house, they decided to play a little prank — and people are absolutely loving it.