Morning Update: The White House "Can't Guarantee" Trump Didn't Say The N-Word
A bridge collapse in Italy, Paul Manafort's lawyers rest, the creator of Mad Men is back with a new show. Your BuzzFeed News newsletter, Aug. 15.
Now Trump is calling Omarosa a "dog" as part of his denial that he used the n-word
Omarosa Manigault Newman, the former top White House aide, is continuing her spree of releasing recordings that prove her bona fides and access as she promotes her new book.
She has so far produced three recordings, including one apparently of John Kelly firing her and another of President Donald Trump reacting.
The new development: Manigault Newman said she heard audio recordings of Trump saying the n-word "multiple times." Her third recording is of a conversation with a former spokesperson, discussing Trump's use of the slur.
"I am trying to find out at least the context it was used in to try to figure out a way to spin it," the spokesperson says in the recording. Later, she adds, "He said it. He's embarrassed."
Trump's response: The president, who has denied the existence of such a recording, responded yesterday by calling Manigault Newman a "dog," continuing his pattern of sharply degrading speech aimed at women — especially black women.
The broader context: Celebrity Apprentice contestant Penn Jillette said there are tapes of Trump saying "racially insensitive things."
Meanwhile, White House press secretary Sarah Huckabee Sanders told reporters that she "can't guarantee" Americans will never hear President Trump saying the n-word in a recording, which is presumably very reassuring to the American people.
Dozens of vehicles plunged to the ground after a bridge collapsed in Italy
The Morandi bridge in Genoa, Northwest Italy, is part of a major highway. Yesterday, a section of it collapsed during a sudden and powerful storm, sending cars and trucks plummeting into an industrial area below it.
An estimated 20 cars and three heavy trucks were on the section that collapsed. The disaster killed at least 37 people, with at least 16 others injured.
Italy's prime minister said those figures were expected to fluctuate as hundreds of firefighters sifted through piles of steel and concrete in search of survivors.
According to a local newspaper, most of the section of the bridge that collapsed fell in the Polcevera River, but houses and an industrial estate were also struck by falling rubble.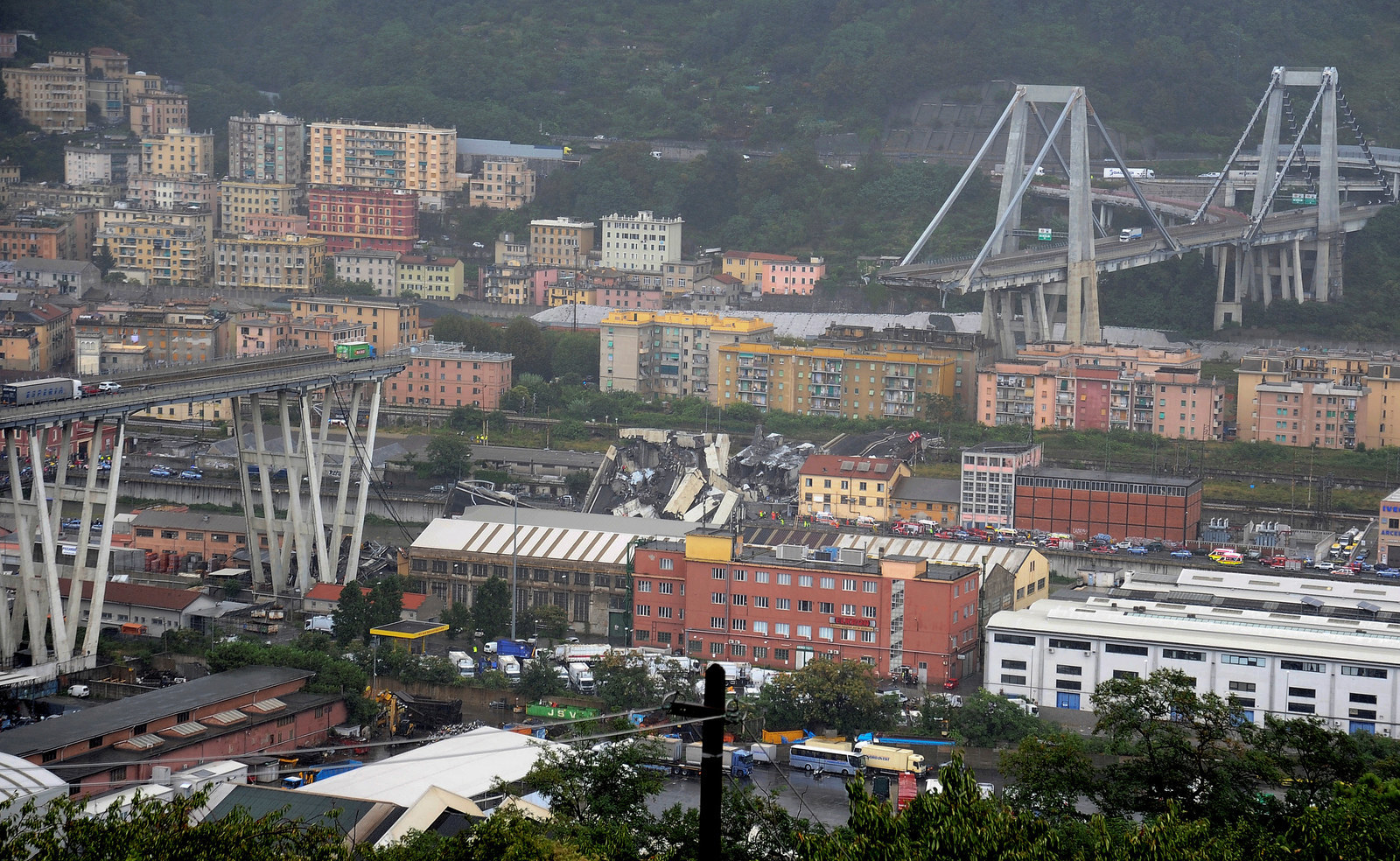 SNAPSHOTS
Paul Manafort's lawyers rested their case without presenting any witnesses of their own. The announcement came after Judge T.S. Ellis III denied Manafort's request to acquit him of all charges. Ellis then called Manafort to the stand to confirm that the defendant understood his constitutional right to remain silent. The judge asked if Manafort wished to testify. "No, sir," Manafort replied. Closing arguments are expected to start this morning.
Four girls escaped an alleged kidnapping attempt by fighting back and throwing coffee and Slurpees. The girls, ages 11 to 14, fought off a man Friday after he grabbed them outside a gas station convenience store. They were leaving the store in Millington, Michigan, when they noticed they were being followed. The man, 22-year-old Bruce Hipkins, tried to grab the 11-year-old, and the girls started fighting back. Eventually, Hipkins fled on foot and was found by police down the road.
The FDA just approved a menstrual cycle–tracking app as a form of contraception. The Natural Cycles app uses information about your body temperature and periods to predict when you need to abstain from sex or use protection to avoid pregnancy. The developers will be allowed to market the app in the US as a way to prevent pregnancy. To use it, you need to take your temperature every morning with a basal body thermometer, which can detect very small body temperature changes.
Bill Cosby says being declared a sexually violent predator will damage his reputation. The comedian also argued in court documents that it would interfere with his relationship with his family. Cosby's attorneys argue that being designated a sexually violent predator "is by any measure excessive when applied to an 81-year-old blind man." Cosby, who is currently awaiting sentencing for rape, appears to not know just how much his reputation is already damaged.
Matthew Weiner, the creator of Mad Men, has a new show called The Romanoffs and the cast is STACKED. The series is about people who believe they're related to the infamous Russian royal family who was overthrown in the early 20th century. It comes out this fall, is set in seven countries around the world, and was shot on location in three different continents. It includes Mad Men heavyweights like John Slattery, Cara Buono, and Christina Hendricks, as well as a ton of other stars like Isabelle Huppert, Ron Livingston, Andrew Rannells, and, and, and.
A grand jury report details sexual abuse by more than 300 "predator priests" in Pennsylvania's Catholic church
The 1,400-page report follows a two-year investigation led by state Attorney General Josh Shapiro. In it, more than 300 priests are accused of abusing more than 1,000 children over the past 70 years.
The scathing report details a "systematic" cover-up by church officials in six of the state's eight dioceses. The other two dioceses were the subject of separate grand jury reports.
Grand jurors indicated in their report that they subpoenaed and reviewed 500,000 pages of internal church documents that contained allegations of the sexual abuse of 1,000 children — mostly boys — adding that they believe the real number of victims could be considerably higher.
"Priests were raping little boys and girls and the men of God who were responsible for them not only did nothing: They hid it all," the report states.
A 6-year-old ordered $350 worth of toys on her mom's Amazon account, and look at her face
Caitlin is 6 years old. Her mom recently let her order a Barbie for her birthday. She asked to go back on Amazon to see when the gift would arrive.
Except here's the thing: Caitlin was left unattended to do this. Her mom learned the hard way that this means trouble.
The next day, the Amazon courier arrived at the family's Utah home and started unloading box after box after box.
All in all, Caitlin ordered $350 worth of toys, video games, and board games. And just look at her face as she sees the fruits of her scam: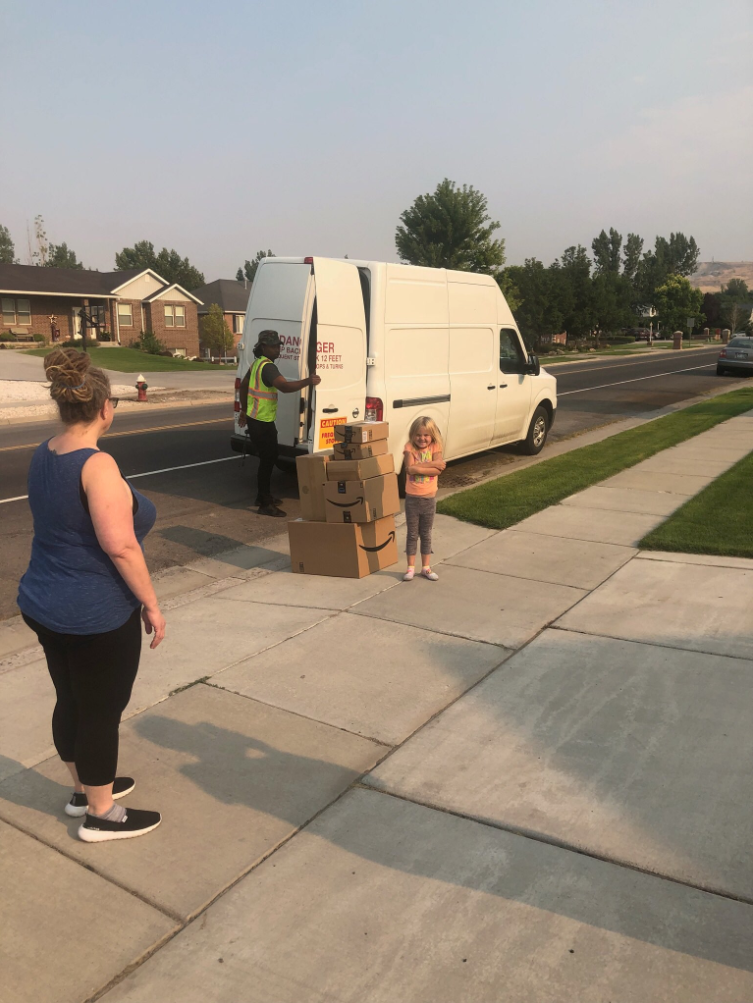 Although Caitlin seems quite pleased with herself, she didn't get to keep the spoils of her shopping spree. Everything but the Barbie is being sent back.