To get this newsletter in your inbox, sign up right here.
A star witness says prosecutors knew he was lying when he helped frame five people for murder
Quick refesher: We've published Melissa Segura's excellent reporting on the Chicago detective who is accused of framing more than 50 people for murder. At least 19 have now been exonerated.
Here's the thing — that detective couldn't have done what he's accused of alone. So Segura worked for years to get a star witness to talk to her.
When he finally did, Francisco Vicente said something shocking: That he was beaten by police officers to give false testimony, and that prosecutors knew he was lying.
Vicente swore that one person after the other just happened to confess to him that they committed to murder. Now, he's recanting those statements, revealing that prosecutors put him on the stand to tell his lies — then rewarded him with access to good meals, new clothes, and conjugal visits.
A huge cyclone struck southeastern Africa, and the pictures of the aftermath are devastating
Cyclone Idai has been called one of the worst weather-related disasters in the history of the southern hemisphere.
In Mozambique, more than 200 people have been confirmed dead. Another 98 in Zimbabwe are dead, and 56 in Malawi. Mozambique's president said the true death toll of Idai could be much higher — around 1,000.
The scale of the devastation is overwhelming. Like these residents stranded in the stands of a stadium for safety: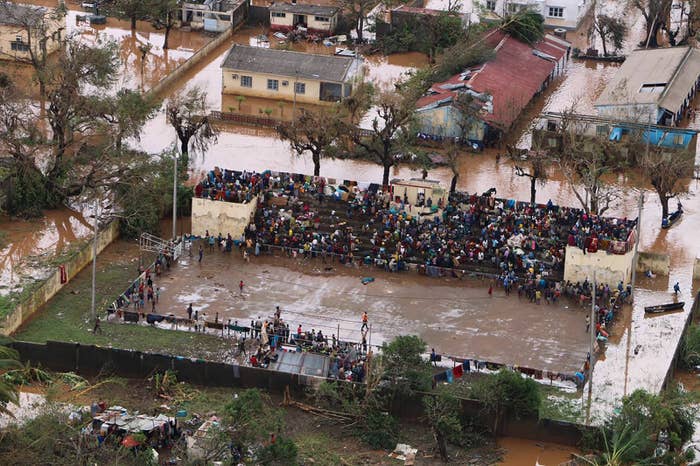 SNAPSHOTS
New Zealand is banning military-style semi-automatic weapons following the Christchurch terror attack. Six days after 50 people were killed as they attended two mosques, New Zealand Prime Minister Jacinda Ardern announced the ban. The government will also introduce a gun buy-back scheme.
The US denied visas to dozens of women from Africa and the Middle East hoping to attend the UN's women conference. The US is obliged to not restrict people or NGOs from attending the UN headquarters. According to campaigners, women from countries that fell under Trump's travel ban were disproportionately affected.
A YouTuber who earned tens of thousands of dollars from videos of her kids performing was charged with child abuse. Machelle Hackney, who ran a popular YouTube channel with nearly 800,000 subscribers, has been charged with child abuse, molestation and child neglect. Her kids allege she starved them if they didn't perform.
There's finally a trailer for Quentin Tarantino's Once Upon A Time In Hollywood. The film stars two former Tarantino muses, Brad Pitt and Leonardo DiCaprio, as well as Margot Robbie as Sharon Tate. The movie covers late '60s Hollywood, including the rise of Charles Manson.
Here's the full story of the ice cream man who became a meme for all the wrong reasons. First, he went viral for a very uncomfortable video on TikTok. Then people found a reason to like him. The internet is a weird place.
Dispatches from divided Democrats
As the Democratic Royal Rumble candidate race heats up, new divisions within the party are popping up every day. Our politics team has been keeping a close eye on these stories, and I wanted to highlight three:
First up: Joe Biden is as Establishment Democrat as it gets. There's a progressive faction of the Democratic party bent on stopping the former VP's momentum — they just don't have a clear plan to do it.
Second: Twitter's insiders, the folks who spend all their time tweeting about politics, seem to be skeptical of Beto O'Rourke. Those who witness O'Rourke in action tend to come away with an entirely different reaction.
Third: Democratic voters are looking for "electability" in a candidate. But that does not mean they're looking for a centrist.
This woman showed her burn scars in a powerful photoshoot to empower others
31-year-old Lia Jiang suffered burns to more than 90% of her body after an explosion at a water park in Taiwan in 2015.
After undergoing 21 surgeries in three years, Jiang wanted to participate in a photoshoot to inspire others, and to fight the stigma that people with scars live with.
She looked like a spectacular phoenix in the photoshoot, and the photos quickly went viral. Have a look: