Alt-right troll to father killer: the unraveling of Lane Davis
Last year, our reporter Joe Bernstein covered the rise of pro-Trump, anti-SJW media closely. Then one of his sources — a fixture in that world named Lane Davis, who went by Seattle4Truth online — killed his father.
Before stabbing his father to death, Davis allegedly accused him of being a "leftist pedophile." That isn't without context — it's a Pizzagate-esque accusation, popular with social media agitators who claim the acceptance of pedophillia is the secret goal of liberal politics.
Because it'd be too simple to try to explain the killing by just analyzing Davis's life online, Bernstein spent six months in search of answers as to what happened.
Here's Bernstein: "I discovered that his life leading up to the killing — isolated, dependent, resentful, and ruled by the perverse incentives of internet content production — has much to tell us about the kind of man for whom the new fringes of American life are most dangerous."
The investigation is absolutely a must-read.
Is a suicide epidemic hiding under the drug overdose epidemic?
As the US continues to grapple with a deadly opioid crisis, a growing number of experts are concerned that overdose deaths are masking a larger suicide crisis.
The background is this: Suicide rates in the US rose 30% between 2000 and 2016, according to estimates. But the real numbers are undoubtedly higher, partly because of the opioid epidemic.
According to a recent study, suicide by drug overdose is "profoundly underreported" in the US. On top of that, depression, anxiety, and post-traumatic stress disorder affect more than half of people with drug use disorders.
Here's the thing: The official numbers say that less than 4% of the 44,000 fatal opioid overdoses in 2016 were suicides. However, experts say that data from teen deaths points to a much higher suicide rate — perhaps 13.5% of all opioid deaths. One addiction expert put it like this: "We should be very concerned that many overdoses are unrecognized suicide attempts."
The reason this matters, as a mental health and suicide expert described, is that if people were more aware of the overlap, focusing on treating some drug users for depression would offer them a better chance of getting off drugs and not dying.

SNAPSHOTS
Mark Zuckerberg defended the right of Holocaust deniers to post on Facebook. The company's founder said their beliefs are "abhorrent," but it isn't the platform's role to censor users who are not "intentionally getting it wrong." Zuckerberg defended keeping far-right publication Infowars and content related to conspiracy theories on the social media platform. He also said that it's Facebook's responsibility to minimize the proliferation of conspiracy theories and false news in the News Feed, in a brazen attempt to have his cake and eat it too.
Amazon had record sales on Prime Day even though its site crashed. Prime members worldwide purchased more than 100 million products, making it "the biggest shopping event in Amazon history." It was also "the biggest event ever" for Echo devices with screens, Echo Show and Echo Spot, the company added. Amazon said that small- and medium-sized businesses selling on its platform exceeded $1 billion in sales this Prime Day. Alexa, play Rage Against the Machine.
A mysterious 2,000-year-old sarcophagus has been found and everyone wants to open it. According to Egypt's Ministry of State of Antiquities, the black granite sarcophagus was found in Alexandria, buried 16 feet underground. It's still sealed — and no one knows who or what is inside. The internet really wants to open the sarcophagus and release that sweet, sweet curse. It's time.
There's going to be a musical version of The Sisterhood of the Traveling Pants. Tony Award-winning theatrical producer Scott Delman will helm the stage musical. The show, which doesn't yet have an opening date, is following in the tradition of Mean Girls, School of Rock, and other teen movies that have been adapted for Broadway. The original Sisterhood movie was released in 2005, with a sequel in 2008. If a musical wasn't already enough to look forward to, Alexis Bledel said that a third installment in the film series might be in the works. The news cycle may be tough, but a pair of pants will keep us together.
The EU just fined Google a record $5 billion for bundling its own apps on Android phones. More specifically, the fine was for requiring smartphone makers to install apps like Google Search and the Chrome browser on phones running Android, Google's operating system for mobile phones. If device makers didn't do this, Google wouldn't let them install the Google Play Store, where Android users can download apps and games for their phones.
The boys who were trapped in a cave in Thailand have been released from the hospital. Wearing their soccer team jerseys, the 12 boys filed onto a stage in front of reporters for their first public appearance since their dramatic rescue last week. They each introduced themselves with their name, nickname, and position on the field, before responding to questions that had been vetted by a psychiatrist. One said: "I would like to say sorry [to my parents] because I did not tell them I was going to the cave. I only told them I was going to play football to warm up."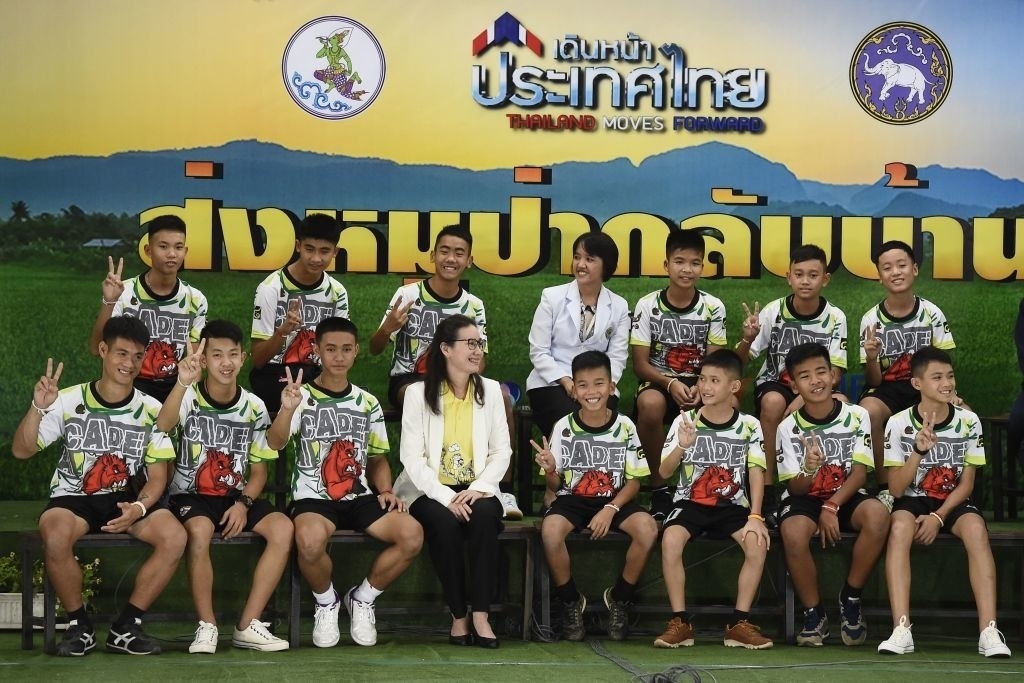 Trump campaigned for the presidency attacking immigrants. Here are all the ways he's done it in office.
By now, you're familiar with President Donald Trump's anti-immigrant rhetoric. It predates his election to office, and he has certainly continued the thread throughout his term so far.
Our reporters catalogued all the ways Trump has attacked immigrants while he's been president — from using racist language that portrays immigrants as "violent" pests from "shithole" countries to withholding money from cities that protected undocumented immigrants. His administration even rescinded a memo telling employers that refugees have the "right to work."
When it's all put together in one list, a picture emerges of a president who has fervently used both speech and policy to consistently advance a hostile portrayal of immigrants.
People are salivating over this giant statue of an open-shirted Jeff Goldblum in London
A TV company has erected a huge statue of the actor near Tower Bridge, and honestly, I'm not sure we deserve it.
As you and I know, Goldblum is the last known good thing left on the planet, so the statue is presumably tacit acknowledgment of this fact. As tacit as a massive statue can be.
Anyway, because we all have good taste, the internet is absolutely here for the giant Goldblum. It looks like this: