It's time to catch up on the family separations story
It's easily the biggest story of the year so far, and it's developing so fast that it can be hard to keep up. This weekend, there were huge protests across the US, where tens of thousands of people hit the streets to voice their opposition to separating children from their families at the border.

This morning, we're going to revisit it so you're up to speed on everything you need to know. Deep breath...
The lead-up:
Back in April, the Trump administration introduced a "zero tolerance" policy for people crossing into the country illegally. That means anyone caught would be criminally prosecuted.
This was the first major change. What it meant was that, because parents traveling with children would be facing federal charges, the new policy ended up systematically separating them from their children.
It's important to pause here for a moment and explain: While it's a federal misdemeanor to cross the border illegally, in the past, those people wouldn't have been charged. But under the new "zero tolerance" policy, everyone caught by authorities is to be prosecuted. That means they had to be placed in the custody of the US Marshals Service until they appeared in court. Their children, who can't be held by the marshals, were sent to shelters operated by a different part of the government.

The story becomes public
On June 15, we learned that the Department of Homeland Security had separated nearly 2,000 children from their families as of May 31.
President Donald Trump claimed that his administration was separating immigrant children from their parents at the border because it's a "law" that was created by Democrats. This isn't true — the family separations occured because of the "zero tolerance" rule.
Meanwhile, Attorney General Jeff Sessions pointed to the Bible to justify the policy and said that all laws are ordained by God and that having children does not protect people from prosecution.

The backlash begins
While the administration faced significant outrage as the truth about family separations became clear, it soon became apparent that the US has no plan to reunite the children with their families. Even lawmakers were worried about the lack of a plan.
Relenting to growing outrage, Trump signed a hurriedly drafted executive order that addresses children being separated from their families. Here's the thing, though: It was not immediately clear to what extent the order will actually halt separations in the long term.
Meanwhile, UK Prime Minister Theresa May and the pope criticized the child separation policy and airlines didn't want to be used to transport immigrant children separated from their parents.

What about the children?
Well, first, here's a story many found difficult: Authorities have established "tender age" facilities, for babies and young immigrants separated from their families. MSNBC anchor Rachel Maddow broke down in tears while trying to report on these shelters.
We spoke to experts who told us children forcibly removed from their parents will likely face long-term trauma.
The incident commander of one of the facilities holding many separated children says the "zero tolerance" policy was "incredibly dumb." You should read Amber Jamieson's report from touring the facility. There were ground rules for reporters who visited: "You can say hello. Wave. 'Hola.' 'Buenos dias.' That's it." A bunch of celebrities showed up to protest the separations.
Workers at the site in Texas told us the politics is irrelevant to them. They said the job pays well, and they feel they're helping the children. Most did not know how long they would be there for, with one saying he was told until February 2019.
People were horrified by this photo of a 2-year-old asylum-seeker being stopped at the border. Here's the story behind it: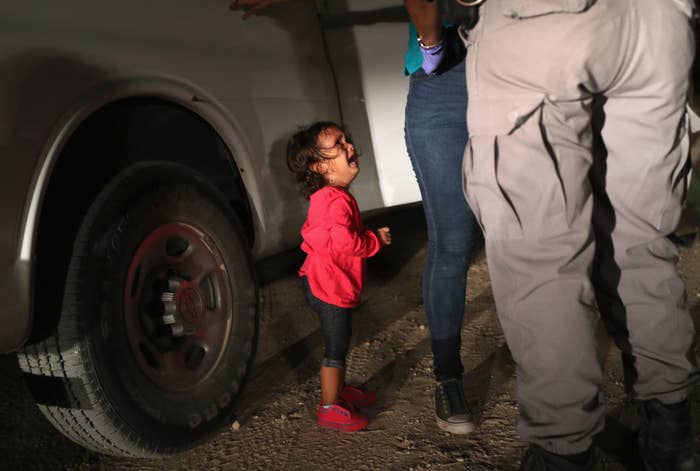 Where things stand now
Here's a list of all the Republicans who have publicly opposed the separations. Sen. John McCain called it "an affront to the decency of the American people." Also, here come the lawsuits. New York Gov. Andrew Cuomo said his state is filing a "multi-agency lawsuit" alleging family separations are unconstitutional. The American Civil Liberties Union is also challenging the separations.
So far, 500 separated children have been reunited with their families, and border agents stopped referring immigrant parents who cross the border illegally with their children for criminal prosecution — they say this is a "temporary action."
Many continue to accuse the media of ignoring the child crisis at the border during the Obama presidency — but that's clearly wrong.
A federal judge ordered that family separations come to an end, calling it "a chaotic circumstance of the government's own making." US District Judge Dana Sabraw ordered the government to reunite parents and children who had already been separated within the next month.
At the same time, Trump said the solution for immigration is simple: "It's called 'I'm sorry, you can't come in.'" Direct quote.
We've teamed up with several other newsrooms in search of the facts about the crisis, and we all could use your help in gathering information about parents and children who have been separated, and detention facilities. More details on that here.

SNAPSHOTS
Andrés Manuel López Obrador is Mexico's next president. The left-wing populist has vowed to transform the country, and his victory upends a political system in place since the years following the Mexican Revolution. This is his third presidential run, and his success has been viewed as a response to Mexico's rampant corruption and record levels of violence. López Obrador is also inheriting a fragile relationship with the US. He may struggle to find common ground with President Trump, further widening the rift between the two countries. Here's what his victory means for the US.
LeBron James is joining the Los Angeles Lakers on a $154 million contract. The 33-year-old is leaving the Cleveland Cavaliers for the LA team, which has been struggling for years to rebuild and reclaim its once-unmatched talent and reputation after several record-setting losing seasons. This will be the third time in eight years that James, one of the best players in NBA history, has switched teams.
Nine people were injured in a knife attack at a young girl's birthday party in Idaho. The attack took place at an apartment complex in Boise, which houses resettled refugees. Six children were among those injured and some sustained life-threatening injuries, police said. The suspect, 30-year-old Timmy Earl Kinner, had been staying at the complex but was asked to leave the day before the attack "due to his behavior."
A woman called the cops on a 12-year-old boy for mowing a lawn — and now the boy is expanding his business after receiving an outpouring of support. Last week, a video went viral of police being called on a group of young black kids as they mowed a lawn in a neighborhood just south of Cleveland. Reggie Fields received support from all around the world, and a GoFundMe started for him has received over $35,000. The budding entrepreneur's mom says, "He wants to do it all year round. He wants to rake leaves. He wants to snow-blow. He wants to do it all."
World champion diver Tom Daley and US filmmaker Dustin Lance Black are officially parents. The birth of their son, Robert Ray, who shares the first part of his name with Daley's late father, was announced on Saturday. Daley posted a picture of the new addition to the family on Twitter, saying he has brought "immeasurable" love and joy into their lives.

Enter your email below to sign up for the BuzzFeed News newsletter: