To receive this newsletter in your inbox every morning, sign up right here.

California's wildfires have now killed 80 people, with more than 900 still missing
In Northern California, the Camp fire was about 65% contained as of Sunday. It has also far surpassed the record for the state's deadliest fire — at least 77 people have died, in addition to three killed by the Woolsey fire farther south.
Authorities said that of the fatalities, 67 had been tentatively identified.
The number of people unaccounted for briefly rose to about 1,200 this weekend, but on Sunday, it dropped to 993.
We have all our wildfire updates on one page, so you can get caught up in a few minutes.
You should read these stories:
"It's like a total cremation of a town." Nothing can prepare the people who have to search for charred bodies.
California's smoke-filled skies are bad for people's health. Here's what you need to know. The pictures showing the state's air quality are horrifying.
Stores in California are running out of air masks, and people are very worried. Some are getting creative to deal with the smoke.
After surviving deadly fires, evacuees are now contracting norovirus at shelters.
Trump said Finland rakes its forests to prevent forest fires, and people from Finland collectively said, "Excuse me?"
About 1,000 evacuees are living in a Walmart parking lot. These photos show what their experience is like. This one caught my eye: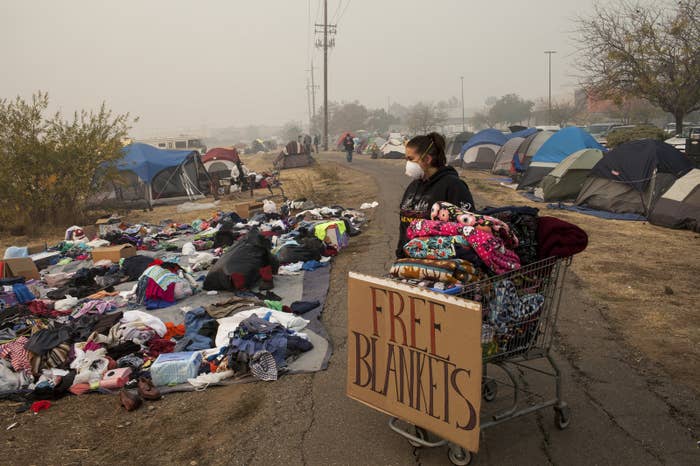 Florida's messy Senate recount is over, and the Republican candidate has won
The close and tense race for a US Senate seat in Florida has finally come to an end. After lawsuits, claims of fraud, and rowdy protests, a hand recount determined that Florida's Gov. Rick Scott has defeated the incumbent Democrat Sen. Bill Nelson.
The official results Sunday put Scott up 50.05% to 49.93% over Nelson. That represents a difference of about 10,000 votes in a race in which well over 8 million people voted.
Meanwhile, Democrat Andrew Gillum conceded the state's governor race to Republican Ron DeSantis.
While Democrat and Republican voters in South Florida's most contested counties don't agree on much, there was consensus that the election recount was a trainwreck, and they've lost faith in their electoral system.
SNAPSHOTS
Trump gave his presidency an A+ in a wide-ranging Fox News interview. The president talked about everything from the midterm elections to the Mueller investigation and the killing of Saudi journalist Jamal Khashoggi. When host Chris Wallace asked, "In the pantheon of great presidents ... do you make the top 10?" Trump responded, "...I hate to do it, but I will do it, I would give myself an A+. Is that enough? Can I go higher than that?"
Someone shot and killed a dolphin in Manhattan Beach, California. The dead dolphin that washed up into shallows at the beach died from a bullet wound, according to local animal welfare workers. The director of a marine mammal care center confirmed a bullet had damaged its lungs.
A teen was allegedly sexually assaulted with a broomstick at a prestigious all-boys Catholic school in Toronto. St. Michael's College has expelled eight students and suspended one after videos of two separate incidents — one involving an alleged sexual assault — spread on social media. The Toronto Star reported that in one video, the victim was being held down by several boys, while two students appeared to be assaulting him with the broomstick. Someone is heard yelling "Get it in there" and "Put it in," the Star reported.
Four babies in Texas have gotten sick with botulism from using honey-filled pacifiers, so please don't use these. The first case was diagnosed in mid-August, and the most recent case was at the end of October. All four babies ended up in the hospital with botulism, which can cause potentially life-threatening breathing trouble and paralysis.
Women in Saudi Arabia are protesting by turning their abayas inside out. Saudi women are pushing back, through a stealthy feminist protest, against the long, black robes that many feel pressured to wear when they leave the house in the Islamic kingdom. Activism in the kingdom can be costly: Despite widely trumpeted reforms by the de facto ruler, Crown Prince Mohammed bin Salman, many activists remain in prison.
A report that Condoleezza Rice may be the next Cleveland Browns head coach has everyone very confused. The team has since denied the report in a statement. Yes, she is a lifelong Browns fan, but no, she's not going to be the next coach.
There is an iPhone trick that makes moving the cursor when typing a million times easier, and people are shook. It's actually incredible, and I'm furious none of you told me.
FROM THE OPINION SECTION
This year, more openly gay, lesbian, bisexual, and transgender people were elected to office in the US than in any previous election. Ever. Contributors Matt McDermott and Bernard Whitman argue the arrival of this rainbow wave will fundamentally change American politics.
Sex tourists say they're going to Mexico to escape #MeToo
In just one year, the #MeToo movement has managed to change the conversation about sexual assault and harassment.
Still, it's one of the harsh realities of #MeToo that border cities provide an escape hatch for some of the very men the movement sought to enlighten about the treatment of women.
These men may be hearing the message, but it's easier to ignore it south of the border. One, a regular visitor of Tijuana's red-light district, told us, "It's just too risky to deal with American women in a system that's increasingly becoming hostile towards men who only want intimacy with a woman."
Meanwhile, women who rely on sex work say the men who come from the US "know we have no one to take care of us. They have the money and the power."
You should read John Stanton's excellent report on the men escaping the consequences of the #MeToo movement by traveling a few short hours for sex.
Joe Biden adopted a dog that looks like the dog version of Joe Biden
The former vice president and his wife, Jill, have a new addition to to their family: a pup named Major.
The Bidens were fostering the dog from the Delaware Humane Association and officially adopted him this weekend.
The internet was quick to notice that the pupperino is all earnest in the face in a way that is not dissimilar to Biden himself. What I'm saying is: Biden adopted Biden in dog form.
You have to see it. The whole thing is unreasonably cute.
Here's a sneak peek: