Six people have been killed and 800 buildings destroyed as a deadly wildfire tears through a Northern California city
A vicious wildfire is tearing through tens of thousands of acres in Northern California. Dubbed the Carr fire, it has claimed six lives and destroyed hundreds of homes as it burns in and around the city of Redding.
The blaze was sparked by a mechanical failure of a vehicle and fueled by soaring temperatures and high winds. By Sunday evening, it had spread to more than 95,000 acres and forced 40,000 people out of their homes.
Melody Bledsoe, 70, and her two great-grandchildren, James Roberts, 4, and Emily Roberts, 5, were confirmed dead Saturday after being reported missing. An 81-year-old contracted bulldozer operator, identified as Don Smith, and Redding fire inspector Jeremy Stoke were also killed trying to contain the flames.
Local authorities say the forecast for the next 7 to 10 days continues to show high temperatures and low humidity, which would mean challenging conditions for firefighters.
At least 500 structures have been destroyed as the blaze burns through Redding, a city of 90,000 about 160 miles north of Sacramento. Among the losses were the homes of firefighters working in the area, as well as the home of the Redding police chief.
The larger context:
We spoke to experts studying California's fires, and they told us the state's burgeoning population and its sprawl into areas that were once wild have helped create a perfect firestorm. Across most of California, human activities and infrastructure — like campfires, arson, electrical equipment, and power lines — start the vast majority of fires.
By the way, the pictures of the Carr fire are just harrowing. Here's one that's seared into my brain: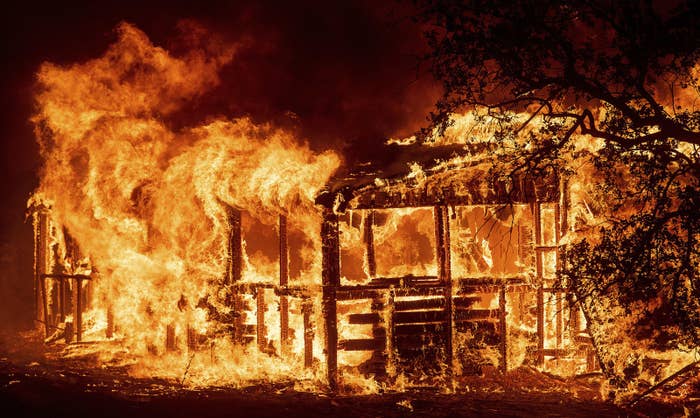 Zimbabwe is about to have its first open elections ever
How do you run an election when your country has been ruled by a dictator for 37 years? Today, for the first time in almost four decades, Zimbabwe is holding a vote without Robert Mugabe's name on the ballot.
Mugabe's reign was known for its violence and repression. In November of last year, he was forced out in what what many call the "soft coup." The man who led it — Emmerson Mnangagwa — became president. He is now considered the frontrunner in Zimbabwe's first open elections.
Against this backdrop, we spoke to Fadzayi Mahere, a 32-year-old attorney and first-time candidate, who is hoping to make her mark. Much more than a story of an aspiring politician, it's a story of how women are hoping to steer the country in this election, and above all, a story of hope that this will be the beginning of a new chapter in Zimbabwe's history.
Because the past is never that far away, Mugabe couldn't stay quiet about the election. The former president called a press conference in his mansion and told reporters he couldn't vote for his own party.
SNAPSHOTS
CBS CEO Leslie Moonves is accused of sexually harassing six women. The women allege sexual misconduct dating back to the 1980s, and that Moonves used his position of power to threaten to derail their careers if they spoke out. Four of them told the New Yorker they endured "forcible touching or kissing during business meetings, in what they said appeared to be a practiced routine." In a statement that was issued prior to the report, CBS said it was investigating the claims and that the board "will promptly review the findings and take appropriate action."
A 17-year-old burglar allegedly broke into a home, woke up the owners, and asked for the Wi-Fi password. According to police, a couple in their sixties "had been asleep in their bedroom when they were awakened by the unknown suspect speaking to them and asking to use their Wi-Fi network." The man confronted the suspect, getting out of bed and pushing him down the hall and out the front door, police said. Authorities say there were no injuries and the motive for the break-in is not currently known.
Logan Paul told Casey Neistat he's ready for his "redemption story" after the "suicide forest" backlash. The YouTuber lost business deals in the aftermath, and had his ad revenue temporarily cut off by YouTube. In the new interview, Paul said he "got so caught up with my actions being validated by millions of people," which is more self-aware than one would expect from him. Still, Logan Paul is gonna Logan Paul, and so he went on to add this Logan Paul thing: "Is it possible for Logan Paul to make a comeback, or am I going to be a failed YouTuber and crawl into a hole like half the world wants me to do?" He said he's ready to make a "comeback."
The Big Mac is turning 50, and there are no plans to update it. The Big Mac remains McDonald's top-selling sandwich in dollar terms. The chain sold 1.3 billion Big Macs around the world in 2017. Amid the ruin, the Big Mac is immortal — a Wolverine in the world of fast food.
Google says it will stop Android phones from suggesting "my face" when users type "sit on." This came after people reported that their phones were indeed making the autocomplete suggestion. While there are more than 1,000 words banned from Android's prediction algorithm, including "coitus" and "intercourse," the phrase "sit on my face" is not suppressed. Google is on it.
How "Abolish ICE" went from a Twitter slogan to a litmus test
Activists calling for the abolishment of Immigration and Customs Enforcement have existed since the founding of the agency in 2003. Since last year, those calls have coalesced around the Twitter slogan "Abolish ICE," mostly tweeted by prominent internet leftists.
That is, until now. The idea of disbanding ICE has moved from the edge to the center of the political stage, especially in light of the border family separations story. Currently, Democrats are split over the idea.
"Abolish ICE" was popularized by 25-year-old socialist researcher Sean McElwee. We spoke to him about how the idea of scrapping the agency gained political currency — or as he puts it, now "there are normie motherfucking progressives that want to Abolish ICE."
McElwee doesn't want any credit for the slogan. He said much of his goal has already been accomplished. Mass deportation is now a part of the conversation — and, abolished or otherwise, ICE's existence is now central to the immigration policy discussion on the mainstream left.
As the old saying goes, first they laugh at you, then they retweet you, then they adopt your slogan, etc.
This special bond between a chipmunk and a human is absolutely precious
This is the story of Van Gogh the Chippy (presumably, the first of his name). He went viral after a video of him adorably stuffing his cheeks blew up on Instagram.
The lil' thing is named Van Gogh because of he's missing a tiny part of his ear.
We spoke to Van Gogh's person, Ally Calmusky, about the special bond between them and, man oh man, is it the cutest thing. Yes, there are videos.