Morning Update: The Algorithms Still Can't Save Us
A deadly tornado in Alabama, remembering Luke Perry, Colton jumped the fence. Your BuzzFeed News newsletter, March 5.
To get this in your inbox, sign up right here.
People are sharing harrowing survival stories after the deadly Alabama tornado
Sunday's giant tornado tore through Alabama's Lee County, leveling homes and ripping trees from the ground. It left at least 23 people dead, including three children. Dozens of others were injured.
The National Weather Service said the tornado was nearly a mile wide and cut a path 24 miles long. It was classified preliminarily as an EF4, with 170 mph winds — the strongest to strike the US in several years.
The massive tornado was one of many that tore across the Alabama–Georgia border region Sunday afternoon in a severe weather outbreak.
Those who survived told incredibly difficult stories of chaos and fear, including digging through debris to find other survivors.
Beverly Hills, 90210 heartthrob Luke Perry has died
Perry's death came just days since he was hospitalized after suffering a massive stroke at his home. He was 52.
His fellow costars on 90210 and Riverdale are posting moving tributes to an actor remembered as a generous and kind soul.
It's hard to adequately underscore just how much Dylan McKay, Perry's character on 90210, was a phenomenon. For a generation, McKay was the standard of a teen idol. Kate Aurthur wrote an excellent tribute. From the piece: "[90210] felt like the first show that replicated the kind of fandom that had previously existed only for music and movies."
We've assembled a look back at Perry's life in front of the camera. Here's a taste: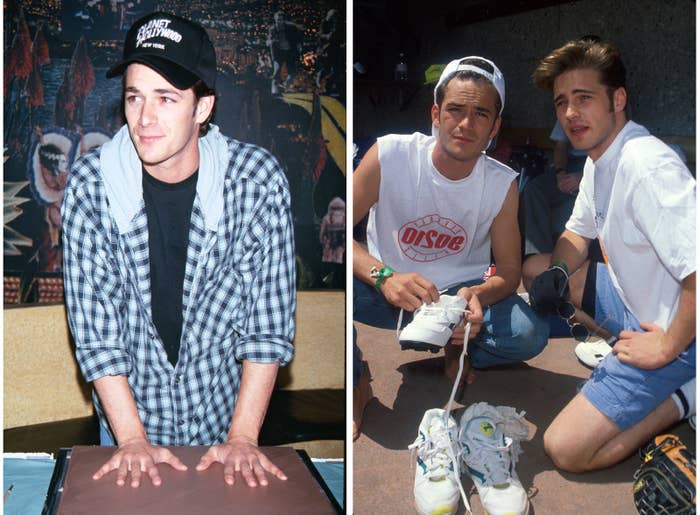 SNAPSHOTS
Former Colorado governor John Hickenlooper is running for president. Hickenlooper spent eight years as governor before leaving office in January. He's been busy in the primary early-voting states.
The Prodigy's Keith Flint has died at 49. Flint was the vocalist and dancer for the British electronic group, known for hits like "Breathe" and "Firestarter." He was reportedly found dead at his home in Dunmow, Essex, England.
Celebrity explorer Ben Fogle has suspended his role as ambassador for WWF following a BuzzFeed News investigation. Fogle made the announcement after our revelations that the charity has supported forces implicated in committing human rights abuses across Africa and Asia.
The husband and stepdaughter of the woman who was allegedly killed while helping a panhandler have been charged with her murder. Police said Keith Smith and Valeria Smith actually killed Jacquelyn Smith and made up the story about the attack to cover their crime.
Roger Stone is in trouble with his judge again, this time over a book he wrote calling Robert Mueller "crooked." US District Judge Amy Berman Jackson has ordered Stone's lawyers to explain why they didn't tell her sooner about their client's book, which includes a new introduction criticizing special counsel Mueller.
Colton finally jumped the fence on The Bachelor. Look, if you know, you know.
The comment moderator is the most important job in the world right now
Last week, YouTube took an extraordinary step. After the discovery of a network of child predators using the platform's comment sections to share timestamps and screenshots of underage users from implicitly sexual angles, the company disabled comments on almost all videos featuring minors.
Ryan Broderick wrote a thoughtful piece on why YouTube's move is a tacit acknowledgement that human moderation is currently the best solution for policing harmful content.
After the big platforms turned the internet into one giant comment section, they seem to have no interest in hiring real people to moderate it. From the piece: "When the barbarians are already inside the gates, you don't tell the villagers to stay tuned for an algorithmic solution."
An Uber driver created a hilariously thoughtful menu to allow customers to choose their ride experience
If you're an Uber driver — or, indeed, if you've ever made a living providing a service — you know it can be hard to read precisely what people want from you on that day. Everyone has different needs.
That's why George Ure, an Uber driver in Seattle, created a "ride type menu" of options.
The options include "The Silent Ride," "The Therapy Ride," and "The Stand Up."
A customer took a picture of Ure's menu and tweeted it, and it immediately went viral. Just have a look: