The US and allies launched military strikes on Syria
Overnight Friday, the UK and France joined the US in launching airstrikes in Syria as a retaliation for a chemical weapons attack that killed dozens of civilians.
How it began: President Donald Trump announced the strikes from the White House. Minutes later, large explosions were reported at sites near Damascus and in the countryside of Homs.
What did they hit? Defense Secretary James Mattis said the military coalition targeted three chemical weapons facilities operated by the government of Bashar al-Assad. A spokesperson for the Free Syrian Army, however, told us the number of sites that were struck was higher.
Could this happen again? Mattis said this was a "one-time shot" but warned it could happen again depending on Syria's response. The British foreign secretary said the UK is not ruling out further airstrikes.
How did the world respond? Russian President Vladimir Putin called the strikes an "act of aggression." Iran and China also condemned the strikes. Meanwhile, Germany and Turkey backed them.
What does Trump say? Well, he says, "Mission accomplished!" By the way, a former George W. Bush spokesperson warned him against that particular declaration.
Did the airstrikes change the reality in Syria? Syrians are worried that the limited scope of the strikes may actually provoke more attacks on civilians. From one person we spoke to: "We expected military action to be much stronger, but it was much less than expected."
Many Syrians we spoke to said they felt the strikes had targeted only empty facilities already cleared out by Assad's forces, and therefore were ultimately worthless.
Quick Brief:
Former first lady Barbara Bush, whose health has been in decline for several months, won't seek further treatment and will instead "focus on comfort care," according to a spokesperson.
Former FBI director James Comey said "there's certainly some evidence" Donald Trump obstructed justice. His remarks came in a wide-ranging ABC interview.
Trump's 2020 reelection campaign has spent about $835,000 — more than a fifth of its spending this year — on legal fees.
We have thousands of secret NYPD disciplinary files. Now we're making them public.
BuzzFeed News is making public a huge cache of the New York Police Department's disciplinary records, revealing for the first time which employees have been charged with misconduct and what punishment, if any, they have received.
This information has been closely guarded for years — and the department has fought hard to keep these files secret. We believe the information is an important tool for people accused of crimes and for officers who feel they were punished excessively.
Quick Brief:
Director Miloš Forman, best known known for his work on Oscar-winning films One Flew Over the Cuckoo's Nest and Amadeus, has died at the age of 86.
David Buckel, a famed LGBT rights lawyer, set himself on fire in Brooklyn's Prospect Park to protest fossil fuels. Reportedly, he left a handwritten note in which he said "my early death by fossil fuel reflects what we are doing to ourselves."
Facebook said hate groups aren't allowed on its platform. Then it shut down white nationalist Richard Spencer's pages.
Instagram's new "Focus" feature is actually really good
I see you over there, with your phone out. Gotta hit them angles.
Lucky for you and your selfies, Instagram has released a new feature for Instagram Stories called "Focus," and it will immediately up your game.
What it does is simple but effective: It uses digital manipulation to identify faces and then blur out the background. That makes for a super-nice photo that looks like it was taken using real film, or with a big, fancy digital camera.
Here's how to work it so you can work it.
Protesters around the world took to the streets for the second March for Science
This weekend, large crowds returned to the streets for the second annual March for Science.
The main march took place in Washington, DC, but people gathered in more than 200 cities around the world in solidarity, to advocate for evidence-based policies.
There's a broader context here: Donald Trump's administration has rolled back many climate and environmental regulations. Many environmental groups aren't happy, and neither are many in the science community.
A bonus: We collected the most wonderfully nerdy signs from the March for Science, and they're so delightful.
This one is my favourite: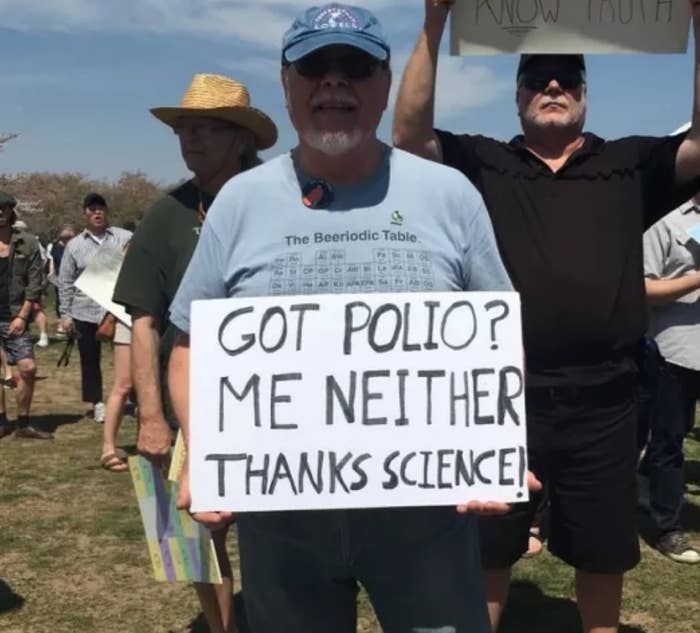 Beyoncé Beyoncéd like no one had ever Beyoncéd before (not even Beyoncé)
You know when Beyoncé does the thing where she reminds you that she's not just "next-level," she's way higher than that? Yeah, that.
Bey played Coachella this weekend, becoming the first black woman to headline the music festival, and the collective response is that it shall now be known as "Beychella."
She brought up her sister Solange, her former Destiny's Child bandmates, and some guy named Jay-Z.
I strongly encourage you to enjoy highlights from Beyoncé's set — the internet losing its mind over it. My favorite is Adele freaking out on Instagram.
Enter your email below to sign up for the BuzzFeed News newsletter: