Ten people were killed after a shooter opened fire at a Texas high school Friday
On Friday morning, a shooter walked into a high school in Santa Fe and opened fire. Ten people died in the massacre. According to authorities, the fatalities include students and adult staff members. Authorities also said possible explosive devices were located at the school and off campus.
Among victims were a football player, an exchange student from Pakistan, and a beloved teacher. Here's everything we know about them.
The suspect:
Dimitrios Pagourtzis, 17, was booked into the Galveston County Jail and held without bond on charges of capital murder and aggravated assault against a public servant. Here's everything we know about him. His family issued a statement offering their condolences.
The mother of one of the victims says her daughter "stood up to" the suspect in class last week after he "kept making advances on her." She added, "A week later he opens fire on everyone he didn't like."
The response:
As you can imagine, the community is shaken. Yet one student said she "always felt like, eventually, it was going to happen here, too."
The attack happened about 35 miles southeast of Houston. Houston Police Chief Art Acevedo posted on Facebook that he's "hit rock bottom" and blasted "elected officials who ran to the cameras today" but will "once again do absolutely nothing."
The aftermath:
Texas Lt. Gov. Dan Patrick blamed the shooting in part on "too many entrances" to the campus and suggested schools be redesigned to limit access.
Meanwhile, the incoming NRA president, Oliver North, partly blamed Ritalin for the shooting: "Many of these young boys have been on Ritalin since they were in kindergarten. Now, I'm certainly not a doctor. I'm a Marine, but I can see those kinds of things happening."
"You didn't deserve this"
Activists from Stoneman Douglas High School offered their support to the students in Santa Fe. The Parkland, Florida, students just marked three months since the shooting at their school.
Quick brief:
Trump says he'll "demand" an investigation into whether politics were behind campaign surveillance
This is really important and a bit complicated. Let's walk through it:
Okay, what happened? In a tweet, President Trump said he'll "demand" the Justice Department look into why the FBI launched an investigation into his 2016 campaign's ties to Russia — specifically, if the investigation was opened "for Political Purposes" by the Obama administration.
What am I missing? The demand is part of the fallout of reporting that a secret FBI source met with Trump advisers during the campaign. This weekend, Trump tweeted that "If the FBI or DOJ was infiltrating a campaign for the benefit of another campaign, that is a really big deal."
Why is this important? Trump's tweet could create a constitutional crisis. Or it could set up a now-familiar process of lawyers essentially pushing off the request to avoid such a crisis. Or it could be forgotten by the week's end.
What happens now? Well, DOJ responded quickly — with a response suggesting it'll take the middle path. In other instances when Trump pushed for action from the department, it referred the issue to the inspector general or assigned a particular US attorney to review the matter.
Here's what you need to remember: If Trump specifically demands that the Justice Department open a criminal investigation, observers say a roundabout response might not take care of the matter. Such a call would set up the most stark conflict between him and the DOJ yet.
The royal wedding was lovely, and I was totally wrong
Alright, have your moment. Go ahead and gloat. I woke up and I watched the royal wedding, and I had a great time. You were right; I was wrong.
Prince Harry and Meghan Markle officially became the Duke and Duchess of Sussex Saturday, and if you want all the details, here's literally everything that happened at the wedding.
It was notable that the event served up a side of black excellence, and people absolutely loved it. From the incredible 19-year-old cellist to the Kingdom Choir singing Ben E. King's "Stand by Me," it was a royal wedding like no one had seen before.
US Bishop Michael Curry stole the show with his fiery sermon on the power of love, which referenced Martin Luther King Jr.
People can't get enough of Markle's second dress, which she wore to the royal wedding reception — or the fact that she accessorized it with one of Princess Diana's rings.
I learned that tiara watching is a thing: The bride wore a rare tiara last seen on the head of Prince Harry's great-great-grandmother, Queen Mary.
Everyone is really moved by Harry saying "you look amazing; I'm so lucky" when he first saw Meghan on the day. Also, all the little kids involved were the absolute cutest.
And predictably, a couple of memes came out of the wedding — a photo of Harry and Meghan waving was really beloved by meme internets. My personal favorite: Prince Harry's ex went to the wedding and her facial expression also became a meme. I mean, how could it not: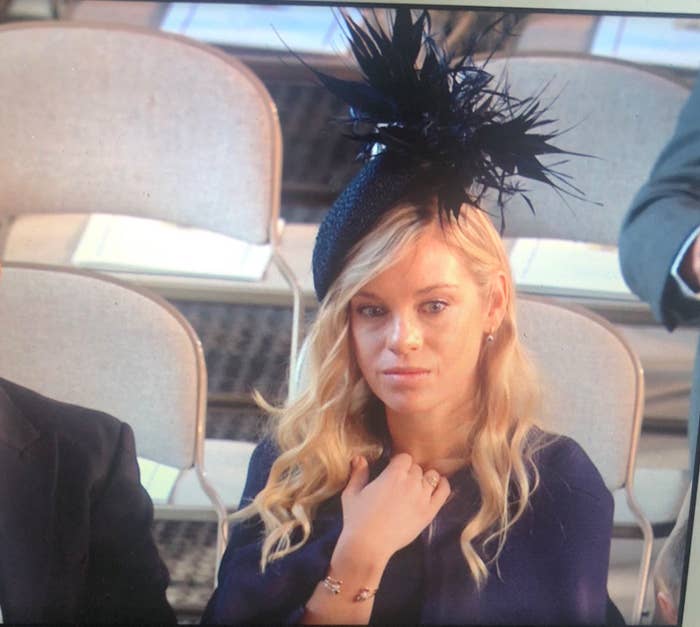 PSST: The News
Don't miss the new episode of our podcast The News — it's brilliant. I can also absolutely guarantee it'll be the only news podcast that includes a child confessing their love for Alexa.
As usual, you'll find it on Apple, Google Play, Spotify, or wherever you get your podcasts from.


The opioid crisis is not just an American epidemic
Nigeria is on the brink of a catastrophic epidemic of addiction to a synthetic opioid named tramadol. Millions of Nigerians are hooked on the painkiller, and the government is powerless to stop it.
People of all ages are popping millions of pills daily: Aid workers say it circulates in refugee camps, while college students use it as an aphrodisiac. Farmers say it keeps them going for hours on end.
Here's the thing about tramadol — unlike heroin or morphine, it's not eye-wateringly powerful. It does not give extreme highs. Instead, the epidemic is being driven by its ready availability.
Nigeria's struggle looks a lot like the US's battle with opioid addictions: After years of watching an epidemic grow, policymakers are looking for quick fixes.
Right now, in Nigeria, 70% of those in rehab for opiate abuse used tramadol as their drug of choice. It continues to flow freely into the country.
"We have caught an evil man."
Last week, we published an important story about one of America's bloodiest hitmen.
For decades, Jose Martinez lived quietly in small California agricultural towns while killing as many as 36 men — always men. Many were murders for hire.
How did he get away with killing so many people? He boasts that he was "so damn good" at killing, and the police are "so stupid."
After killing, he would collect his money and slip back into family life, taking his children to Disneyland.
We've seen a strong reaction to this story — if you haven't had a chance to read it, I highly recommend you do.
People getting emotional over this McDonald's Ramadan ad
An ad for McDonald's in Singapore has gone viral for being incredibly moving.
It features a young man delivering McDonald's all day while he's fasting. It ends in a way that made me tear up, and you should watch it. It's lovely.
Breathe,
Elamin