Morning Update: Royal Baby Season Approaching
The latest on the disappearance of the Saudi journalist, an expanding tent city for immigrant teens, far-right groups clash with protesters. Your BuzzFeed News newsletter, Oct. 15.
Trump said there will be "severe punishment" over the disappearance of a Saudi journalist
You may have heard about the story of Jamal Khashoggi's disappearance. If you don't know a lot about it, let's quickly catch you up:
First, who is Jamal Khashoggi? He's a well-known Saudi Arabian journalist, and he writes a column for the Washington Post. He has been critical of the Saudi government.
And what happened to him? On Oct. 2, he walked into the Saudi Consulate in Istanbul. He was there to get documents he needed for his wedding. This is the last thing everyone agrees happened. That was also the last time anyone saw him.
What are the versions of what happened? Turkish intelligence accuses Saudi Arabia of ordering Khashoggi's murder inside the consulate. Saudi Arabia says he walked in and then walked back out.
What does this mean for Saudi Arabia? Under the new crown prince, Mohammed bin Salman, the country has been on a bit of a rebranding tour. Khashoggi's disappearance has cast great doubt on the sincerity of that rebranding.
How is the US involved in this? To start, Khashoggi is a US resident. Last year, he moved to the US in a form of self-exile, believing it wasn't safe for him to stay in Saudi Arabia.
Is there a more direct involvement? Yes: The US provides Saudi Arabia with military assistance for its campaign in Yemen, which the UN said has killed thousands of civilians. Last year, the US finalized an arms deal with Saudi Arabia worth an estimated $350 billion over the next decade.
What has been the reaction to Khashoggi's disappearance? Outrage. Organizations like the Washington Post and the Committee to Protect Journalists are demanding answers. Wrestling fans are urging World Wrestling Entertainment to reconsider its upcoming major event in Saudi Arabia. Congress wants Trump to end military aid to Saudi Arabia over it. The head of the UN also wants answers.
Where's President Donald Trump in all of this? Trump initially said he didn't want to halt arms sales to the kingdom, because "they have four or five alternatives." Yesterday on 60 Minutes, he said, "We're going to get to the bottom of it and there will be severe punishment."
Anything else? One more thing. From our opinion section, an argument why it's time to end the US special relationship with Saudi Arabia.
Immigrant teens are stuck in an expanding tent city in Texas
After the Trump administration's policy of separating immigrant families at the border came into effect, it meant the government didn't have enough beds in the shelter system. So as a "temporary solution," the "tent city" in Tornillo, Texas, was opened.
When it opened in June, the contractor running the site had a 30-day contract. At that time, 326 children were being housed there.
Now, months later, the shelter outside of El Paso has grown into a bustling town. It now holds nearly five times its initial population — roughly 1,500 teens — and its contract has been extended until at least Dec. 31.
Read Amber Jamieson's report on what this expansion means for the children and teens housed there, and what it signals about the tent city's role and function.
SNAPSHOTS
Members of a far-right men's group violently beat up protesters and weren't arrested, and New York police won't say why. The far-right men's organization "Proud Boys" violently beat two or three apparent protesters Friday night following a Republican event in Manhattan. About 30 members of the group participated in the beating, some screaming threats and slurs at the individuals, according to video and an eyewitness account. Although NYPD officers were present at the time of the attack, none of the Proud Boys were arrested for the beatdown.
Far-right and anti-fascist protesters clashed in Portland. Following the clashes in New York, violence broke out in Portland, Oregon, on Saturday night, after members of the far-right organization "Patriot Prayer" clashed with "anti-fascist" counterprotesters. Patriot Prayer called for a rally Saturday evening in downtown Portland. Anti-fascist protesters responded with chants of "Go home, Nazis."
The percentage of young children in the US who haven't been vaccinated is on the rise. Although overall vaccination coverage among children in the US remained relatively stable in 2017, a growing percentage of toddlers have received no vaccines at all, according to a new report from the CDC. The proportion of children who hadn't been vaccinated at all by age 2 was small compared to the millions of children who were vaccinated, but that proportion is gradually increasing. It rose from 0.9% for children born in 2011 to 1.3% for children born in 2015, according to the report.
Prince Harry and Meghan Markle are expecting their first child. The Duke and Duchess of Sussex announced that they are expecting a baby in the spring of 2019. The child will be seventh in line for the throne, after Harry's father, Prince Charles; his brother, Prince William; William's three children; and Harry himself. As you can imagine, social media is freaking out in excitement.
This is what it's like at the apocalyptic ground zero of Hurricane Michael
As residents returned to Port St. Joe and Mexico Beach, the ground-zero Florida Panhandle towns where Hurricane Michael made landfall as a dangerous Category 4 storm Wednesday, they arrived to wreckage everywhere.
Michael was the strongest hurricane on record to strike the Florida Panhandle and the scene at its epicenter was apocalyptic.
Our reporter Talal Ansari visited as residents returned home. From his harrowing report: "The streets were littered with household items: a ceiling fan, a door handle, books, a hairbrush, and clothes. In some instances, the intense storm surge had lifted multiple cars and dumped them like forgotten toys."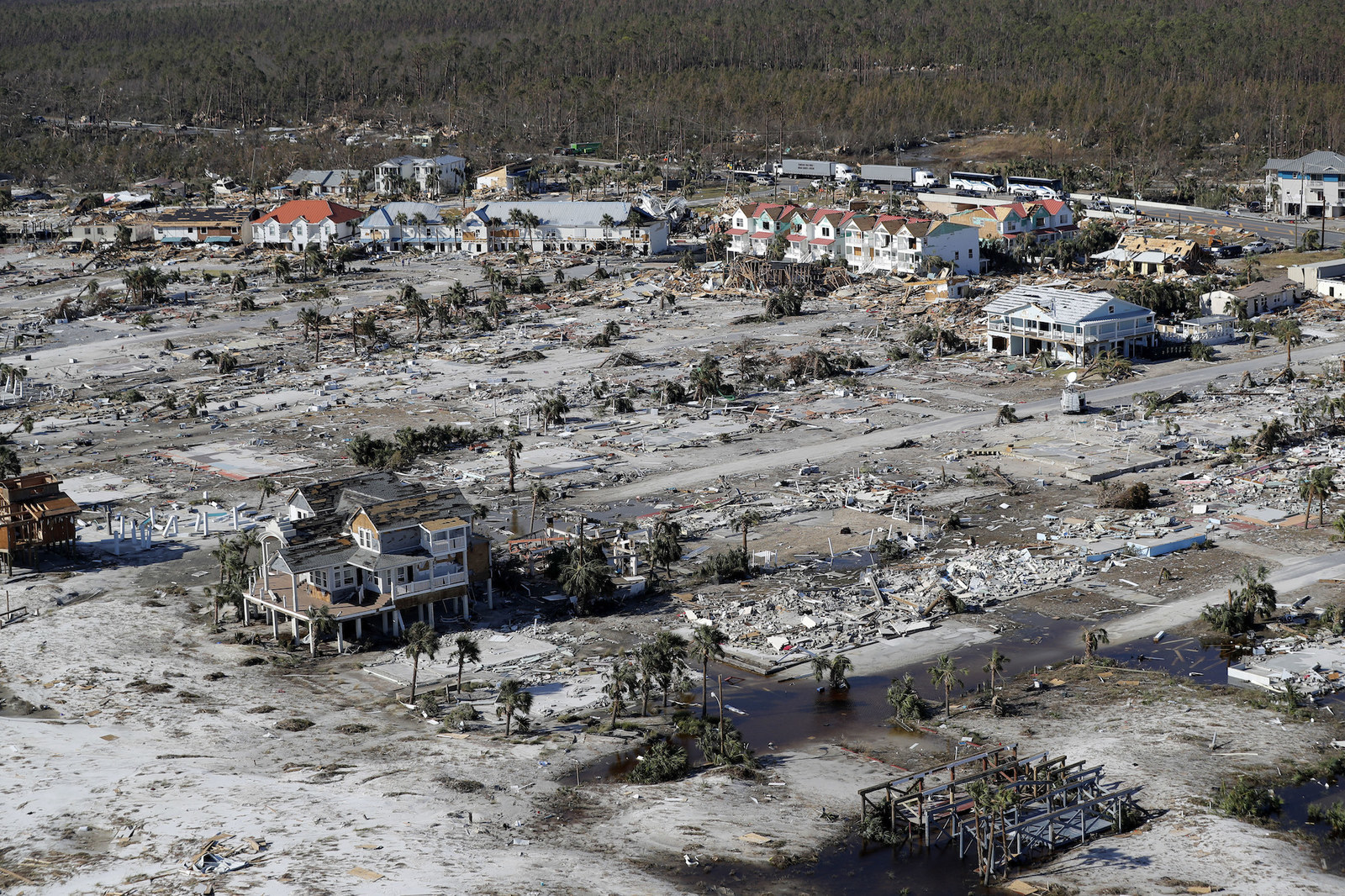 Princess Eugenie made sure her wedding dress showed her scoliosis surgery scar
On Friday, Princess Eugenie of York married Jack Brooksbank. One choice the princess made was noticed by many: She chose not to wear a veil.
The reason for that, it turns out, was quite important: She wanted to make sure that a scar on her back from scoliosis surgery was visible on her wedding day. She even worked with her dress designers to make sure the scar wasn't covered up.
In an interview earlier this week, the princess said, "It's a lovely way to honor the people who looked after me and a way of standing up for young people who also go through this."
She added, "I think you can change the way beauty is, and you can show people your scars, and I think it's really special to stand up for that." People absolutely love it.
Here's a photo of the back of her dress, with the scar proudly visible: