Students around the US walked out to honor the Parkland shooting victims and survivors
It wasn't a few thousand, or even tens of thousands — yesterday, nearly 1 million students took part in the #Enough National School Walkout, calling for increased gun control.
All in all, more than 2,800 walkouts were scheduled to protest Congress's inaction in response to gun violence in schools.
Not all schools sanctioned the walkouts — some districts threatened disciplinary action, including suspensions, against students who participated. But many of those students walked out anyway.
In one school that wouldn't let students walk out, they took a knee in the hallway.
The message?
Those who participated in the walkouts had one consistent message to the students of Parkland, Florida, where a shooting left 17 dead: You're not alone — you lead, and we'll follow you.
As one student in Kansas put it in her message to Parkland survivors, "this movement is created by you. It's been led by you. And we stand with you every step of the way."
We also picked some of the most emotive signs that students held during the walkout.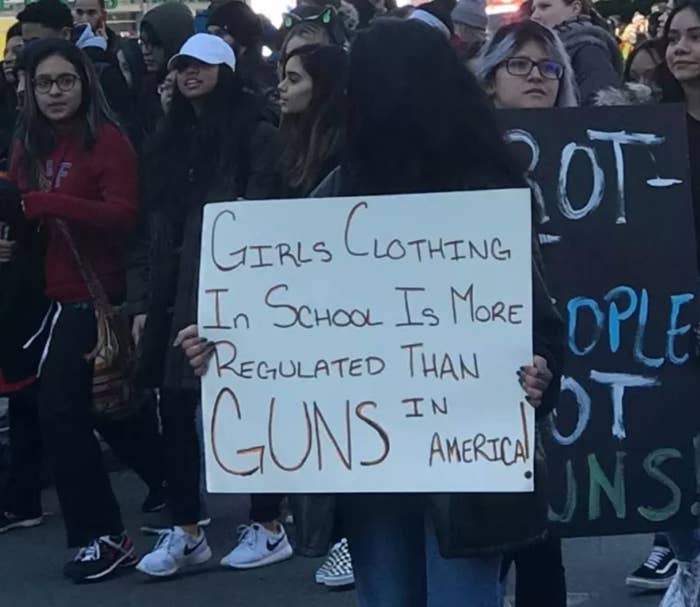 Here's why you probably won't read this article about Syria
Seven years after the war began, the horrific images and videos being posted online from Syria show no sign of stopping. But is anyone still paying attention?
Global interest in the conflict is waning. Our analysis shows the number of shares on Facebook, Twitter, and other social media sites of the most-read stories about Syria in the past two months were a 10th of what they were just over a year ago.
This excellent analysis shows just how much readers have stopped caring about Syria stories, even as the reality on the ground continues to get worse.
Toys 'R' Us is closing all its US stores, and an entire generation can't deal
I mean, it's like the end of an era.
All 800 US locations will close. The company filed for bankruptcy in September, and failed to turn around its business during the holiday season.
The US store closings will affect as many as 33,000 jobs, according to the Washington Post. The company will also be closing its remaining 75 locations in the UK, but will keep its 82 Canadian stories open.
The news hit hard for many millennials who'd spent hours as kids blissfully roaming the aisles of Toys 'R' Us or browsing its catalog. Enjoy these touching tributes from people mourning their childhoods.
Quick catch-up
Students injured: Three students at a Northern California high school were injured when their teacher accidentally fired his gun during a lesson. The teacher, a reserve police officer, was teaching students about gun safety. Luckily, none of the students suffered serious injuries.
Stormy Daniels: A lawyer for Stephanie Clifford, the adult film performer whose screen name is Stormy Daniels, says that more women are exploring legal cases against President Trump. This comes after Clifford filed a lawsuit in order to speak out about an affair she says she had with Trump.
UK expels Russians: The UK will expel 23 Russian "undeclared intelligence officers" in the wake of the poisoning of a former Russian spy and his daughter on British soil. Prime Minister Theresa May says this will be the "single biggest expulsion in 30 years."
With a samurai sword: A Washington state man survived after he was attacked with a samurai sword by his now ex-girlfriend while he was sleeping. He told us that his extensive video game training had left him with a reduced sex drive, which made his ex suspicious that he was cheating.
A 20-year-old girl gouged out her own eyes during a drug-induced psychosis. Here's why this happens.
The story is from about a month ago — Kaylee Muthart, a 20-year-old from South Carolina, made headlines for gouging out her own eyes while high on methamphetamine.
Removing one's eyes, or "self-enucleation," is rare, but it does happen from time to time. In the past 50 years, there have been over 50 documented cases of complete or partial self-enucleation in English medical journals.
We spoke to experts about why it happens. The answer is: psychosis, or the loss of touch with reality. One expert told us, "All of these patients have had a psychotic episode and developed delusions about their eyes."
A guy dressed up like Elsa from Frozen single-handedly freed a police wagon stuck in snow
Well, he thought it would be a good way to entertain friends if he dressed up like Queen Elsa during Boston's blizzard on Tuesday. In fact, he told us he bought the costume specifically to wear when it snows.
When a police wagon got stuck in the snow, he didn't hesitate to come to the rescue, pushing the vehicle alone — while still in his Elsa costume.
You could say he, uh, let it go.
It's all on video, and it's delightful.
Enter your email below to sign up for the BuzzFeed News newsletter: