Morning Update: Our Top Story Ends With Dennis Rodman Crying
Trump's historic summit with Kim Jong Un, net neutrality is over, Ocean's 8 is not a litmus test. Your BuzzFeed News newsletter, June 12.
In Singapore, a historic summit between Trump and Kim Jong Un
After weeks of uncertainty as to whether this summit would happen at all, President Donald Trump and North Korean leader Kim Jong Un shook hands and commenced a historic meeting.
After it concluded, the two signed a document establishing new relations for "peace and prosperity."
Trump called the end-of-summit agreement "comprehensive." The wording of the document was only released to reporters after its text first emerged in a photograph of Trump holding up the agreement at a signing ceremony.
Here's what you need to know:
The agreement falls short of a binding deal, but Trump told reporters the process of denuclearization will begin "very, very quickly."
Trump said he will end annual joint military exercises with South Korea, a major concession to North Korea. It is unclear whether the Trump administration informed South Korea about the president's statement before he made it.
The wording of North Korea's commitment in the agreement — "to work toward complete denuclearization of the Korean Peninsula" — had already been agreed during Kim's summit with South Korea's Moon Jae-in.
Kim said the two leaders "decided to leave the past behind."
Like all news stories in 2018, the summit involved a healthy number of weird moments, including when Trump asked photographers, "Getting a good picture, everybody, so we look nice and handsome and thin and perfect?"
Also, Dennis Rodman cried on CNN because it was "a great day." Here are all the WTF moments.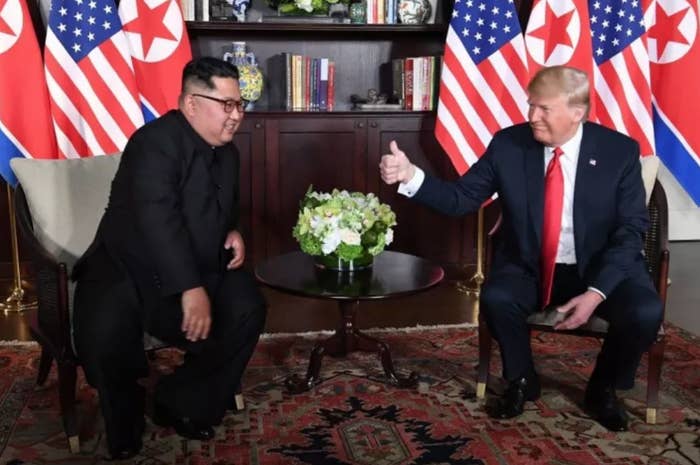 Your internet company can now charge you more for Netflix and Facebook
Yesterday, the repeal of net neutrality rules went into effect.
I'm not saying I need a refresher, but some people might. I got you. Net neutrality rules were put in place in 2015 by the Obama administration. They stopped internet service providers from slowing down websites or charging premiums for "fast lanes" for specific services or higher-quality streaming.
And now those rules are no longer a thing? They're over. Canceled.
What happened to them? They were repealed by the Federal Communications Commission in December, a move that consumer advocacy groups, lawyers, and technology companies decried. That repeal just went into effect.
So what happens now? Starting now, it becomes possible for your internet company — Comcast, Verizon, AT&T, and others — to charge you more to, say, get high-quality Netflix streaming or access Facebook.
But that hasn't happened. You won't notice an immediate change. Here's how one activist put it: "Cable and phone companies won't start misbehaving right away, because they know they're being watched."
SNAPSHOTS
In a major change to US policy, Attorney General Jeff Sessions ruled domestic violence is not grounds for asylum. Sessions told immigration judges to stop granting asylum to many victims of domestic abuse and gang violence. He said victims of private crimes, not state-based crimes, are not eligible for asylum. Advocates say this will likely affect the claims of thousands of women.
Large amounts of precut melon have been recalled due to a multistate outbreak of salmonella infections, according to the Centers for Disease Control and Prevention. The recall involves cut watermelon, honeydew, cantaloupe, and fruit salads containing them produced by a Caito Foods facility in Indianapolis. The CDC reports that 60 people have fallen ill in five states, with 31 people hospitalized. No one has died.
The Justice Department defended Trump's ability to profit from foreign officials staying at his hotel. The department argued foreign officials could patronize the hotel and the president could profit without violating the US Constitution, as long as he didn't explicitly provide something in return.
A Tennessee woman was arrested for driving around with her grandchildren in dog kennels. The woman, identified by the Memphis Police Department as Leimome Cheeks, was seen in a social media video opening a dog kennel in the back of her SUV as a young child emerged onto the street. The video has since gone viral. Cheeks was arrested Saturday and charged with two counts of child endangerment.
It should surprise literally no one that Ocean's 8 is doing well at the box office
Have you seen Ocean's 8? The movie raked in $41.6 million in its opening weekend, beating out the Han Solo movie. Not only that, though — it set a record for the entire Ocean's series.
As is often the case when a movie with a women-led ensemble cast is doing well, the conversation turns to already-tried questions. "Will Hollywood finally 'get it' this time and leave the door open for more movies centered on women?" publications ask.
In an excellent piece, Alanna Bennett writes that it's "time to stop treating every women-centered movie like it's a litmus test to prove women's worth in Hollywood."
This high school pitcher hugged his friend after striking him out to reach the state finals
Even with my limited understanding of baseball, I found myself tearing up at this story.
Ty Koehn was about to throw the last pitch of a local high school championship game when, he says, "I looked up to see who the last batter was going to be and my heart sank."
That's because coming up to bat was his close childhood friend Jack Kocon. They had played together since T-ball. They'd been Little League teammates.
The senior struck out his friend but as the rest of his team celebrated, Koehn threw his glove and made a beeline for home plate to console his friend.
In a moving moment captured on video, the two hugged. Koehn says he told Kocon "he's a great baseball player and our friendship will last longer than this at-bat or this game."
No you're crying, okay we're both crying,
Elamin
Enter your email below to sign up for the BuzzFeed News newsletter: