Major takeaways from the European Union election results
Across Europe, the European Union parliament elections were held last week. In total, 751 Members of the European Parliament were elected across 28 member states.
As far as the bloc is concerned, the good news is that the new parliament is overwhelmingly pro-EU.
The bad news is that its makeup reflects a fragmented continent: the parliament has emerged more polarized after an election that saw turnout surge across much of Europe.
In the UK, the contest was dominated by Brexit. Though Nigel Farage's Brexit Party came in a comfortable first with 32% of the vote, this is not quite the complete picture: the votes that went to pro-Remain parties add up to 40.4%.
In effect, the UK is split in two when it comes to Brexit. The Labour Party is now facing calls to get behind a second referendum.
Far-right nationalist parties didn't surge across Europe, but they are strong and stable. In France, Marine Le Pen's National Rally finished ahead of Emmanuel Macron's Renaissance. But it's is mostly symbolic — Le Pen also performed better in 2014 when she topped the polls.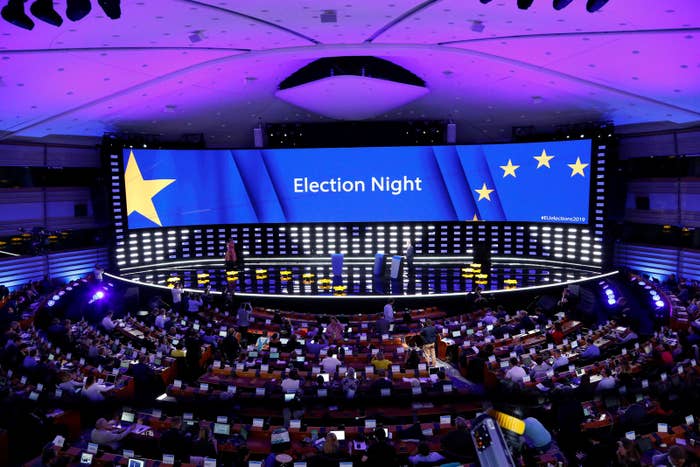 SNAPSHOTS
An Indiana man who vandalized a synagogue with Nazi symbols admitted how far-right figures radicalized him. Nolan Brewer was sentenced to three years in prison after he pleaded guilty to conspiring to violate the civil rights of the synagogue. He detailed to federal agents his road to radicalization.
A ban on a first-person shooter video game sent young men to jail in India. Since PlayerUnknown's Battlegrounds went viral, fears about its violence and addictiveness led officials in the Indian state of Gujarat to ban the video game. But things didn't stop there — soon, young men were being arrested for gaming.
The altered Nancy Pelosi videos will never go away. Last week, manipulated and misleading videos of Nancy Pelosi slurring her speech went viral. An expert tells us this is going to be the new normal: "This is her Benghazi. It's going to keep coming up, it's going to show up in her replies."
A YouTuber dramatically described seeing his wife fall off a cliff and — I know, this is shocking — it became a meme. YouTube star Shonduras AKA Shaun McBride made a video describing what he called a traumatic, near-death experience watching his wife fall off a cliff. He said she fell 12-16 feet, narrowly avoiding landing on jagged rocks. Nothing about it was funny, so naturally Twitter turned "Cliff Wife" into a meme.