Morning Update: Oklahoma's Wildfires Burned An Area Larger Than NYC
The UK bans straws, Amazon Prime at 100 million, Puerto Rico in the dark. Your BuzzFeed News newsletter, April 19.
Dozens of homes have been destroyed in deadly Oklahoma wildfires
So far the fires have killed at least two people and charred an area larger than New York City.
Fueled by the most dangerous conditions in a decade, the blazes have spread quickly. The largest, called the Rhea fire, had burned 283,095 acres in western Oklahoma and was only 3% contained as of Wednesday.
In one county, 50 homes spread across five separate communities have been destroyed. Hundreds of other buildings, such as barns, have also been lost.
The state's Department of Emergency Management says at least 20 people have been injured in the fires.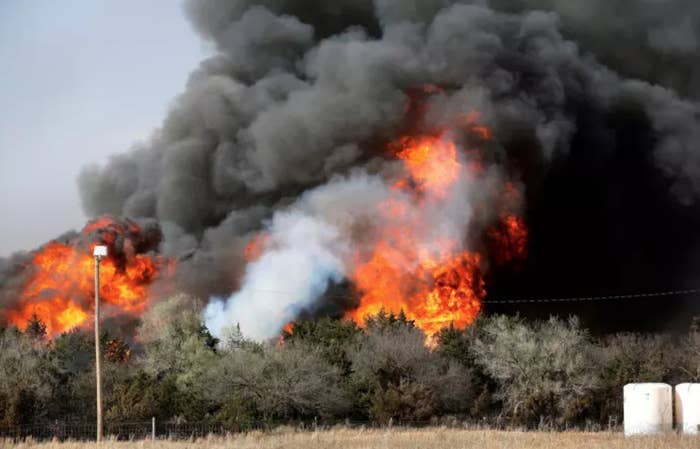 The UK government refused to raid a telecoms giant suspected of money laundering, citing its political donations
Last year, French authorities asked the UK government for their help. They needed assistance raiding the headquarters of Lycamobile, a British telecoms giant that investigators suspected of laundering money.
The UK said no. In confidential official correspondence we've seen, the government cited the fact that Lycamobile is the biggest corporate donor to Theresa May's Conservative Party.
The letter to French prosecutors read, "It is of note that they are the biggest corporate donor to the Conservative party led by prime minister Theresa May and donated 1.25m Euros to the Prince Charles Trust."
The response added that Lycamobile would likely challenge any raids on its properties and the French request didn't contain enough "solid information."
How the UK government responded to us: At first, an HMRC press officer denied Lycamobile's donations would be cited in such a way: "This is the United Kingdom for God's sake, not some third world banana republic."
After verifying the correspondence, another spokesperson walked back that response, calling the mention of Lycamobile's donations "regrettable."
Start at the beginning: This is yet another dramatic turn in a story we've stayed on top of for years — in 2015, BuzzFeed News secretly filmed Lycamobile's bagmen dropping cash-stuffed backpacks at post offices.
Quick brief:
Donald Trump's company sent the US Treasury a $151,470 check for the "unconditioned and general use of the federal government." We got a copy of it.
The UK plans to ban plastic straws and cotton swabs as early as next year. It's part of an effort to eliminate plastic waste by 2042.
In a letter to shareholders, Amazon finally spilled the beans about how big its Prime membership is: 100 million people.
Puerto Rico is enduring an island-wide power outage
It's the second major blackout in Puerto Rico in six days — except this time, it's the whole island.
On Wednesday, all of Puerto Rico lost power, making it the biggest blackout to hit the island since Hurricane Maria took out its infrastructure seven months ago.
The outage comes less than a week after a tree fell on a power line and cut the electricity supply for 840,000 people.
Officials said they determined Wednesday's blackout happened after a subcontractor operating a large excavator got too close to the line while working to remove a felled tower.
Puerto Rico's grid has been unstable for some time — even before the massive blackout, 40,000 of the island's residents were still without power.
Trump keeps saying ISIS has been defeated. The Pentagon says it's gaining ground.
For months, US military officials were saying that ISIS had lost nearly all of the land it once controlled in Syria. Now that's being revised, as ISIS is on the rebound in some areas.
The estimate the Pentagon had given was that 98% of territory had been retaken from ISIS. But Tuesday a Pentagon spokesperson said, "as we've seen ISIS start to resurge … we'll just keep it at well over 90%."
The statistic on ISIS territorial losses has been a Trump favorite — the president has regularly repeated that "very close to 100% of the territory" has been retaken and that the US's job is essentially done.
Pornhub banned celebrity "deepfake" videos, but the site is still full of them
Some quick background here: In February, Pornhub announced it would no longer tolerate deepfakes, which in this context are videos that feature realistic celebrity faces swapped onto the bodies of adult film actors. The site said the videos were a form of nonconsensual content and would be purged from Pornhub.
But despite the initial pledge, celebrity deepfake porn videos continue to thrive on the site.
In February, after reports of dozens of deepfake videos still on the site, Pornhub removed them.
A few months later, we easily found more than 70 deepfake videos using the search term "deepfake" on the site's homepage.
Nearly all the videos — which included graphic and fake depictions of celebrities like Katy Perry, Scarlett Johansson, Daisy Ridley, and Jennifer Lawrence — had the word "deepfake" prominently mentioned in the title.
A flesh-eating germ is causing an epidemic in Australia
Cases of Buruli ulcer were once considered rare in Australia, but now they're happening at epidemic levels.
The last two years have seen an explosion of cases in the state of Victoria: In 2017, there were over 250 cases of the flesh-eating disease — a 51% increase from the year before.
The Buruli ulcer is a chronic infection that slowly leads to erosion of the flesh if it's not treated.
I'll spare you the pictures, but feel free to proceed if you're curious.
Sorry for the endnote...Happy Thursday?
Enter your email below to sign up for the BuzzFeed News newsletter: