Don't take this lightly: Read on, tune in, turn out 🗣
Today's the day you do the thing, America. Today's the day you vote.
Here's a step-by-step breakdown if you're trying to figure out how to do this. No shame, no judgment — use it. Then go vote.
We've talked pretty extensively about how important this election is, but don't take it from me. Take it from President Donald Trump, who tied himself tightly to the outcome: "Even though I'm not on the ballot, in a certain way I am on the ballot."
What are the stakes? Here are two possibilities:
Control of Congress could change. Democrats need to flip 23 seats to take the House. Looking at the map, the "blue wave" is not a sure thing. It's possible Democrats could have a great night and still not take back the House.

Republicans could lose the Senate, though that's unlikely.
Tell me a story.
This is absolutely an election of narratives. Here are some of the biggest ones of this cycle:
What are the highest-stakes races?
We're watching races across the whole country, but these have been among the more intense ones:
A more comprehensive list of all the battles we're following can be found here.
How do I make sense of all of this?
I can hear you stressing from here. Breathe. We're going to guide you through this. This may seem like a lot of information, but there's a predictable rhythm to it. Here's the hour-by-hour guide to what will go down.
By 9 p.m. ET, you'll start to hear if it's a "wave election," i.e., if a wider trend is happening across the country. People will start predicting whether the Democrats will take the House around this time. If you're hearing that, it's likely because the trends are appearing from one state to the next.
Our live show will start at 7 p.m., and we're blessed with people who know WTF is going on. Take the anxiety out of the election coverage, and come watch it on buzzfeednews.com.
SNAPSHOTS
The migrant caravan has reached Mexico City. A small tent city was set up in a sports complex to handle a large contingent of the caravan making its way through Mexico. Authorities said they expect as many as 5,000 people to arrive at the stadium, about 660 miles south of the US border. It is unclear how long they plan to stay here.
LinkedIn is now home to hyperpartisan political content, false memes, and troll battles. Facebook and Twitter's crackdown on hate speech, false news, and manipulation has caused some people to move their political content-sharing to a very different social network. Nothing is safe, not even that place where you read random business inspo. #LetsGetIt
Amazon is offering all shoppers free shipping on holiday orders. For a limited time, starting now, Amazon shoppers will not be required to make a minimum purchase amount on orders to get free shipping, the company announced. Typically, customers who don't have Prime memberships need to buy at least $25 worth of merchandise to qualify for free shipping. The company did not specify when the offer will end.
A newlywed couple died when their helicopter crashed on their wedding day. Bailee Ackerman Byler and Will Byler got married on Saturday, and then the aircraft they were in after the event went down. The pair were seniors at Sam Houston State University in Texas, according to the school's newspaper. A wedding guest wrote on Facebook, "We celebrated their fairy tale wedding and they were surrounded by their family and friends as they flew off in the family helicopter."
The Spice Girls are officially reuniting again. They announced the Spice World 2019 tour, finally putting the "getting back together" talk into action with a very on-brand announcement. Posh Spice, though, won't be there — Victoria Beckham is sitting this one out but sent her best wishes.
"Thank U, Next," Ariana Grande's new song about her exes, has become a huge meme
In the new Ari single, she sings, "One taught me love, one taught me patience, and one taught me pain."
She's talking about her actual exes, but this is the internet, and this is where we meme things. So now the phrase has spread, with people applying the line to different contexts and making some solid jokes for you to enjoy.
This one is my favorite: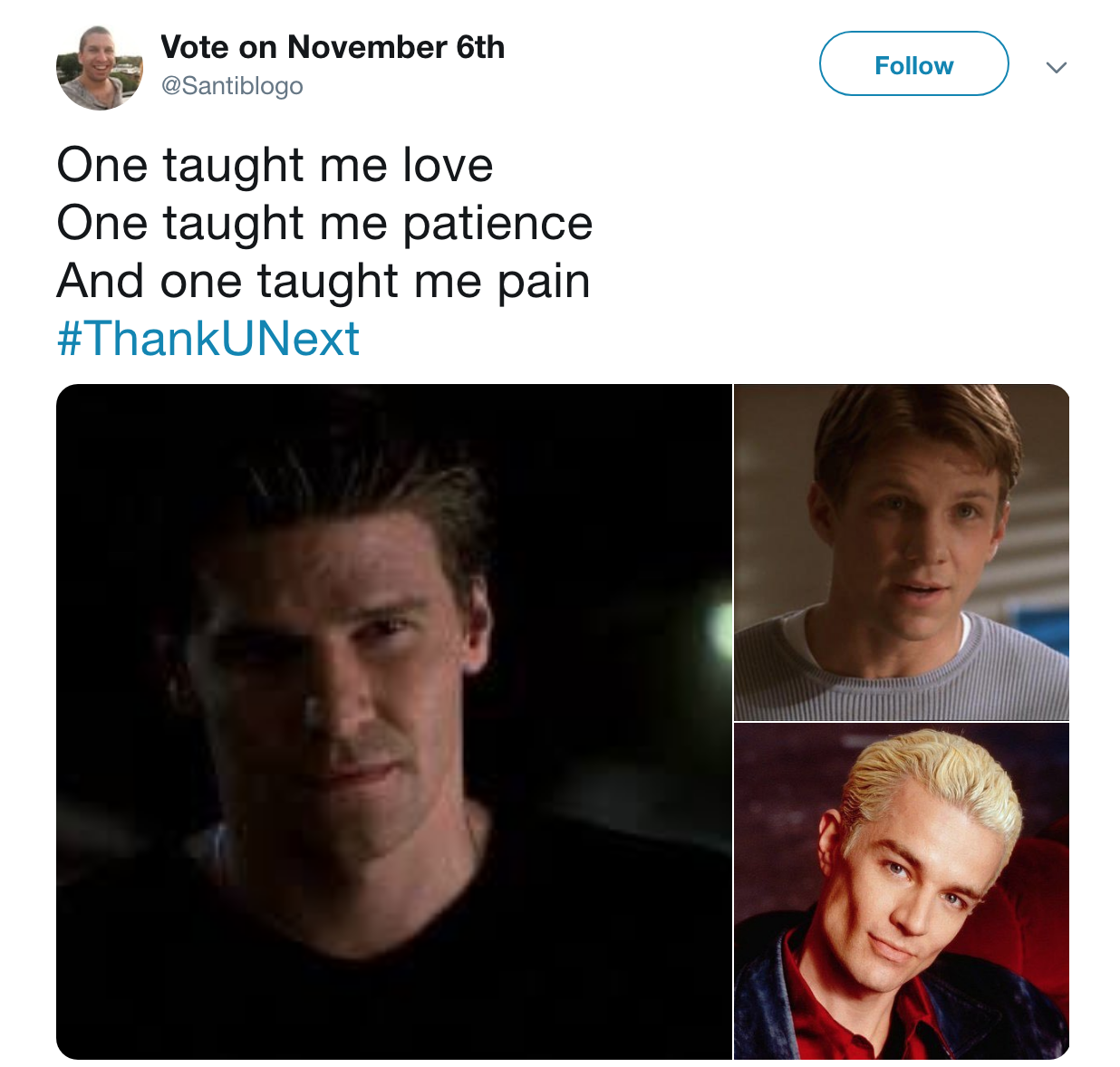 I love it, even though no one is actually Team Angel.