Robert Mueller said he shouldn't testify before Congress, but House Democrats may not give him an option
When Robert Mueller spoke publicly about his report last week, he made it clear that he would not provide any additional information about the investigation.
House Democrats have a different opinion. The Dems are in talks to arrange for Mueller to testify in Congress, even if it means him reiterating his findings. They are still irate that Attorney General William Barr's initial summary of the report cleared the Trump administration of wrongdoing, while omitting damaging findings.
Speaker Nancy Pelosi went as far as accusing the AG of committing a crime by lying about the report. Now, the Dem representatives are restless and want action.
Meanwhile, the number of Democrats calling for impeachment grows. Over 50 members say they are in favour of opening an impeachment inquiry. That may not seem like a lot — but it's twice as many as two weeks ago.
Mercifully, it's the third and last day of Donald Trump's state visit to the UK
Protest organizers said 75,000 people marched in central London yesterday, publicly demonstrating against Donald Trump's presidency and his visit to the UK.
When asked about the protests, the president responded, "I heard that there were protests, I said: 'Where are the protests? I don't see any protests.' I did see a small protest today when I came, very small. So a lot of it is fake news, I hate to say."
Trump also said he turned down a meeting with Labour leader Jeremy Corbyn, and called him a "negative force."
The demonstrations against Trump were undoubtedly massive — here are some great photos from the protests. The Brits have fun signs that talk about corgis: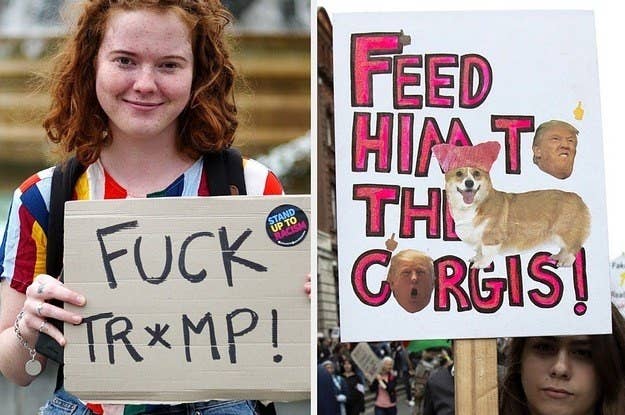 SNAPSHOTS
The armed resource officer who failed to confront the Parkland shooter has been arrested. Scot Peterson, the Sheriff's deputy who waited outside Marjory Stoneman Douglas High School while a shooter opened fire, killing 17 people last year, has been arrested on child neglect charges. Peterson was heavily criticized for taking cover as the massacre unfolded.
Another black trans woman has been killed in Dallas. Police say the body of Chynal Lindsey was found Saturday with "obvious signs of homicidal violence" — at least the fourth black trans woman to be killed in the Texas city in three years. Her death comes weeks after Muhlaysia Booker was found shot to death just a few miles away.
The parents from the "Prince family" YouTube channel are under fire for comments about their newborn's eyes and skin color. In the birthing video, Biannca Prince is heard making remarks about the brand new arrival: "She's going to have brown eyes... I thought you were going to have pretty eyes." The parents are facing backlash from their fans.
A helicopter rescue turned into a spinning, terrifying ride for a fallen hiker. After the 75-year-old woman was injured while hiking, the routine helicopter rescue, uh, took a turn: the basket carrying her began wildly spinning. The windmilling was captured in a video that'll make you nauseous. Authorities say the woman felt dizzy afterwards but wasn't injured.
Tracy Morgan bought a $2 million sports car, then immediately got in a minor crash. Video from the scene provided to BuzzFeed News shows the 30 Rock star banging on the other car's window and complaining he'd just bought his new Bugatti.
These reporters lost their jobs. Now they're fighting back against Big Tech.
It's only June, but this year has been one of the worst in recent memory for journalism jobs.
Thousands have lost their jobs, including here at BuzzFeed News and across the industry at Vice, CNN, and a wide range of local newsrooms.
So. What to do about it? Two prominent reporters who were recently laid off are forming a new advocacy group to raise awareness about Big Tech's impact on the industry.
John Stanton, a former BuzzFeed News Washington bureau chief, and Laura Bassett, a former culture and political reporter at HuffPost, are launching a new initiative called the Save Journalism Project.
The object is ambitious, but simple: get journalists, who aren't known for showing an interest in the business side of journalism, to take an active role in defending the future of their jobs.
Chrissy Teigen had a savage response to someone criticizing her daughter's appearance
Choosing to live your life in public often comes with the annoyance of having complete strangers feeling entitled to comment on your choices. Celebrities know this.
They don't, however, all respond the same way. Some ignore the negative comments. Some choose to speak out about the haters. And in the case of Chrissy Teigen, she dunks. She dunks on those people, issuing a burn that silences them.
So when someone commented on a video of her daughter that "finally someone brushed her hair," Teigen was ready with a response: