Republicans on the House Intelligence Committee say they've found no evidence of Russia collusion
As the House intelligence panel wraps up its investigation, the Republican leading the probe says while they've found evidence that Russia interfered in the election, there is "no evidence of collusion, coordination, or conspiracy between the Trump campaign and the Russians."
Adam Schiff, the top Democrat on the committee, blasted Republicans' decision to conclude the investigation, calling the move "premature."
Trump, being an all-caps kind of person, had an all-caps response to this news on Twitter. His tweet did not note that it was only the Republicans on the committee who made the assessment.
A key player in the Trump-Russia saga led a double life as an American spy
Felix Sater's name is all over the Trump-Russia scandal. He was once a senior adviser and business partner to Donald Trump. Then he emerged as a person of interest in special prosecutor Robert Mueller's investigation for emails to Trump's personal lawyer, about lining up a real estate deal in Moscow.
Basically, he's written about as something just short of a Russian spy.
However, truth is often stranger than fiction: BuzzFeed News has verified for the first time that Sater's undercover work effectively has been as a spy — for the United States.
He worked as an asset for the CIA and the Defense Intelligence Agency and tracked Osama bin Laden. For more than a decade, he worked with the FBI, providing intel on everything from the mob to North Korea's drive for nuclear weapons.
Two FBI agents said Sater still operates as a source for the FBI.
The whole story is wild, and reads like a spy thriller.
London's mayor read out abusive tweets he receives, and warned Twitter to tackle hate
Sadiq Khan was in Austin to speak at South by Southwest, and he read out some of the racist abuse and threats he regularly receives on Twitter. He's the first Muslim mayor of a major Western capital. The abuse he receives is bad. It's really bad.
Khan said he is worried about what happens when "young boys and girls from minority backgrounds see this kind of thing on their timelines," and warned Twitter and other social media companies that some countries have implemented "hefty fines" if platforms fail to remove hate speech and fake news.
Netflix is testing rewarding kids with stickers for watching TV
The feature is called "patches," and it lets you collect little icons by watching more episodes of certain shows. Right now, the patches appear only on certain Netflix original kids shows, like Fuller House, Trolls, and A Series of Unfortunate Events.
As you may have already guessed, some parents read this as Netflix encouraging their kids with a reward system to watch more TV, and they are not happy about it.
Netflix told us it has no comment on whether the social media reaction has made it reconsider the test.
Quick catch up
Austin explosions: Police in Austin are warning people to stay vigilant after three package explosions killed two people in the last 10 days. A 39-year-old man died on March 2, and a 17-year-old boy died yesterday. A 75-year-old woman sustained life-threatening injuries in a third incident.
Stormy Daniels: Stephanie Clifford, the adult film performer and director who goes by Stormy Daniels, wants to return the $130,000 she was paid to "silence her" so she can speak freely about her alleged relationship with Donald Trump.
Black-ish: ABC has pulled an episode of the show that discusses athletes kneeling during the national anthem. The show's creator, Kenya Barris, said, "Given our creative differences, neither ABC nor I were happy with the direction of the episode and mutually agreed not to air it."
Beyoncé and Jay-Z: It's really happening! The power couple have confirmed that they are doing an On the Run II world tour, set to begin in the UK on June 6. The pair co-headlined the first On the Run tour back in 2014. So nice of Bey to bring her husband along.
National Geographic just acknowledged that its past coverage was racist
Among academics who study race and culture, this was always a known thing: Nat Geo's early work often reinforced racist stereotypes.
Now the classic magazine is reckoning with that past. Its editor-in-chief, Susan Goldberg — the first Jewish person and the first woman to hold the job — wrote an essay acknowledging the racist coverage of people who aren't white.
Nat Geo hired a historian to comb through its archives and discuss how its race coverage evolved. The whole thing is fascinating, and I highly recommend you have look.
People are losing it over this dog with a very human face
The dog on the left is Yogi, a 1-year-old Shih-poo who is going viral because of his incredibly humanlike face: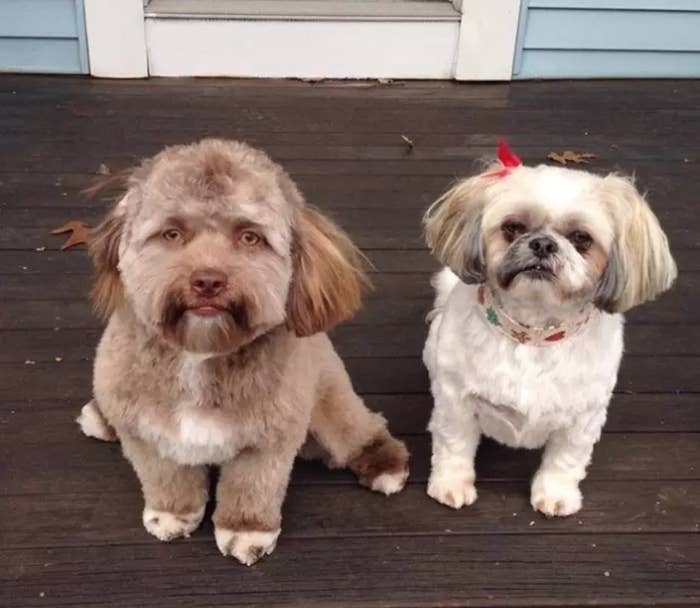 Take a look at the soulful human eyes on this pup, and enjoy the reaction because people cannot handle it.

Enter your email below to sign up for the BuzzFeed News newsletter: