It would be hard for Facebook to describe 2018 as a good year
This must feel like the longest year over at Menlo Park. For Facebook, the hits just keep on coming.
Taken one at a time, they seem like individual fires for the company to put out. But zoom out, and the picture emerges of a company battling on too many different fronts — and losing.
This week, Facebook announced that it has been targeted by coordinated political influence campaigns with activity that was consistent with Russian state-sponsored actors. The company was quick to point out the efforts were not intended to push candidates ahead of the 2018 midterm elections, but aimed to sow discord by posting about divisive social issues.
The larger context
Facebook's announcement comes an interesting time, with the company against the ropes. Just a few days ago, its stock plummeted 20%, and the company lost more than $100 billion in value — a record one-day loss on the US stock exchange.
That its stock dropped is not a surprise — it was only a matter of time before the privacy scandals, public relations issues, and calls for increased scrutinythat have plagued the company caught up with its business.
Trouble is in the air
Investors get nervous — it's kind of their thing. This time, it was about Facebook's projected growth. Sure, the company posted a 42% increase in quarterly revenue to $13.4 billion. But that number missed Wall Street's projections by $200 million.
More worrying for investors, Facebook said it expected revenue growth rates to decline by "high single-digit percentages" in the third and fourth quarters of 2018.
Meanwhile, inside the company…
The mission continues to try to find a direction. We got our hands on a memofrom Facebook's departing chief security officer Alex Stamos. On his way out during the biggest privacy scandal the company has faced, in March Stamos implored his colleagues to "intentionally not collect data where possible" and listen to people when they say a feature is "creepy."
Stamos also wrote, "We need to be willing to pick sides when there are clear moral or humanitarian issues." Fast-forward to two weeks ago, with CEO Mark Zuckerberg defending the right of Holocaust deniers to post on Facebook.
The throughline:
One of the numbers that made Facebook's investors nervous: The company now has 1.47 billion daily active users, up from 1.45 billion — a 1.4% increase quarter over quarter, compared with a 3.5% increase in users in the previous three months.
What that points to is something less theoretical and fleeting. It suggests a material change in the relationship people like you and me have with Facebook.
Maybe the mishaps and mistrust are beginning to take their toll, and not just on Facebook — on all of us, IRL.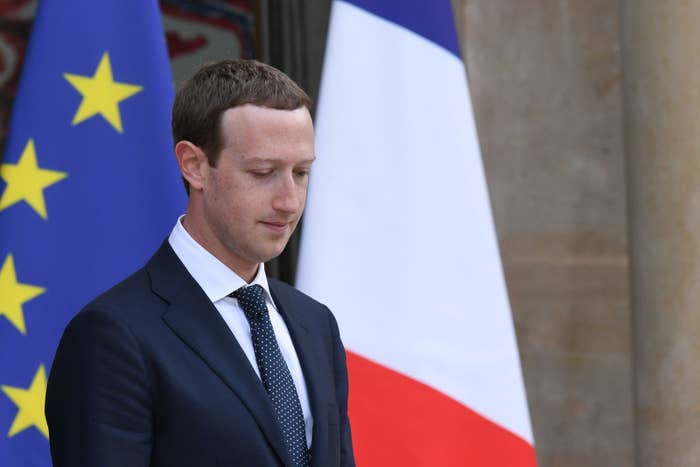 SNAPSHOTS
CBS is going to investigate sexual misconduct allegations against its CEO. The company's board of directors has hired two law firms to look into allegations against Les Moonves as well as the broader company culture. The probe comes after a report in the New Yorker last week, in which six women claimed Moonves had sexually harassed them.
The duck boat that capsized in Missouri, leaving 17 people dead, shouldn't have been on the lake in severe conditions. According to a newly released Coast Guard document, the boat was only allowed to operate in wind and wave conditions half as intense as those experienced that day.
President Trump demanded that Jeff Sessions end the Russia investigation. In a tweet on Wednesday morning the president called the special counsel investigation into Russian interference "a rigged witch hunt" and said that the attorney general should end the probe "right now." Both Trump's lawyers and the White House have insisted that the president is expressing his "opinions" and has not directed the Department of Justice to take any action.
Ohio State University is currently under fire for two unrelated abuse scandals. NBC News reported that a former Ohio State wrestling coach asked ex-students to support US Rep. Jim Jordan, another former wrestling coach, who has been accused of turning a blind eye to alleged sexual abuse by a team doctor. Separately, the Buckeyes' football coach was placed on leave over claims he knew about domestic abuse allegations against a colleague. The scandals have raised questions about whether current and former school officials were aware of alleged misconduct and failed to do anything about it.
The judge in Paul Manafort's case is pissed at prosecutors for focusing too much on his "luxury" lifestyle. The jury in Manafort's ongoing criminal trial on Wednesday heard testimony about his expensive suits, pricey home renovations, high-end cars, and luxury condo, and the judge was not happy about it. US District Judge T.S. Ellis III's displeasure with this escalated throughout the day, with the judge at times interrupting and chastising the lawyers in front of the jury and repeatedly telling them to move things along.
A warning has been issued on Trader Joe's, Walgreens, and Kroger salads and wraps for possible parasite contamination. The diarrhea-causing bug, called the cyclospora parasite, was found in certain prepackaged salads, according to a public health alert from the US Department of Agriculture this week. The same parasite has contaminated McDonald's salads and Del Monte vegetable trays, which prompted their recall in recent weeks. The good news is that no one has gotten sick from the germ, and the recalled products are no longer on store shelves.
The dad of a major YouTube family channel is being called out for "racist" and disparaging tweets about women. Austin McBroom, one of the creators of The ACE Family, is under fire for old tweets that some believe are racially insensitive, "discriminating," and obsessive over women of color. While some fans are dismayed by the comments from the YouTuber — who offered a "genuine" family-man image — others are still declaring their unwavering support. McBroom and Catherine Paiz created the channel in 2016, and it has since grown to more than 10 million followers. The family's videos, which include vlogs, challenges, pranks, and music videos, have collectively amassed more than 1.5 billion views.
A teen filmed his dog after she mistakenly ate an edible in the park. Seth Mersing's beloved 3-year-old doggo, Rita, started acting a little strange after eating something on the ground during a walk. After Rita started to lose consciousness, Mersing took her to the vet, where she tested positive for THC, aka the main psychoactive chemical in marijuana. After she was treated and Mersing knew she'd be okay, he tweeted a clip of a very stoned Rita at the hospital and it went viral. We're pleased to report that she's back home and is all back to normal now.