At least six people are dead after Hurricane Michael ravaged the Florida Panhandle
The death toll from Hurricane Michael, the third most intense hurricane to make landfall in US history, has climbed to six people. The deaths include a Florida man who was killed by a falling tree that crashed into his home, and an 11-year-old girl in southwest Georgia.
After inflicting chaos on the Florida Panhandle, the storm barreled into Georgia and then North Carolina, where it has weakened to a tropical storm. In Georgia, a small town 100 miles inland was not expecting a visit from a hurricane — it was pulverized by Michael.
Florida Gov. Rick Scott said first responders were facing communication issues — the emergency operations center was without power and their phone lines were down.
One disaster resilience and planning expert said, "This is the first big wind event of this size we have seen in decades, and we believe that we are going to see more of these higher-intensity events because of warmer water."
You should watch the drone footage of the devastation Hurricane Michael left behind. We also collected some really striking images of the damage the storm inflicted. I found this one startling: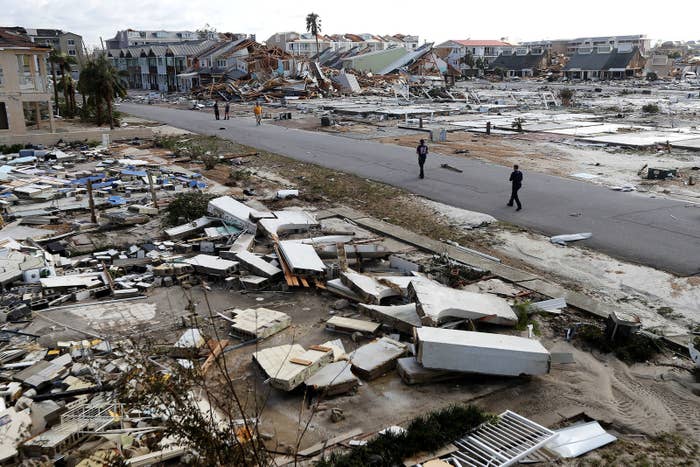 The US is sending its addiction problem over the border
America's addiction crisis is acute, and has been for some time. But now there is an added dimension to it: It's seeping over the border, into Mexico.
Tijuana has its own addiction crisis. A doctor tells us it used to be that most of the people she saw living on the streets were 30–50 years old, and most had been living in Tijuana for many years before becoming homeless.
But lately, something's changed: There's a spike in younger people who are addicted and who speak English as their first language — a sign they got hooked on drugs in the US. Some have been deported by immigration officials. But others have moved voluntarily to Tijuana, lured by the promise of a cheap fix.
While there are no hard numbers on how many people cross the border every day to buy drugs, there's evidence to suggest it's significant. According to researchers from one university, a fifth of Tijuana locals who inject drugs reported sharing drugs with visitors from the US.
Read John Stanton's excellent investigation into how the US's addiction problem is crossing the border.
SNAPSHOTS
Two astronauts survived an aborted rocket launch. American astronaut Nick Hague and Russian cosmonaut Alexey Ovchinin are reported to be in "good condition" after the booster on their Soyuz MS-10 spacecraft failed, sending the pair plummeting back to earth. Experts fear that while Hague and Ovchinin are safe, the failure of the Soyuz rocket could pose problems for future access to the International Space Station. Astrophysicist Katherine Mack of North Carolina State University tweeted that the spacecraft is the "only way people get to or from the station."
A judge dropped one of the assault charges in the Harvey Weinstein sexual assault case. The Manhattan judge dismissed one of the sex crime charges against the disgraced movie mogul after it was reported that key emails from one of his accusers were not shown to the grand jury that indicted him. Weinstein was previously charged with six felony sex crimes based on allegations made by three women.
Washington state's death penalty is unconstitutional, the state's Supreme Court ruled. The decision from the court was unanimous, with justices citing concerns about racial bias and the arbitrary imposition of the penalty. The eight inmates currently on death row in the state will have their sentences converted to life imprisonment, the court ruled.
Fyre festival organizer Billy McFarland was sentenced to six years in prison. Remember the internet spectacle that was the Fyre festival? It had been promoted by social media stars and celebrities as a luxurious, A-list experience, but it quickly imploded into a calamity as duped guests arrived in the Bahamas to discover disaster-style tents and cheap sandwiches. In March, its founder pleaded guilty to two counts of wire fraud for defrauding investors and a ticket vendor in connection with the event. Yesterday, he was sentenced to six years in prison.
The buyer of that shredded Banksy painting decided to keep it, and some think it's worth more now. Last week, a Banksy painting fetched a record price at an auction and then immediately began shredding itself. Sotheby's, the auction house that sold the work, said that the unnamed collector would be "proceeding with the purchase at the same price as was achieved in the room on the night." Also, the work has a new name. Originally called "Girl With Balloon," the work will now be known as "Love Is in the Bin." Alright, art world.
I regret to inform you that Kanye West was at the White House yesterday. Yes, it was as bizarre as you'd expect. No, I can't summarize it. But at some point Kanye said, "Trump is on his hero's journey." So here's everything that happened that you need to know about. Here's a full transcript, because you're going to need it. And here are some smart thoughts from Charlie Warzel on why Kanye's love for Trump makes perfect sense.
There's another royal wedding, in case you're interested. I don't know, maybe you're all royal wedding'd out? In case you're not, Princess Eugenie will marry Jack Brooksbank today. If you need a refresher on who those people are and why you should half-care, we got you. Don't feel too bad for not knowing — even the royal family's Twitter account got the name of Princess Eugenie's husband-to-be wrong.
Here's how laws are changing with the #MeToo movement
#MeToo's initial victories were in outing powerful abusers — men that many thought would never fall despite years of abuse accusations, but are now disgraced.
As the movement picked up momentum, it turned its eyes to other industries and major institutions, such as the justice system.
#MeToo's momentum put pressure on lawmakers. Across the country, legislators proposed bills to respond to the concerns of victims speaking up for the first time.
The results of this are quite tangible. Seven states — Arizona, California, Maryland, New York, Tennessee, Vermont, and Washington — put limits on nondisclosure agreements in harassment settlements. Several states also expanded who's protected against sexual harassment.
Read our analysis of how laws are changing to respond to #MeToo.
Some thoughtful longreads to spend the weekend with
Ballet is an incredibly precise art form, and one of the most demanding. Doing it professionally means asking a lot of your body. But how much is too much? And at what cost to women's bodies? Ellen O'Connell Whittet wrote a difficult piece about ballet having a reckoning moment. She poses a brave and difficult question: Is there such a thing as ballet that doesn't hurt women? From Whittet's piece: "I knew I had sacrificed my own body's health because I wanted so badly to be good at dancing, even when my torso was too long and my feet not arched enough. To compensate for these apparent shortcomings, I overstretched my back and once literally stretched my feet until I got a stress fracture in one of them. ... It never occurred to me that ballet's logic was flawed — instead, I believed my body was."
Last week, the New York Times published an explosive story about President Trump's tax returns. According to the investigation, Trump had benefited from massive infusions of wealth from his father for years, much of it received via fraudulent tax-avoidance schemes. So why didn't the investigation create much noise, or demand more than a few days' worth of the news cycle? Anne Helen Petersen wrote a thoughtful piece about why nothing sticks to the president. From her analysis: "There is no resulting scandal, because none of the information actually unsettles the foundation of Trump's image."
If you're a fan of witches on TV, this is a good time for you. This month, Chilling Adventures of Sabrina and Charmed have signaled the return of witches to your TV screen. Alanna Bennett takes a closer look at this return in light of the changing conversations about sexism and the patriarchy. From her essay: "The new generation of TV witches has little interest in presenting magic divorced from politics. Magic is power, and power is automatically political."