Trump said he will deploy the military at the border until the wall is built
That's a big deal. Let's walk through how we got here.
First, the background: We've been talking all week about the caravan of Central American migrants making their way through Mexico to get to the US border.
Why are the migrants doing this? The same reason migrants all over the world do it: to flee violence and poverty back home. They're marching with the hopes of applying for asylum in the US or Mexico.
How did Trump respond? He's been tweeting about the caravan all week. Yesterday at a meeting he said it "makes me very sad that this could happen to the United States."
What's his plan? Earlier in the week, the administration said it's "exploring all options." Yesterday, Trump said after discussions with Secretary of Defense James Mattis that the US would deploy troops to the border until there is a border wall and "proper security" in place.
Has that ever happened before? Trump says it hasn't. However, that is not true: Former president Obama deployed more than 1,000 troops to the border in 2010. Former president George W. Bush did the same in 2006.
What did Mexico do? Mexican officials have asked for "clarification" about what this means. Meanwhile, they say they will disband the caravan by Wednesday.
What happens now? Caravan organizers say they will continue moving forward and will finish the last leg with anyone seeking asylum.
A woman shot several people at YouTube's HQ before killing herself
Authorities say at least three people are injured after a woman opened fire inside YouTube's offices in San Bruno, California. Police say she was found dead with what appeared to be a self-inflicted gunshot wound.
A nearby hospital said it was treating three victims: two women and one man.
The attacker, Nasim Aghdam of San Diego, posted frequently on the video-sharing platform about animal rights and veganism. In at least one video, she said she believed YouTube had discriminated against her. Here's everything else we know about her.
Multiple YouTube channels that belonged to Aghdam were terminated Tuesday night after she was identified as the shooter.
One thing to note
My colleagues who work on tracking fake news and misinformation noticed that this shooting inspired a significant number of hoaxes and conspiracy theories. They rounded them all up here.
Quick brief
Alex van der Zwaan, a lawyer who admitted lying to the Special Counsel's Office, was sentenced to one month in jail. He is the first person sentenced in connection with special counsel Robert Mueller's investigation.
Deerfield, Illinois, just banned assault weapons. Anyone who refuses to give theirs up will be fined $1,000 a day. Town officials said assault weapons are "not reasonably necessary to protect an individual's right of self-defense."
KJ Apa, best known for playing Archie on the CW's Riverdale, is replacing Kian Lawley in the upcoming film The Hate U Give. Lawley was fired from the movie back in February after a video of the actor making racist remarks surfaced online.
A liberal judge won in Wisconsin and that's a bad sign for Republicans
The race was closely watched because it was the first statewide vote in Wisconsin since the 2016 election. It was seen as an early indicator of which way the midterm winds were blowing.
Well, they're blowing left.
A liberal candidate backed by Democrats won the judicial election — a major warning sign for Republicans in a solidly purple state that will play an important role in the midterms.
The opioid crisis isn't a metaphor
One of the dominant ways of writing about the opioid crisis is in broad, sweeping cultural and political language. It tends to be described as a symptom of all that ails the country.
In an excellent opinion piece, our science reporter Dan Vergano writes, "Opioid addiction isn't a metaphor for the ills of modern life."
"Once you're addicted," he says, "you don't take a hit because you're surrounded by postindustrial despair. You do it because … if you go long enough without it, you'll vomit, crap your pants, and want to die, just for starters."
But the flowery allure of the metaphor is not just self-indulgent — Vergano argues that it's actually dangerous. Focusing on the abstract narratives of despair makes authorities lose focus on the real, physical things they can do to stop people from dying.
I highly recommend the piece.
Quick brief
China says it's going to impose new tariffs on 106 US products, including soybeans and cars. It's another indication that a trade war might break out between the world's two largest economies.
Tired of flashy research that fails to hold up, hundreds of researchers around the world are trying to replicate high-profile psychology studies.
Cardi B is going to cohost The Tonight Show with Jimmy Fallon on Monday.
The internet is obsessed with this dog with mouse ears
And to be honest, I get it. This is Goma (Japanese for sesame). Please enjoy, because Goma is the nice thing we don't deserve.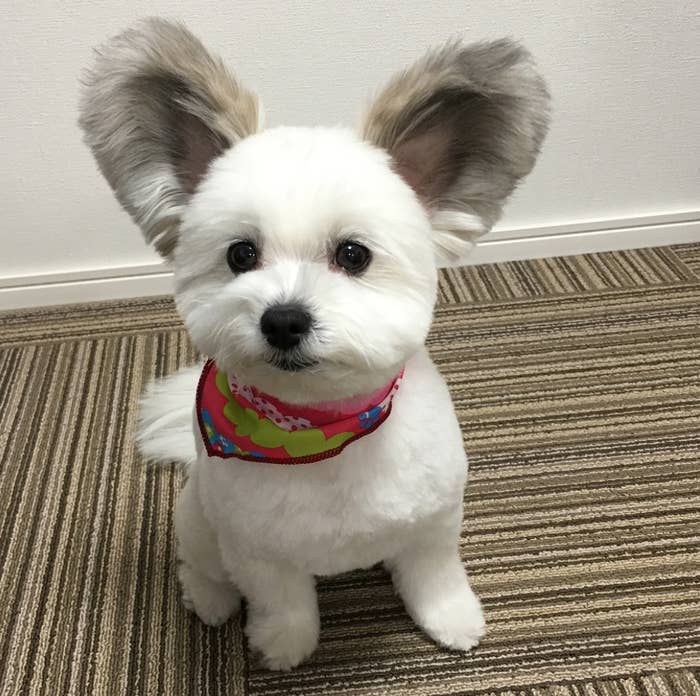 Enter your email below to sign up for the BuzzFeed News newsletter: