French president: The US flip-flops on treaties are "insane"
Emmanuel Macron concluded his short trip to DC this week by speaking to reporters. He said he believes President Donald Trump will pull out of the Iran deal "for domestic reasons," as part of a "strategy of increasing tension."
Macron visited the US in part to convince Trump to shift his plans. Despite the appearance of strong chemistry between the two leaders, Macron's comments suggest he was unsuccessful.
The French president had some sharp words of disapproval for US plans to renege on treaties it recently joined: "It can work in the short term but it's very insane in the medium-to-long term."
The current Iran deal requires the US president to regularly verify to Congress that Iran is in compliance with the deal. The next deadline for verification is May 12.
The Golden State Killer who terrified California has been arrested, officials say
California authorities have arrested a man suspected to be the Golden State Killer, who they say is responsible for 12 murders, 51 rapes, and more than 120 burglaries over a 12-year period.
Joseph James DeAngelo is 72 years old. He's a former police officer. Jail records show he is ineligible for bail.
Authorities said they were looking into whether he committed any of the Golden State Killer–related crimes while on duty as an officer.
Police arrested DeAngelo when he stepped out of his house in Citrus Heights, a suburb of Sacramento where he allegedly began his series of crimes in the 1970s. Authorities say the last known offense by the serial rapist and killer was in 1986 — the crimes were linked through DNA.
Authorities said DeAngelo was "very surprised" when apprehended.
Quick brief:
Trump's Veterans Affairs pick was allegedly nicknamed "candyman" for prescribing drugs without paperwork.
An Indian spiritual guru with millions of followers has been jailed for life for raping a 16-year-old girl.
The Secret Service was warned about the mental health of Travis Reinking, the Waffle House shooting suspect.
Kanye had a very Kanye day, and Kim Kardashian and Trump got involved
Last week, Kanye West came back to Twitter, which is a bold move considering once he's on Twitter, Kanye doesn't know how to stop tweeting. Yesterday was a whole thing. Let me run you through it:
I don't care about this, skip me to the end: Fine. The far right is really loving Kanye. Trump retweeted Kanye and praised him. Kim came to Kanye's defense and said it isn't right for the media to speculate about his mental health. Trump retweeted Kanye a second time.
Okay, what? Start at the beginning: Tweets from earlier this week made people think 'Ye has been radicalized by far-right ideology.
Wait, why? He tweeted clips from a livestream of controversial Dilbert cartoonist Scott Adams. Adams is popular among men's rights activists and has appeared on Infowars.
And what happened yesterday? Kanye tweeted that "the mob" can't make him not love Trump: "We are both dragon energy. He is my brother. I love everyone."
But that's just Kanye, right? I am easing you into it.
Get to the part with Kim. Yeezy posted pictures of his home with Kim Kardashian, and Kim called him out on this, saying, "We had a rule to not show our home on social media!"
How did Trump get involved? Kanye said Kim called him and wanted him to reiterate that he doesn't "agree with everything Trump does." Then he posted a picture of himself in a MAGA hat.
And let me guess, Trump… Yes, he retweeted one of the tweets and said, "Thank you Kanye, very cool!"
Where's Kim in all this? She posted a series of tweets condemning the media for speculating about 'Ye's mental health: "Your commentary on Kanye being erratic & his tweets being disturbing is actually scary."
And the far right? They are all about Kanye right now. His tweets are being hailed as a courageous pushback against mainstream liberal centers of cultural and political power. Alex Jones said, "It's the return of Americana and not being a coward and having your own internal compass."
Anything else? Plenty. But that's enough for this space. There's more here, including how this whole episode has apparently inspired Jordan Peele to start writing Get Out 2.
Puerto Rico wants to send thousands of inmates to private prisons on the US mainland
The government's plan concerns about one-third of the island's prisoners.
Civil groups and families of prisoners in Puerto Rico are campaigning to stop this because it would "substantially affect the process of rehabilitation of inmates."
The idea to move the inmates is a cost-saving measure. The island will move 3,200 prisoners to private prisons over the next five years.
Here's how one mother described getting to visit her two sons in prison: "The only help that they have in the jail is the help that their family gives them, to be able to spend time with them one hour per week...
"And we talk about how they are doing in jail, emotionally. Definitely it's the most indispensable part of their rehabilitation."
This woman shared one of the wildest birth stories you've ever heard
She delivered her own baby, alone, using YouTube videos as a guide, in a hotel room, in a foreign country where she didn't speak the language.
None of that is the wildest part of the story. Here's a taste: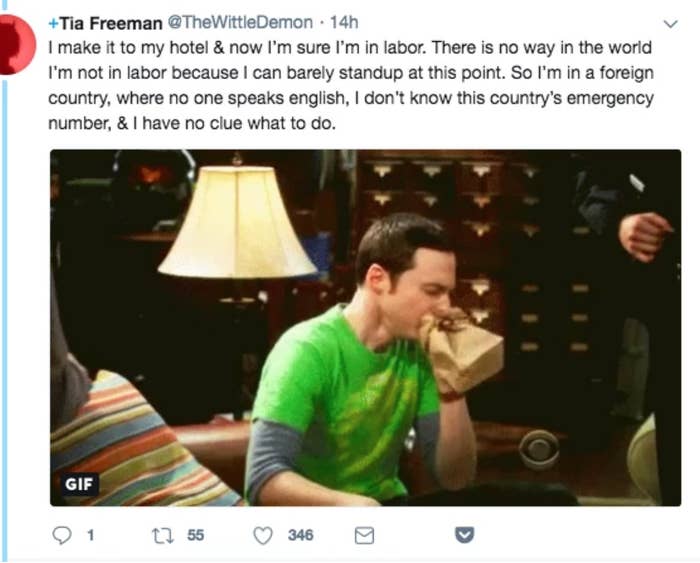 The part that got me: She realized she didn't have clamps to cut the umbilical cord, so she sterilized her shoelaces and used them instead.
People can't get enough of this story. Strap in — it's a wild ride.

Enter your email below to sign up for the BuzzFeed News newsletter: