The woman accusing Brett Kavanaugh of sexual assault wants the FBI to investigate before she testifies in Congress
Christine Blasey Ford, who says Supreme Court nominee Brett Kavanaugh attacked her and held her down on a bed in 1982, has been invited to testify before the Senate Judiciary Committee next week.
Before this happens, though, her lawyers are calling for "a full investigation by law enforcement officials to ensure facts and witnesses are assessed in a non-partisan manner."
The letter from her lawyers to the Judiciary Committee noted that the hearing she's being invited to "would include interrogation by Senators who appear to have made up their minds that she is 'mistaken' and 'mixed up.'"
Sen. Chuck Grassley, who chairs the committee, said that while Ford "deserves to be heard," there would not be a further delay because "nothing the FBI or any other investigator does would have any bearing on what Dr. Ford tells the committee."
It was unclear Tuesday whether Ford would accept the invitation to testify.
The president of Poland wants a US military base, so he offered to name it after Trump
The US is "very seriously" considering opening a permanent military base in Poland, according to President Donald Trump.
During a joint press conference at the White House, Polish President Andrzej Duda said, "I invite you to post more American military troops in Poland." Duda suggested a new base could be named "Fort Trump."
The US currently deploys 3,000 troops to Poland on a rotating basis, and Poland has long been pushing for a larger and permanent US presence, as a deterrent to Russian aggression.
Duda showed his ability to publicly appeal to Trump, whose main fight with NATO allies has been over their defense expenditures. He did so through a combination of flattery — "Fort Trump" — and offering to put up a large chunk of cash toward building the base.
SNAPSHOTS
The man charged with murdering an Iowa State golfer allegedly said he had an urge to rape and kill women. Celia Barquin Arozamena's body was found at a golf course in Ames, Iowa, on Monday. While police were searching for her, they encountered a man in the wooded area near the golf course who told them about another person who had made statements about wanting to rape and kill women. Barquin Arozamena, who was the 2018 Big 12 champion and Iowa State Female Athlete of the Year, was found dead with multiple stab wounds. Collin Daniel Richards, 22, was arrested Tuesday and charged with first-degree murder.
The ACLU is charging Facebook with gender discrimination over its targeted ads. The American Civil Liberties Union filed the charges against Facebook and 10 employers with the Equal Employment Opportunity Commission. The platform's advertising features included a targeting tool that allowed employers to make job ads visible to "all," or to male or female users specifically. According to the ACLU, employers used this tool to exclude "female and other non-male prospective job applications from receiving the job advertisements and opportunities."
The Guys We Fucked podcast hosts are being called racist for a clip of them talking about sex with black men. On the popular weekly podcast, which reportedly has more than a million subscribers, comedians Corinne Fisher and Krystyna Hutchinson discuss their sex lives and interview men they've slept with. In a clip from a 2014 episode that has now gone viral, the hosts complained about "black people who act like white people" and said they love "that hood swag." People are criticizing the discussion as "straight-out racism."
Baby walkers are so dangerous, they need to be banned, according to pediatricians. For decades, thousands of babies and toddlers have ended up in the ER each year with walker-related injuries — usually from falling down stairs in them — despite recalls and safety requirements. Pediatricians say the ongoing danger is so severe, they are asking for a ban on the devices in the US.
Stormy Daniels said Donald Trump's dick looks like Toad from Mario Kart, and people wanted to pour bleach into their own eyes. I'm sorry I'm making you read about this. I truly am. Please know I didn't enjoy a single word of this paragraph.
The first official trailer for Captain Marvel is here, and fans are losing their minds. Oscar-winning actor Brie Larson plays the lead role in the film, which also happens to be Marvel Studios' first full-length feature based on a woman superhero. But you already knew this, because you're excited too, so just watch the trailer and get more excited.
Three stories from the aftermath of Hurricane Florence
The first: Two detained women who were being transported to a mental health facility in South Carolina were killed when the vehicle they were riding in was submerged. Authorities said two deputies tried to rescue the victims but were unable to open the doors as floodwaters rose rapidly. The deputies were rescued from the top of the van by a team of first responders.
The second: Yesterday, environmental groups warned that Hurricane Florence has caused hog poop lagoons to breach and overflow. The concern is the health hazards of farm waste contaminating floodwaters in the state.
The lagoons are essentially pits filled with hog urine and feces, along with water. Two have breached, at least 13 others have overflowed, and around 55 are on the brink of overflowing.
The third: You really need to see the before and after photos from this North Carolina town to understand the impact of Florence. This was really striking to me: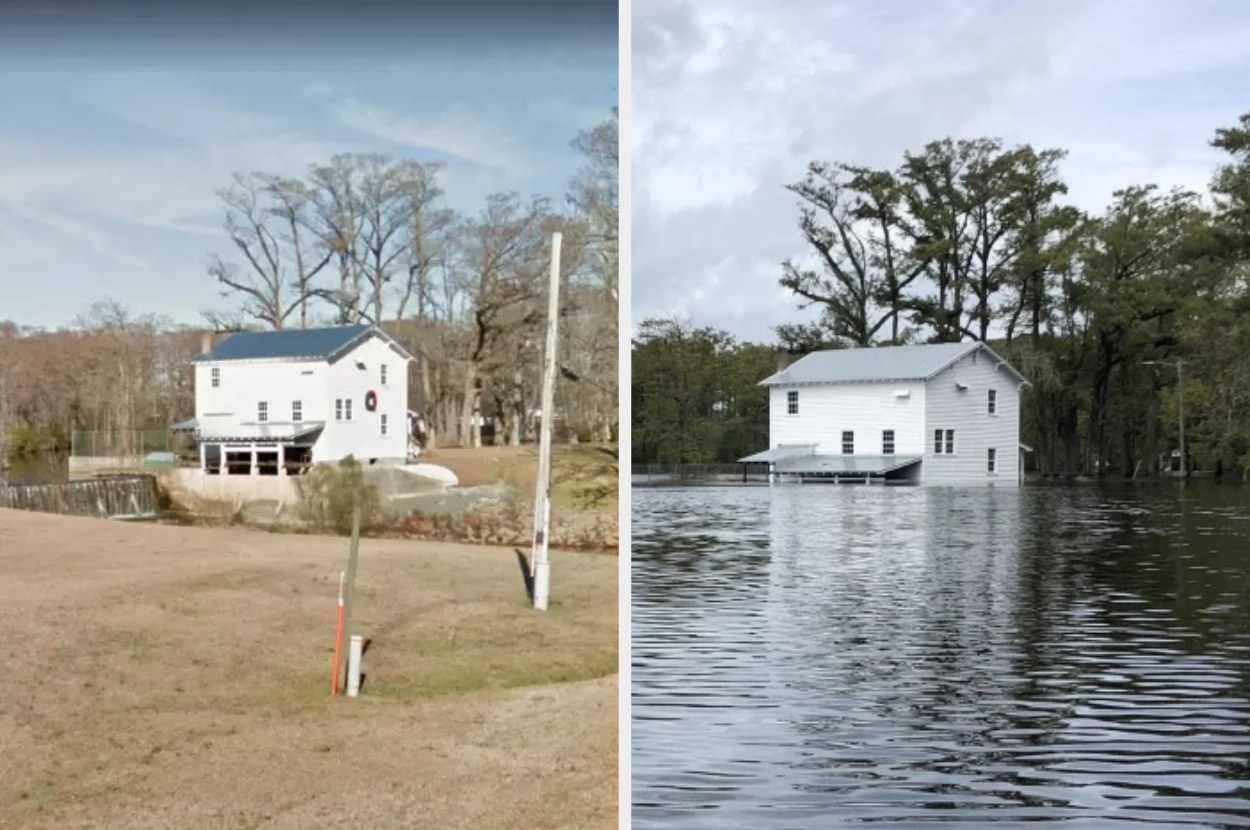 New Yorkers have taken this resourceful rat as their new hero
I don't live in New York, so I take whatever chance to pity New Yorkers for the state of their subways. It's a small joy. Let me have this.
Yesterday, while the city's subways flooded for the umpteenth time — there was rain on the platform — people looked for a hero who was handling the floodwaters with grace.
That hero came in the form of this rat who was just trying to get by, huddling behind a pole as the water surrounded it.