A dam burst in Kenya, killing at least 42 people and leaving hundreds homeless
The disaster took place in central Kenya, near a village named Solai. Officials said at least 42 people died in the flooding that followed, 20 of them children.
The privately owned dam broke its confines around 9 p.m. Wednesday night. In the aftermath, homes were left destroyed by the rushing floodwaters, with debris strewn throughout the area, leaving at least 300 families homeless.
Search-and-rescue operations are still ongoing alongside cleanup efforts.
The 1-acre dam is reportedly one of three owned by Mansukul Patel, a large-scale irrigation farmer. A local governor said there was an investigation to see if Patel had a license to operate the dams. The other two remain intact but are very full.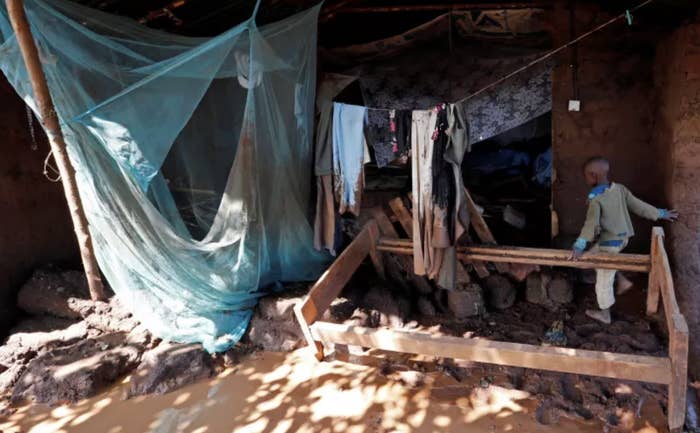 Cindy McCain called out a White House official for mocking her husband's brain cancer
Quick background: Earlier this week, Sen. John McCain joined a number of senators in opposing Gina Haspel's nomination to lead the CIA. The Republican senator called her role in "overseeing the use of torture" disturbing.
Here's what's new: Multiple outlets reported that a White House aide dismissed McCain's position by mocking his brain cancer diagnosis, saying, "It doesn't matter, he's dying anyway."
Kelly Sadler, a Trump aide in charge of surrogate communications, made the comment at a closed-door meeting in front of about two dozen White House staffers. One official told CNN "the joke fell flat."
The senator's wife, Cindy McCain, snapped back at Sadler on Twitter: "May I remind you my husband has a family."
PSST this is exciting
I've been waiting to tell you about this and now I finally can: BuzzFeed News is launching a new weekly podcast! It's called The News.

People tell us it's getting harder and harder to keep up. We want to fix that, and help you make sense of it all! That means guiding you through the big stories, fake news, and the events that are and aren't worth freaking out about.

You don't have to be lost in the chaos. Join BuzzFeed News reporters and editors every Saturday for news that's smart, not stuffy. Lots more details here.

Fox has canceled Brooklyn Nine-Nine and people cannot cope
And by people, I mean many, many people — but let's also personalize this: I also mean me.
The comedy starring Andy Samberg ran for five seasons and centered on the 99th police precinct in Brooklyn. It was never a huge ratings hit, but it did win Samberg a Golden Globe, in addition to being the last good thing on Earth.
There is already a huge outcry on social media to renew the show. But I've already exposed myself as biased, so please, don't take it from me — take it from the Pulitzer Prize-winning creator of Hamilton, Lin-Manuel Miranda: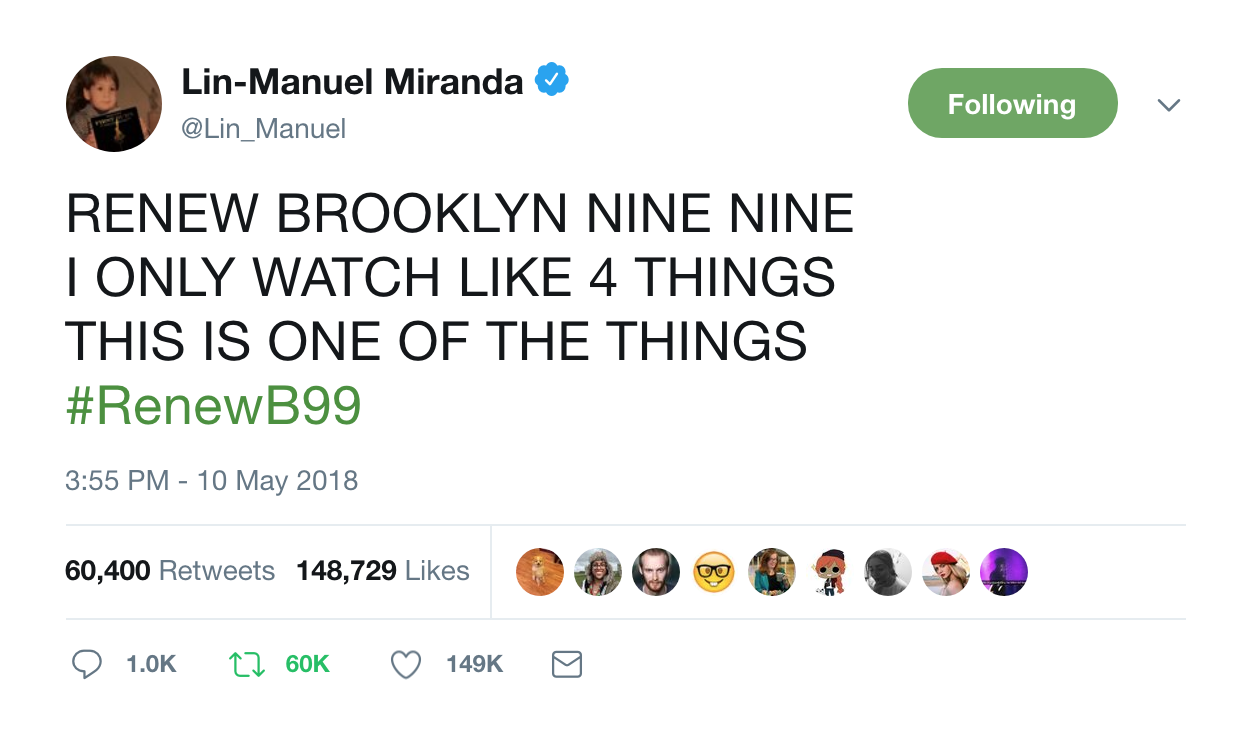 Trump and Kim Jong Un are going to meet face to face in Singapore
The date — June 12 — and the place have been decided. It will be the first ever meeting between a sitting US president and a North Korean ruler.
The historic summit will see the two countries discuss North Korea's nuclear program. The country currently possesses an estimated stockpile of anywhere between 20 and 100 nuclear weapons and is under US and international sanctions for its nuclear and missile testing.
Quick brief:
Good news for people who like good news: Tom and Abby from Queer Eye got remarried. The episode featuring Tom touched many people.
Parents and students are pissed after an "inclusive" high school decided to allow anyone to be on the cheerleading team.
Puerto Rico insists it's ready for this hurricane season, even though it's still recovering from the last one
It's about a month until the 2018 hurricane season starts, and more than 20,000 households and businesses still don't have power. Puerto Rico hasn't quite left recovery mode from Hurricanes Irma and Maria.
Officials on the island have announced emergency storm-preparedness plans. They said they've stocked four warehouses with food, water, and essential supplies across Puerto Rico and are looking for locations to add more. Heads of emergency management agencies across the island will also be accredited with the emergency response training used by FEMA staff.
"Maria taught us a lot. Before Maria, we did not have any supply warehouses. We just had FEMA supplies," said an emergency official.
Those Elon Musk fans who crowdfunded to buy him a couch just delivered it
I'm not gonna pretend I get the weird fascination with Elon Musk's eccentricity, but you know what, this made me smile.
Musk, the CEO of Tesla who once shot a car into space because why not, recently told CBS that he's been working so hard on the Tesla Model 3 car that he's "been sleeping on the factory floor."
A bunch of his fans would not stand for this, so they crowdfunded to buy Musk a couch. The person who started the campaign told us, "Elon, kind of famously, is not good at taking care of himself. … He needs the community to help him in some ways."
There is no good place to put this, so I'll put it here: Musk has a reported net worth estimated at $20 billion.
Rest easy,
Elamin
Enter your email below to sign up for the BuzzFeed News newsletter: