Trump might revoke security clearances of former officials who criticized him
This is an unusual move. President Donald Trump is considering pulling the clearances of former national security officials.
Who does he mean? It's "whom." And we're talking about figures like former CIA director John Brennan, former FBI director James Comey, and former director of national intelligence James Clapper, as well as former National Security Agency and CIA director Michael Hayden, Obama-era national security adviser Susan Rice, and former deputy FBI director Andrew McCabe.
Why would Trump want to do this? According to the White House, it's because they "monetized their public service and security clearances" by "making baseless accusations of improper contact with Russia."
Did they do that? Actually, it is unclear what degree of access — if any — the former intelligence officials have to confidential material. For example, Clapper said he doesn't receive briefings or "have access to classified information."
What do those officials have in common? Each one has either drawn Trump's ire or has criticized the president. Brennan, for example, called Trump's press conference with Russian President Vladimir Putin "nothing short of treasonous."
What happens next? It's unclear when this will go into effect. Clapper, meanwhile, has called the move a "very, very petty thing to do." We reached out to the FBI, NSA, CIA, and the National Security Council to inquire about procedures regarding security clearance retention for top officials who leave.
Police have identified the Toronto shooter, and his family says he had "severe mental health challenges"
Officials have identified the man who opened fire Sunday night, killing an 18-year-old woman and a 10-year-old girl and injuring 13 others, as 29-year-old Faisal Hussain.
The Ontario Special Investigations Unit (SIU) said that after speaking to Hussain's family, it decided to release his identity "due to the exceptional circumstances of this tragic incident and the public interest."
Hussain's family issued a statement saying the man had "severe mental health challenges, struggling with psychosis and depression his entire life." They added that "the interventions of professionals were unsuccessful."
The SIU said Hussain's motive remained unclear.
The 18-year-old woman killed in the shooting was identified as Reese Fallon. The 10-year-old girl who was killed has not been publicly identified. Toronto's police chief said another young girl remained in critical condition.
Terrifying wildfires have killed at least 50 people outside Athens
Hundreds of firefighters and first responders are struggling to contain wildfires that ignited Monday near the Greek capital. The fires have killed at least 50 people and injured more than 150.
Greek fire services say that a further 199 people are still missing. The fire chief has urged residents to "just leave."
The photos from Athens are truly terrifying. Here's one of the sky over the Parthenon temple, turned orange with smoke.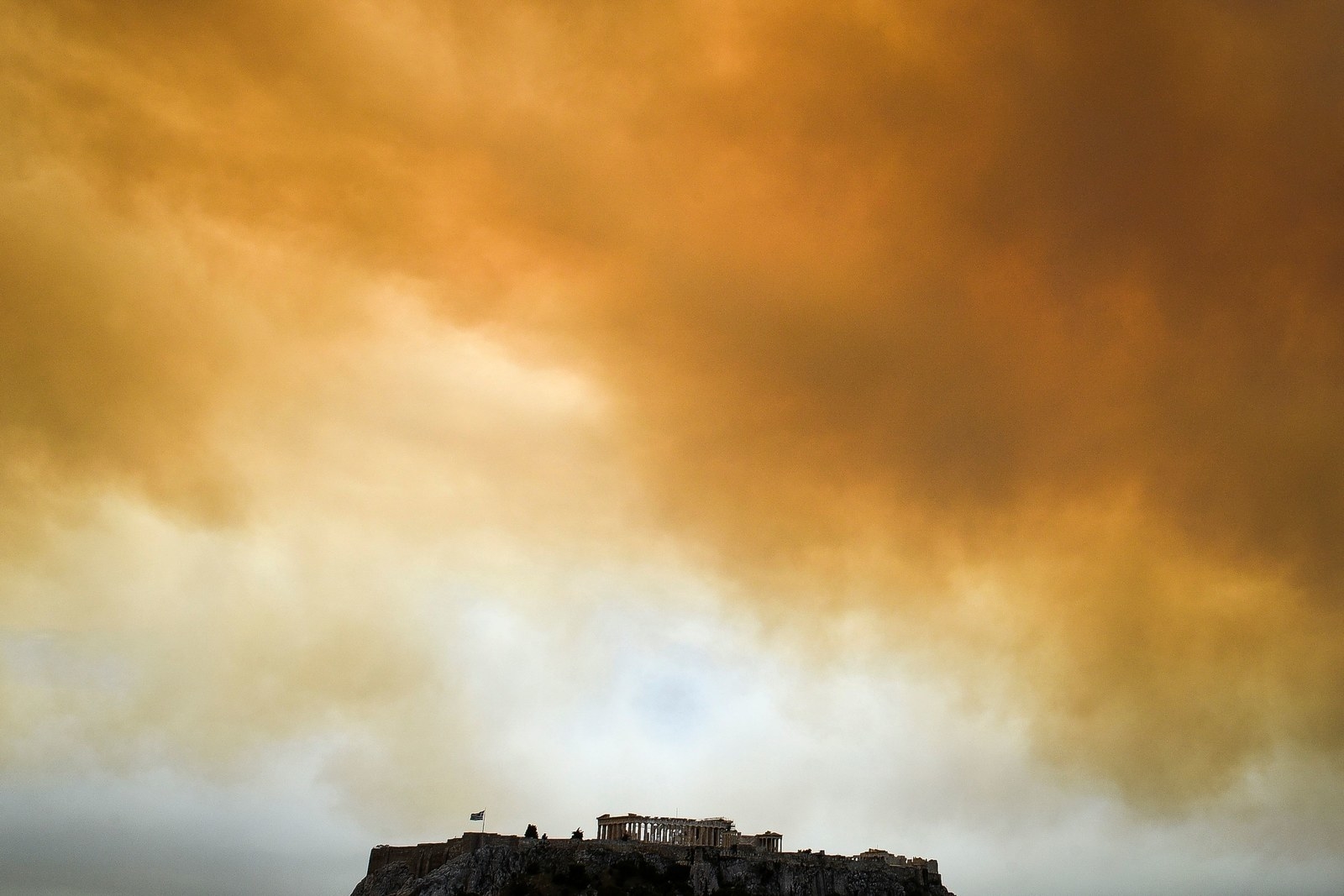 SNAPSHOTS
A waiter who said a customer left him a note calling him a "terrorist" made the story up. Khalil Cavil is out of a job after admitting he lied about the whole episode. "I did write it," the 20-year-old said. "I don't have an explanation. I made a mistake. There is no excuse for what I did." In a Facebook post, which has now been deleted, Cavil said he wanted to make people aware of racism. The image of the receipt went viral, and Cavil spoke with local media outlets about his intent to remain positive in the face of hatred.
A driver was kicked off Uber and Lyft after secretly livestreaming his passengers on Twitch. Jason Gargac, 32, broadcast his interactions with passengers — without their consent — to 4,500 followers on the popular gaming platform. The videos reportedly garnered thousands of views and engagements from Twitch users, and his account had 100 subscribers who paid him $5 monthly. Gargac told the St. Louis Post-Dispatch he made about $3,500 from the platform. He defended the streams as a form of "people watching." An Uber spokesperson told us the channel was "troubling."
Mesut Özil, a World Cup winner, has quit the German national soccer team, citing racism. If you don't follow the sport, Özil is a huge deal. He bowed out of the team and says it's because of racism he experienced. Özil, who is of Turkish origin but was born in Germany, posed for a photo with Turkish President Recep Tayyip Erdogan at a charity event. The photo received backlash from German media who questioned Özil's loyalty to the country. Özil said he felt that he had been singled out to advance "right-wing propaganda." He described his family receiving threats after the photo and wrote, "I am German when we win, but I am an immigrant when we lose."
R. Kelly released a new song that addresses his sexual abuse allegations. The track is 19 minutes long and is called "I Admit." In the song, Kelly says: "Said I'm abusing these women, what the fuck, that's some absurd shit / They're brainwashed, really? / Kidnapped, really? / Can't eat, really? / Real talk, that shit sound silly." In July 2017, parents told BuzzFeed News they went to police because Kelly was holding their daughters against their will in an abusive "cult," saying these women were brainwashed into staying with the artist. Three former members of Kelly's inner circle said that six women live in properties rented by Kelly and he controls what they wear, what they eat, when they sleep and bathe, and how they engage in sexual encounters that he also records.
An autistic woman's family says the state exposed her to abuse
Maryann Stallone's family thought she'd be safe in a home for people with disabilities. Instead, she was sexually abused — and never taught the tools she needed to report it.
Stallone, who's autistic, requires 24-hour assistance, and barely uses spoken words, didn't know the signs to tell anyone that an employee at the Rainier School, a state-run institution in Washington state, had sexually abused her. It was only discovered after an employee walked in on Stallone being abused.
While Stallone's abuser was found guilty of attempted rape — and abusing another victim — Stallone's sister believes the Rainier School is also at fault.
The data is clear: Department of Justice figures show that people with intellectual disabilities are sexually assaulted at rates at least seven times greater than others. Still, sex education for residents and training for attendants at state-run facilities fail to account for this well-documented risk.
This is a really important investigation, and well worth your time.
This woman caught her dog destroying her house, but honestly we should hear the dog out
All floofs are innocent. We know this from life. We have experience with this.
So when 24-year-old Madison Bilheimer posted a video of her golden retriever pup Dierks (named after country singer Dierks Bentley, naturally) caught red-handed in the middle of destroying her room, I'd like to suggest the evidence was circumstantial.
Sure, he was the only one in the room, and the video is the funniest thing I've seen this week, but also the internet agrees that Dierks was framed. Literally framed, by the table: