Extreme weather caused a lot of death and devastation this weekend
It has been a weekend of climate carnage.
Typhoon Mangkhut, described as a "super typhoon," tore through the Philippines and China, killing at least 66 people — 64 in the Philippines and two in China. More than 5 million people were in its path. Dozens are still missing after a series of landslides.
Halfway across the world, Hurricane Florence killed at least 17 people in North and South Carolina, including a 3-month-old who died after a tree landed on a mobile home.
The hurricane has also left more than 800,000 people without power. Florence brought record rainfall and catastrophic flooding as it slowed to a crawl over land.
It's going to get worse
Authorities warned Florence's impact will likely worsen. North Carolina Gov. Roy Cooper put it bluntly: "This storm has never been more dangerous than it is right now," as communities prepare for floodwaters that are only expected to rise.
Thousands of residents in Fayetteville were told to evacuate by Sunday, or let their next of kin know they planned to stay because "the loss of life is very, very possible."
Still, in the middle of the fear, there are bright spots: You should read Zahra Hirji's report about the efforts to evacuate more than 120 seniors and people with disabilities.
All of our Florence updates can be found in one place. We also collected striking photos that show the aftermath of the storm. This one really shocked me: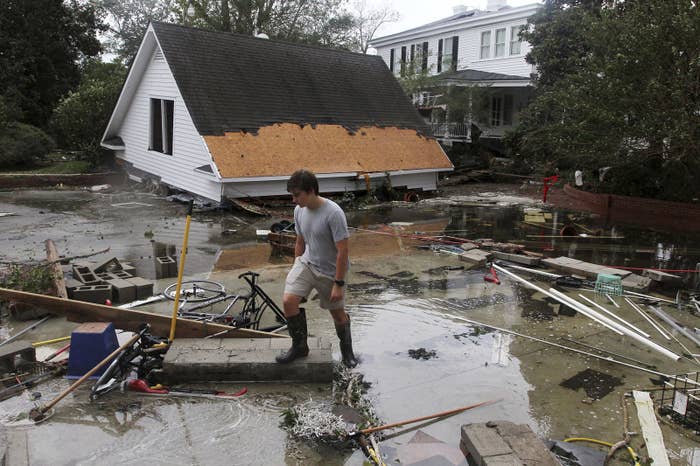 The woman who alleged in a letter that Brett Kavanaugh sexually assaulted her has broken her silence
Last week, Senate Democrats said they had referred a secret letter about President Donald Trump's Supreme Court nominee Brett Kavanaugh to the FBI.
On Sunday, the woman who wrote the letter — which alleges that Kavanaugh sexually assaulted her more than 30 years ago — revealed her identity and spoke out publicly for the first time in an interview with the Washington Post.
Christine Blasey Ford, a 51-year-old research psychologist and professor at Palo Alto University, said that during a house party in 1982, a drunk Kavanaugh pinned her to a bed, groped her, tried to remove her clothes, and put his hand over her mouth to stop her from screaming.
Kavanaugh denies the allegations. There is no criminal investigation into the letter, a source told us.
In a statement, Republicans on the Senate Judiciary Committee defended Kavanaugh's integrity. Still, some Republicans indicated they'd like to hear from Ford and called on the committee to schedule a meeting with the professor prior to Kavanaugh's scheduled confirmation vote Thursday.
SNAPSHOTS
A Border Patrol agent has been arrested for killing four women. Juan David Ortiz, a supervisor whom authorities have described as a "serial killer," was arrested after a woman escaped and notified authorities. A district attorney said Ortiz preyed on sex workers in the Laredo, Texas, area. Authorities said the four killings took place in the last two weeks.
Florida police have issued a warrant for the arrest of a white man who pulled a gun on black college students. It comes a little over a week after Donald Crandall Jr. was captured in a viral Twitter video apparently threatening black college juniors from Florida A&M University at an off-campus housing complex. The video showed Crandall pulling out a gun as the students tried to get in an elevator to go to a classmate's apartment.
A Florida prisoner reportedly killed his cellmate and left his eyeballs in a cup. According to reports, the inmate reportedly strangled the other man, carved out his eyes, then walked into the prison cafeteria wearing one of his ears on a necklace before officers noticed anything was wrong. The Miami Herald reported the gruesome killing took place on Thursday. The deceased inmate was identified as 58-year-old Larry Mark. Prison officials, however, declined to comment to the Miami Herald on how Mark died, or to identity his attacker.
Hailey Baldwin shut down rumors that she and Justin Bieber secretly got married. The couple were spotted leaving a New York City courthouse Thursday, prompting several outlets, starting with TMZ, to speculate they were there to get married. Then on Friday, People published a story purporting to confirm that Baldwin and Bieber tied the knot. Baldwin tweeted, "I understand where the speculation is coming from, but I'm not married yet!"
Tony Award-winning Cynthia Erivo has been cast as Harriet Tubman and not everyone is happy. Erivo, who is a black British actor, will play the lead in a biopic of the iconic abolitionist. The film will tell the story of Tubman's extraordinary life, from her escape from slavery in 1849 to her heroic navigation of the Underground Railroad, which was used to free dozens of slaves amid a brewing civil war. Some people feel that because Erivo isn't American, she isn't the best actor to help tell Tubman's story.
If you're a millennial who lived through the Great Recession, tell us how you're doing now
Ten years ago this month, the US economy came crashing down. I probably don't need to remind you that millions of people lost jobs. Millions of people with mortgages lost their homes, and the government began bailing out failing institutions.
The environment created by this economic loss would form the foundation for the millennial generation, who came of age in the aftermath of the Great Recession (like me!).
In the decade since, millennials grew up — the oldest in this generation are approaching their forties. Unemployment rates have fallen to a low 3.9%. The stock market is on a tear, and people are spending more.
The recovery, though, comes at a price. Many of the jobs created over the last decade don't pay a livable wage, and economic inequality in the US has grown.
This is where you come in: We want to hear from you, because we want to understand the lingering effects of the Great Recession. Some are still paying off staggering debt, some are living with ruined credit scores, others have been unable to obtain high-paying jobs.
People are cracking up at this video of a Weather Channel reporter being a little dramatic during Hurricane Florence
As we discussed at the top of today's newsletter, Florence is serious business.
But over the weekend, one TV moment gave people some needed comic relief.
In a video posted on Twitter, a Weather Channel reporter struggles to stand upright and is seemingly holding on for dear life — until the camera pans out and captures two people casually strolling in the background.
As you can imagine, the internet went in, calling his performance Oscar-worthy. Enjoy the clip.