Morning Update: If You Don't Know Where Your Lettuce Was Grown, Don't Eat It
White supremacist found guilty, lettuce contamination kills one, Trump repaid the hush money. Your BuzzFeed News newsletter, May 3.
One person has died in the E. coli outbreak linked to romaine lettuce
The wave of illnesses related to the contamination of lettuce is growing.
Cases have now been reported in 25 states, and 121 people have gotten sick. One person in California died. The California Department of Health is not releasing details about them.
The Centers for Disease Control and Prevention says this E. coli outbreak has seen a higher hospitalization rate than other outbreaks: Of the 102 cases with available information, 51% needed to be hospitalized, compared with a hospitalization rate of about 30% seen in other E. coli outbreaks.
One thing you can do as a precaution: The CDC says if you don't know where your lettuce was grown, don't eat it.
Rudy Giuliani says Trump repaid Michael Cohen for the Stormy Daniels hush money
A month after President Trump said he knew nothing about the $130,000 payment that his lawyer Michael Cohen had made to Stormy Daniels, Trump's new lawyer says the president repaid Cohen after the election.
Rudy Giuliani told us that Cohen "had complained to some people" after the 2016 election that he'd not been fully paid by Trump.
Giuliani said that Trump told Cohen, "We'll cover your expenses," and agreed to pay him $35,000 a month "out of his personal funds" over the course of a yearlong period.
On top of repaying the $130,000, Giuliani said the arrangement gave Cohen "enough left over for him to profit."
If Trump paid Cohen $35,000 a month for a year, as Giuliani said, that would be a total of $420,000.
The two black men arrested at a Philadelphia Starbucks settled for $1 each
You remember the story — last month, Rashon Nelson and Donte Robinson were sitting in a coffee shop waiting for a friend when they were arrested.
Their incident went viral, sparking outrage after a customer posted a video of the two men being taken away in handcuffs. There were calls to boycott Starbucks.
Nelson and Robinson decided not to pursue a lawsuit against the city of Philadelphia, settling for a symbolic $1 each. As part of the settlement, the city pledged $200,000 to an entrepreneurship program for Philadelphia public high school students.
Robinson told a reporter that "we thought long and hard about it and we feel like this is the best way to see that change that we want to see."
Meanwhile, Starbucks promises to learn from the incident. Later this month, the company will close all of its US locations for an afternoon to give its staff racial bias training.
Quick brief:
Meet the livestreaming star from North Korea who's out to break your stereotypes
When he first started livestreaming, Lee Pyung had no desire to share the difficult story of his life before Seoul; he mentioned it in passing: "I'm from North Korea."
People didn't believe it — they said he didn't "look" North Korean. "They imagined I'd be short, have small eyes and dark skin," he says. He's taller than 6 feet, his arm is covered in bright tattoos, and he used to model.
Sensing interest in his story, Lee made a video talking about how he left North Korea at the age of 11. It blew up. Many commented with basic, earnest questions about life in the North.
This story on how his livestreaming is challenging preconceptions by beaming a different image of North Korea into South Korean homes is absolutely fascinating.
A bridesmaid dress site suddenly closed and people are freaking out
It is May. Wedding season is just about in full swing.
Vow to Be Chic, an online bridesmaid dress rental company, confirmed yesterday that it is going out of business, leaving brides in tears and bridal parties scrambling for backups.
Last year, Forbes described the company as "disrupting the $119 billion wedding industry," and it was featured twice on Good Morning America.
Now Vow to Be Chic can't afford to stay open, and it's resulting in total panic: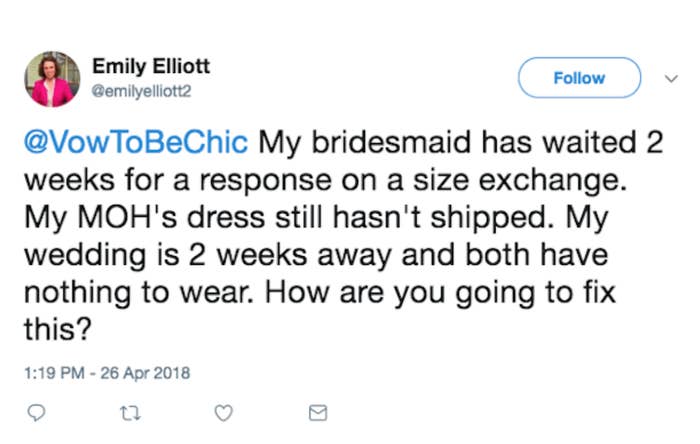 Enter your email below to sign up for the BuzzFeed News newsletter: