A judge ruled House Democrats can't sue Trump over his plan to pay for the border wall
The Trump administration plans to move around billions of dollars in federal funds from the US Department of Defence and US Treasury in order to pay for a wall along the US–Mexico border.
House Democrats filed several lawsuits challenging this plan, arguing because Congress specifically voted against authorizing the money, the administration's plan violated the Constitution's Appropriations Clause and other federal laws.
Now, a judge has ruled in the administration's favour. US District Judge Trevor McFadden wrote that the US Constitution didn't give the House the ability to sue over a funding fight, so courts couldn't get involved.
The judge wrote that he wasn't saying Congress could never sue the executive branch "to protect its powers," but in this case, the House did not show it had standing to sue.
The president is continuing his three-day state visit, and on day one he was, uh, welcomed in very British ways. Also, the Trump baby blimp is back.
The highlight of the trip so far is last night's state banquet with members of the royal family. It had the potential to be a cringey affair, as Donald Trump had said some awkward things about the royals.
Meanwhile, UK Prime Minister Theresa May presented Trump with a copy of the Atlantic Charter. The gift raised eyebrows, as it highlights the shared history of the United States and the United Kingdom as global allies, after Trump rejected the idea of globalism.
Because you definitely want to know, here are all the looks that were served at the state banquet, from some unexpected pairs. Starting with this one: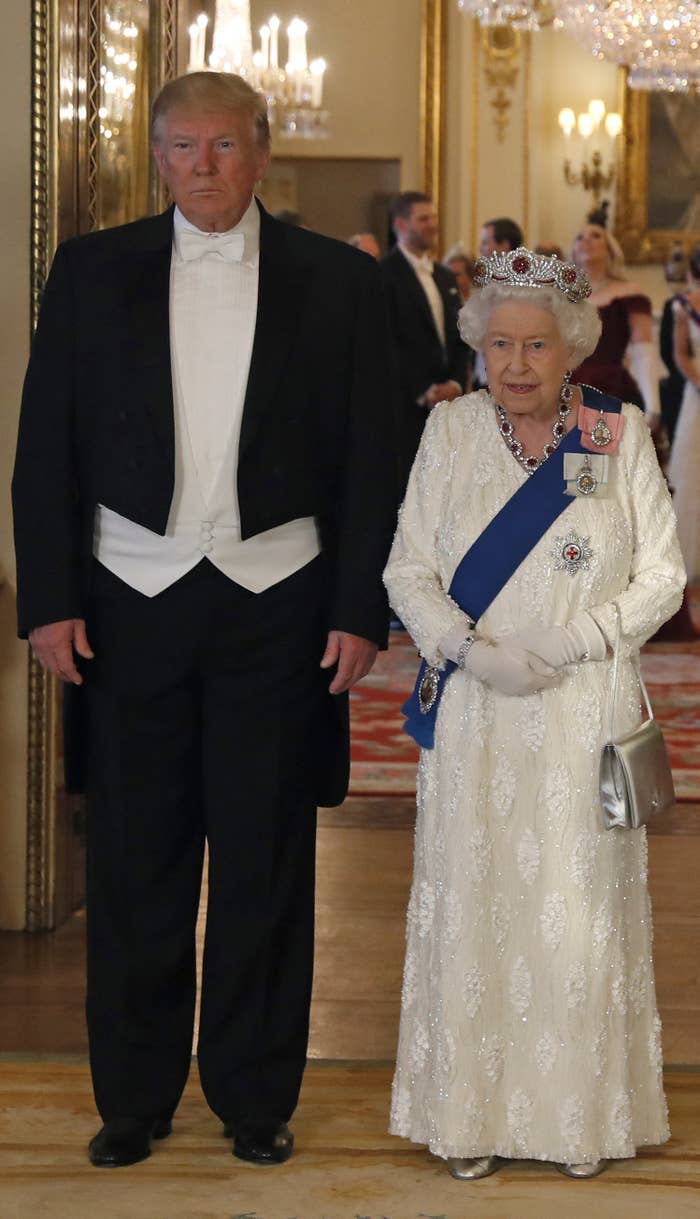 SNAPSHOTS
Congress has finally passed the $19.1 billion disaster relief bill. Three previous attempts were derailed by a single Republican each time. The bill addresses natural disasters over the past three years that killed thousands in Puerto Rico and hundreds more across the US, plus tens of billions of dollars in damages.
Here are the biggest announcements from Apple's WWDC event. The tech giant emphasized privacy features and a slew of updates to its operating systems — here are the exciting new features. Also goodbye, iTunes, and good riddance.
A transgender woman died after being held for weeks in ICE custody. Johana Medina Leon, 25, from El Salvador, was detained by US Immigration and Customs Enforcement for seven weeks. She died four days after she was released from custody and taken to a hospital after complaining of chest pains.
This elite science group finally has a way to expel members for sexual harassment. The National Academy of Sciences, the most prestigious scientific organization in the US, has amended its bylaws to allow members to be expelled for sexual harassment and other forms of misconduct.
A man has quickly become a meme after telling a woman "it's above me" when she called him a racial slur. Craig Brooks, an employee of a Holiday Inn Express hotel in Austin, Texas, went viral for denying a woman service after she called him the n-word. However, he rapidly milkshake-ducked, as internet sleuths discovered his old anti-trans tweets.
James Holzhauer's incredible run on Jeopardy! took a turn no one was prepared for. I won't spoil it for you, because I like you too much, but you can spoil it for yourself.
Her parents are undocumented. She can't wait to vote.
Lupita Sanchez was 7 when her dad was arrested in an ICE raid at his work. He was held at a detention facility for three days before being released.
That was 11 years ago. Sanchez, who was born in the US, is getting ready to vote in a presidential election for the first time. And she's not alone.
Immigration advocates say that undocumented people are not entirely powerless even though they can't vote — many are from "mixed status" families like Sanchez's, which include citizens and undocumented family members.
According to a study, there are roughly 8 million US citizens living with an undocumented family member. Read Nidhi Prakash's feature on courting the votes of this young, highly-engaged demographic.
This 84-year-old Japanese grandad let his grandson dress him and now he's modeling on Instagram
Naoya Kudo went home to Akita Prefecture in Japan for a holiday last week, and with too much time on his hands, decided to dress his grandpa Tetsuya in some high-fashion #looks.
Kudo then shared the pictures he took of Tetsuya, and look, the man is an instant icon. The images went viral fast, and an Instagram account Kudo started for his grandad already has 45,000 followers.
You're going to want to see the images for yourself. Here's a taste.