"Unimaginable devastation": Hurricane Michael makes landfall
By the time Hurricane Michael made landfall in Florida, the National Weather Service tweeted that it was "the worst case scenario" for those in its path.
Before arriving on land, the storm strengthened to near–Category 5 strength, making it the most intense hurricane to make landfall in the Florida Panhandle, and the third most intense storm to make landfall in US history.
With dangerous winds up to 155 mph, it cut a destructive path through the state. It has now barreled into Georgia, where it has weakened to a Category 1 storm with 85 mph winds.
The immediate aftermath
The first death linked to Hurricane Michael has been confirmed in Greensboro, Florida. Officials said a man in his forties was killed after a tree fell onto his house.
People tweeted photos and videos showing roofs peeling off houses, flooding, and crumbling structures. The carnage is everywhere.
We talked to one family who decided to ride out the storm about the terror they experienced. They said they will "never again" ride out a dangerous storm.
After the storm
The National Weather Service says some locations affected may be uninhabitable for weeks or months after the devastating storm. As the aftermath of Michael unfolds, we will have the latest news on our continuously updating page here. Check in often.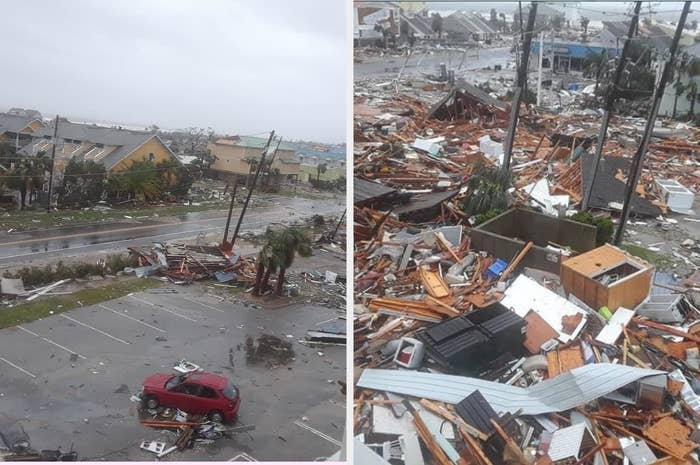 The stock market suffered huge losses yesterday as investors see pressures on growth
Yesterday, technology stocks took a heavy blow as part of a larger market sell-off, and dragged down the stock market with them. It wasn't a small hit, either — the Dow Jones plunged 830 points, its largest drop since February. Meanwhile, the S&P fell to its lowest point in three months.
Tech stocks were among the stocks that suffered the most damage. Amazon was up more than 50% since January, but fell 6%. Netflix closed down 8.4%. Apple, whose stock has increased nearly 40% since late April, fell 4.6% on concerns about trade tensions with China.
Those trade tensions aren't the only worry. After a long period of rising markets, investors are worried rising interest rates — which, in English, make borrowing more expensive — will slow down the economy and hit company profits.
SNAPSHOTS
A New York man allegedly planned to blow himself up at the National Mall on Election Day. A 200-pound bomb was found in the home of 56-year-old Paul Rosenfeld, a New York man who told authorities he planned to blow himself up on Election Day to draw attention to his political ideology. FBI officials got wind of the plan when, according to a federal complaint, someone in Pennsylvania began to receive letters and text messages from Rosenfeld about his plan to blow himself up at the National Mall.
The US is set to deport witnesses who dispute the Border Patrol's version of a fatal shooting. In May, a Border Patrol agent shot and killed undocumented migrant 20-year-old Claudia Patricia Gómez González. The agent's version of events is that he only fired after being attacked by the migrants he was pursuing. Three men who were on the scene gave statements that contradict that version, but those men have told US Immigrations and Customs Enforcement that they want to return to Guatemala, and are set to be deported.
Twelve more possible cases of a polio-like illness have been seen in children in Pennsylvania and Illinois. It's a rare and mysterious condition called acute flaccid myelitis that causes a polio-like paralysis. Earlier this week, authorities announced six children in Minnesota had recently been diagnosed with the condition. Now, three children in Pittsburgh and another nine in Illinois are suspected to have the illness, bringing the total to 18 possible cases in recent weeks. It usually occurs in children and can cause symptoms like muscle weakness in the arms or legs, a weak or stiff neck, drooping of the face and eyelids, slurred speech, and in the most severe cases, difficulty breathing.
A woman who brought an emotional support squirrel on a plane was removed by police in Florida. The woman had said that she was going to travel with an "emotional support animal," but never told the airline what species, according to Frontier Airlines. Rodents, including squirrels, are not allowed on the airline's flights, so she was asked to deplane. When she refused, Orlando police were brought in to handle the squirrel situation. In footage captured of the incident, the woman with the squirrel flipped off fellow passengers, some of whom clapped as she was wheeled from the plane.
Indian women have faced abuse and harassment for years. Now they are naming names.
Exactly a year ago, the stories of the allegations against Harvey Weinstein surfaced, launching with them the #MeToo movement. Many in India wondered if they would ever have their own #MeToo moment.
Last week, the wave conclusively arrived in India — and it spread quickly through the film industry, media, advertising, and comedy. Women are sharing their accounts on social media, ranging from rape to emotional abuse — and they're naming the men they say did it.
In less than a week, the clamor of women's voices online is already showing results. Senior editors at two major newspapers have been asked to step down from managerial positions following complaints by multiple women of years of sexual harassment.
Read Nishita Jha's excellent report on #MeToo's arrival in India.
Fox News wrote a dumb story about Jamie Lee Curtis, and people had jokes
The news organization suggested that the actor's use of a gun in the upcoming Halloween movie was hypocritical given her personal views on gun control. Let us go no further here without acknowledging that this is profoundly silly.
Responding to Fox's tweet about the article, people roasted the piece for its unintelligent premise. And the jokes were so good.
My favorite: "In the movie Freaky Friday she does a body swap with her daughter despite being an opponent of witchcraft."