Stories of heartbreak, fear, and hope in Santa Fe
Two updates to tell you about this morning, while we all process the aftermath of the school shooting in Texas that left 10 dead.
A teacher who was killed in the shooting may be saving her husband's life
Before she left Friday morning, 63-year-old Cynthia Tisdale, a substitute teacher, left a note for her family. "I had to go meet teacher. I love you. I hope you feel better today. Love Mom. Left you breakfast," it read.
She was working two jobs to help with her family's bills as her husband, William Recie Tisdale, is homebound with an "incurable lung disease." He had been denied a transplant, and in March the family had started a GoFundMe page for a stem cell treatment.
After news of Cynthia's tragic death in the shooting spread, donations poured in to help the Tisdale family exceed their original $30,000 goal.
This mom wrote about her daughter surviving the shooting and it's heart-wrenching
When Deedra Van Ness answered her daughter Isabelle's call, she could barely hear her.
"Mom, they are shooting up the school. I'm hiding in a closet. I love you, Mom," she heard Isabelle whisper. She begged her daughter to stay on the phone, but the 15-year-old told her that "other kids with her want to call their parents and don't have phones."
Three of the eight students inside the closet with Isabelle were hit by the shooter's bullets, including two who were killed instantly.
Van Ness waited until her daughter went to sleep that night to cry. She later wrote a Facebook post that was immensely moving. More details here.
Quick brief:
The US Supreme Court just made it harder to sue over sexual harassment
The court ruled 5–4 — and along ideological lines — that employers are allowed to use arbitration clauses in contracts to ban workers from joining together to participate in class-action lawsuits.
The decision makes it harder for some employees to file sexual harassment complaints as a group — a blow to potential cases that may come about following the #MeToo movement.
Here's how this affects you: The court's decision immediately impacts an estimated 25 million contracts. One expert told us it will "help keep sexual harassment and discrimination practices hidden," by forcing workers to come forward with their claims individually in private mediation, rather than collectively and publicly.
Meet the women traveling home to Ireland to vote in the abortion referendum
Friday is a significant day for Ireland — the country will vote on a referendum to repeal the Eighth Amendment of its constitution, which bans abortion in almost all circumstances.
Irish citizens who have lived out of the country for less than 18 months are still eligible to vote. Thousands of people are expected to fly home from around the world to have their say.
We spoke to women traveling back to vote, from places like England, Rome, and Los Angeles. One striking quote from a 19-year-old actor: "I have to fly the 11 hours home because in this referendum every vote counts. I couldn't sit back in sunny California writing some nice tweets and hoping that everything works out."
The official Prince Harry and Meghan Markle wedding photos just dropped
The next season of The Crown looks lit. Enjoy all the photos — you worked hard, you earned this joy.
This one was my favorite, because look at the adorable children: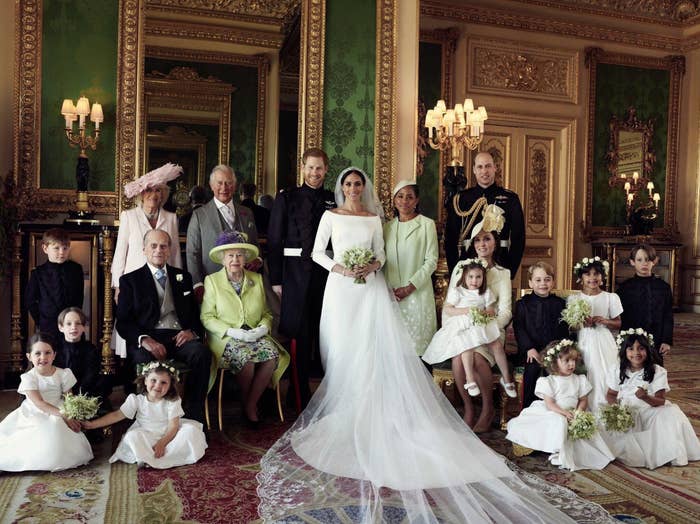 PSST: Debunking
I'm especially grateful to my colleague Jane Lytvynenko, who sits across from me, for staying on top of fake news and viral hoaxes; she's the best at debunking misinformation. Lucky for you, you can hear Jane picking apart hoaxes on our new podcast The News. Episode 2 is out now.

It's easy to find on Apple, Google Play, Spotify, or wherever you get your podcasts from.

The poor girl and the rich boy: How a murder has left a country grappling with abortion
The story of Emely Peguero is a heartbreaking one, and it has left the Dominican Republic in shock.
She was 16 years old, and five months pregnant, when she disappeared. She had been missing for less than 24 hours when her boyfriend, Marlon Martínez, decided to hold a press conference.
He wept and pleaded for her to return. All the while, he knew where she was: He killed her.
When he eventually told police where to find her body, the full horror of the crime came to light. Police and forensic reports detail that Peguero suffered internal bleeding, believed to have come from a botched abortion attempt when, according to the prosecution, Martínez forced her to drink an unknown liquid. She also suffered a blunt-force blow to the skull.
Peguero's story exists in the larger context of the Dominican Republic's draconian abortion laws: If Peguero were alive, and found to have had an abortion with Martínez's help, Martínez would have been the one to face a harsher sentence.
The killing has shaken the Dominican Republic and has also forced it to consider how its own laws for women played a role in Peguero's death. It's a gripping story — you should read it.
This guy refused to give up his Louis Vuitton bag to an armed robber
Jerad Kluting was walking home after running errands last week when he experienced something terrifying: An armed man confronted him.
Kluting said the man covered his mouth with a bandana and pulled a gun and pointed it directly at him. The robber then demanded Kluting hand over a $1,700 Louis Vuitton bag he was carrying that day.
That's when Kluting told the robber, "You're not getting my Louis Vuitton." He told a local news organization, "I worked very hard for this and this bag I've had forever and it means a lot to me."
Kluting turned and ran as the armed robber fired two shots at him, luckily missing his target.
Courage in all things big and small,
Elamin
Enter your email below to sign up for the BuzzFeed News newsletter: