Evacuations have been ordered in Hawaii after a volcano released lava into a residential area
After hundreds of earthquakes shook the Big Island, Hawaii's Kilauea volcano sent lava bursting through the ground near homes, prompting mandatory evacuations for thousands of residents.
The science of what happened is this: The floor of one of Kilauea's volcanic vents — a vent called Pu'u O'o — collapsed, causing magma to travel underground until it finally burst through a crack in the Leilani Estates neighbourhood.
Fountains of lava were seen leaping into the air near the residential area. The videos are intense.
Just before the lava outbreak, a magnitude 5.0 earthquake hit the island, causing Kilauea to spew a big plume of pink ash in the air.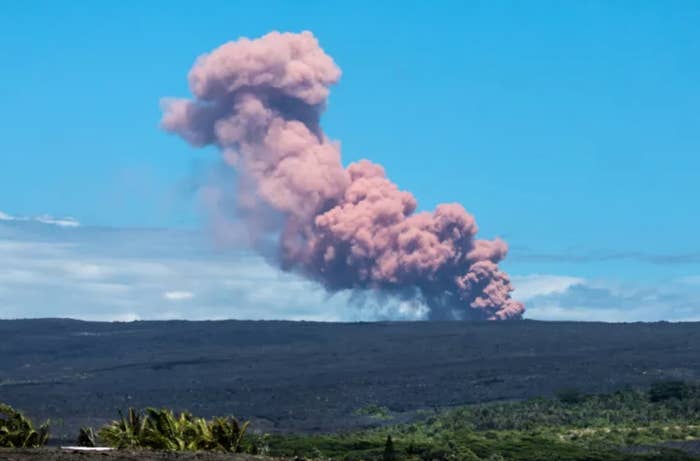 The Trump 2020 train is moving down the tracks
Two quick stories to tell you about.
The first story: Rudy Giuliani, Trump's new lawyer in the Russia investigation, is clearly taking a broad view of his responsibilities. He spent the last day on a nearly nonstop media tour, talking about subjects ranging from Stormy Daniels to North Korea.
As Chris Geidner's report puts it, by the time the 24 hours came to an end, it was clear that Giuliani "had taken on a much larger role — helping to manage Trump's image as well as his legal standing." Geidner writes that Giuliani "sounded both at ease — and ready to fight."
The second story: The Republican National Committee is about to dump its standing committee on primary debates. This, in effect, means that any Republican who tries to challenge President Trump in the 2020 primaries will face significant hurdles in getting him on a debate stage.
What it all means: With a new lawyer doing a whirlwind press tour to manage Trump's image and the RNC getting into 2020 mode of things, it feels like we've entered a new phase in the never-ending campaign.
Should you change your Twitter password right now?
Twitter told all of its 330 million users to change their passwords after a software bug caused all of them to be stored in an unencrypted way for an unspecified period of time.
Should I panic? No. This is not at all the same thing as, say, when an Equifax security breach left people's financial information exposed. For one thing, Twitter said that no one has inappropriately accessed the user passwords.
Should I change my password? Probably. Twitter is framing this as a precaution, not a thing you must do. It's probably a good thing to do anyway, especially if your password is "password123."
How did you know my password? Seriously, do not make your password "password123."
Quick brief
In the wake of #MeToo, the Pentagon is seeing an increase in sexual assault reports
The number of sexual assaults reported in the US military jumped by 10% last year, to 6,769.
It wasn't just one service branch: Reports rose in all branches, led by a 15% increase among Marines.
Defense officials say the rise is actually a sign that more service members trust the system to handle their cases without fear of retribution — not that sexual assaults themselves increased.
The military believes the actual number of sexual assaults is on the decline, and it bases this on an anonymous survey it conducts every two years.
Rihanna said she's not friends with Drake anymore, and the internet is not coping well
Look, I don't make the news, I just bring it to you.
Today it's distinctly not my pleasure to tell you that in a new interview with Vogue, Rihanna broke the news that she and Drake "don't have a friendship now, but we're not enemies either. It is what it is."
Rihanna also hated that VMA moment when Drake was introducing her and went on and on about his feelings: "Waiting through that speech was probably the most uncomfortable part."
Anyway, fans are having a real tough time dealing with the news that the two stars aren't talking.
Things fall apart. Happy weekend.
Enter your email below to sign up for the BuzzFeed News newsletter: