To get this newsletter in your inbox, sign up right here.
Democrats have officially gained 40 seats in the House of Representatives
Weeks after the polls closed, Democrats have now won a House race in California that was called, erroneously, for the Republican candidate on election night.
Rep. David Valadao conceded the election to T.J. Cox in California's 21st District.
It's likely the final win for Democrats and it gives the party a net gain of 40 seats. We explain why it took so long, and how recent changes to the state's election laws helped Democrats win.
Here's why this matters: Late gains like this transform what looked like a modest House victory on election night — some called it a "blue trickle" rather than the predicted "blue wave" — into a Democratic rout, the party's strongest performance in a midterm in decades.
The overdose crisis is so bad that some experts want to prescribe heroin to treat addiction
A new report suggests US cities study the possibility of using prescription heroin to help treat drug addiction, particularly with drug users for whom other recovery approaches have failed.
In making the suggestion, the report by the RAND Corporation cites countries such as Germany, Canada, and the UK that allow prescription of "medical grade" heroin to increase addiction recovery.
More than 70,000 people died last year in the US of drug overdoses, roughly half of those deaths involving heroin or fentanyl.
SNAPSHOTS
A 13-year-old autistic student died after being physically restrained by a staff member at school. According to police in Northern California, the boy had become violent and staff needed to intervene. He then became unresponsive and died in the hospital two days later.
Kevin Hart has stepped down as Oscars host after refusing to apologize for anti-gay tweets. After the old tweets resurfaced, the comedian said the Academy had given him an ultimatum. Hart said he wouldn't say sorry because he felt he'd already addressed the issue.
A Border Patrol media officer had to remind his agency not to describe immigrants as #CatchOfTheDay. In an October 2017 email, the then-director of Customs and Border Protection's media division told spokespeople to describe immigrants humanely. The email cited the agency's use of the hashtag as an example of what not to do.
This guy responded to cops who posted his mugshot on Facebook, and hilarity ensued. When Anthony Akers saw he was named by his local police department as its "Wanted Wednesday" criminal, he responded, "calm down, im going to turn myself in." Then the fun began.
Here's the first teaser for the final season of Game of Thrones. There's fire. There's ice. There's everything that's nice. Just kidding, it's mostly fire and ice.
This little boy got so nervous to meet the Queen that he just peaced TF out. Nine-year-old Nathan looked adorably handsome as he was about to meet Elizabeth II. Then as she got closer, his nerves won, and he was like nope and crawled away. I feel you, Nathan. Look: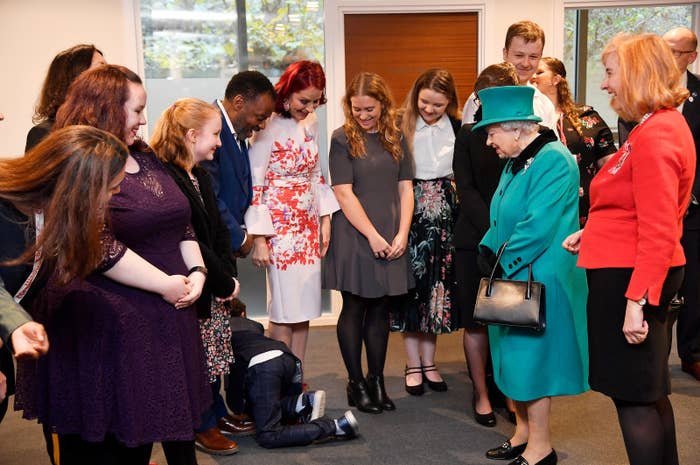 Ammon Bundy is quitting the militia movement after breaking with Trump on anti-immigration rhetoric
After leading two armed standoffs against the feds in Nevada and Oregon, Ammon Bundy and his family became the faces of a growing militia movement.
This brought national attention to armed groups eager for a conflict with what they believe to be overreaching federal authorities. These are groups, by the way, that hold a mix of right-wing, anti-government, and conspiratorial views.
This week, Bundy went online to defend the Central American migrant caravan from President Trump's anti-immigrant rhetoric. The backlash from his supporters was quick, with many accusing him of taking money from "left-wing globalists" to switch sides.
He has shut down his social media accounts and said he is stepping away from the public light. The whole story is fascinating.
Sit with these longreads and rejuvenate your brain this weekend
Tumblr Has Closed The Door To Users Who Don't Have Many Places Left To Go. On Dec. 17, Tumblr will ban adult content from its platform. Contributor Bryan Washington writes that this is a serious loss for those who don't see themselves represented elsewhere: "people whose identity, sexuality, or interests fall outside the mainstream have lost one more online space to find ourselves."
Like Everyone Else In The Aughts, I Loved Norah Jones. For a very specific period of time at the turn of the century, Norah Jones was simply everywhere. Tomi Obaro thoughtfully reflects on loving Jones' music, and the way it made you feel: "With the hubris of misunderstood preteens everywhere, I felt utterly unique in my love for Norah Jones."
You've Got Mail Made The Internet Seem Nice. Just to twist your understanding of the fabric of time, the Tom Hanks/Meg Ryan rom-com came out 20 years ago. Scaachi Koul dissects what this classic film offers our modern age: "You've Got Mail makes us feel nostalgic for a time that, arguably, never existed. Wasn't it cute when people on the internet would catfish each other and neither person was a face-eating murderer?"