Trump's CIA pick was involved in torture, but she says her "moral compass is strong"
Gina Haspel is Donald Trump's controversial nominee to be CIA director. Yesterday, during her confirmation hearing, she said that she would not restart the agency's post-9/11 torture program.
"I think that we should hold ourselves to a stricter moral standard," she repeated as Democrats grilled her on her views about torture.
Haspel — a career CIA officer who was involved in the agency's rendition, detention, and interrogation program after the Sept. 11 attacks — sidestepped questions about whether she now believes that the CIA's torture program was immoral.
After Democrats noted Trump's past support for torture, Haspel responded, "Senator, my moral compass is strong. I would not allow CIA to undertake activity that I thought was immoral, even if it was technically legal."
More context:
During Haspel's hearing, she refused to answer "yes" or "no" to some very straightforward questions. For example, "Is torture immoral?" and "Did you advocate to expand the CIA's torture program?" Here are the other unanswered yes or no questions.
Three US citizens released by North Korea have arrived back in the US
The plane carrying the three men touched down at Andrews Air Force Base in Maryland shortly after 2 a.m. this morning.
Kim Sang-duk (also known as Tony Kim), Kim Hak-song, and Kim Dong-chul were greeted by President Trump and his wife Melania. The Trumps boarded the landed plane for a short private meeting, before accompanying the former detainees back on to US soil.
Trump described their return as a "special night for these really great people."
He also thanked North Korea's supreme leader: "I want to thank Kim Jong Un. I think he wants to do something and bring that country into the real world."
The two leaders will meet soon for an unprecedented summit. Trump said yesterday that a time and a place had been agreed upon.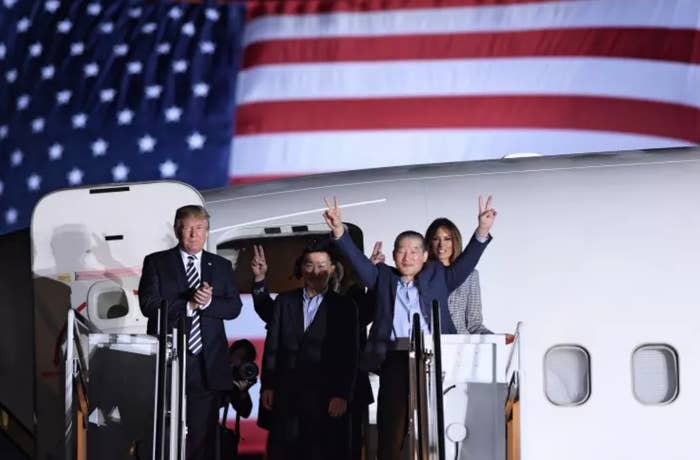 Two tales of influence from Washington, DC
The first: At least two of President Trump's closest allies have made use of a new way of influence peddling that's arguably swampier than lobbying.
Those allies are getting lucrative contracts to advise clients on the administration, using limited liability corporations (or LLCs), without ever registering as lobbyists.
The second: House Democrats and moderate Republicans are working over the objections of Speaker Paul Ryan to force a vote on proposals to save DACA, the law that allowed hundreds of thousands of children of undocumented immigrants to live and work in the country.
Basically, if a discharge petition can get 218 signatures, it will force a vote on a series of DACA bills. So far, 17 Republicans have signed it. If every Democrat signs the petition, they'll need just eight more Republicans to sign in order to bypass the speaker.
Kids and teens are risking getting in trouble in school to help Jake Paul sell merch
Hey, isn't that… Yes, Jake Paul is the younger brother of Logan Paul. Both are YouTube stars with substantial followings. Jake's fans are known as — I'm not kidding — "Jake Paulers," not to be confused with Logan's "Logang" (sigh).
I hate this. Fine, what happened? The teens in Jake Paul's fandom are helping him sell his merch in their classrooms, and they are getting in trouble because of it.
How did this get started? Jake issued a "chalkboard challenge," asking fans to write the address of the website selling his merch on their classroom's chalkboard or whiteboard. This includes products like a $49.95 hoodie that reads "J Pauler Movement."
And his fans agreed? The Jake Paulers responded with glee, picking up markers and chalk across the nation. Many teens are tweeting about the consequences they faced — some claim to have been sent to detention or suspended as a result.
I am scared. Same. If you're not familiar with Jake Paul, I highly recommend our tech reporter Katie Notopoulos's piece about why he's a terrifying genius. It's so good.
Quick brief:
We should be able to vote online
Imagine if you could roll out of bed, stumble like a zombie to your kitchen to put the coffee on, and somewhere between your bed and your coffee, be able to vote on your phone as easily as you would check your email.
How many more people would vote?
In a new opinion piece, Eric Swalwell and Bradley Tusk suggest that online voting would almost certainly increase voter turnout, but the more substantial benefit is that it would vastly improve democracy because it would "reduce the hyperpartisanship that comes with low-turnout elections."
The argument, in a nutshell, is that "a broader voter base would force politicians to stop pandering to ideological extremes and instead satisfy a wider cross section of a more diverse electorate."
Dr. Dre just lost a long trademark battle to an actual doctor named Dr. Drai
The legal fight had been ongoing for three years. The hip-hop mogul was trying to block a Pennsylvania-based OB-GYN named Dr. Draion M. Burch from trademarking the name he goes by, "Dr. Drai."
Dre claimed the similar-sounding names might cause "confusion" and a "suggestion of a connection" between his giant music empire and a gynecologist.
Burch stated there would be no confusion because Dr. Dre is not a real doctor.
The court ruled in favor of the actual doctor.
'Til the next episode,
Elamin
Enter your email below to sign up for the BuzzFeed News newsletter: