Israeli soldiers have shot dead dozens of Palestinians protesting as the US opens its embassy in Jerusalem
It's a stark juxtaposition.
Along the Gaza border: According to the Palestinian Health Ministry, 58 Palestinian protesters were killed and more than 1,200 injured by Israeli troops firing at demonstrators along the Gaza border.
The protests were long planned by Palestinians and are part of an action that has been underway for months. Yesterday was one of the deadliest days of violence at the border in years.
The Palestinian Authority accused Israel of committing a "terrible massacre." The Israel Defense Forces said on Twitter that some 35,000 Palestinians were taking part in protests and that it was "responding with riot dispersal means and fire."
The EU's high representative for foreign affairs, Federica Mogherini, called for all involved to "act with the utmost restraint to avoid further loss of life." In a statement she also referred to dozens of Palestinians, including children, being killed and hundreds more "injured from Israeli fire."
About 60 miles from the deadly violence: Not far from the chaos, a ceremony filled with pomp and circumstance. President Donald Trump's daughter Ivanka Trump and son-in-law Jared Kushner were on hand to mark the move of the US Embassy to Jerusalem.
The relocation was a campaign promise from Trump that was praised by Israel and widely condemned by Palestinians and many in the Arab world.
Despite the rising death toll, President Trump tweeted to say that the embassy opening would be a "great day for Israel!" He later tweeted this: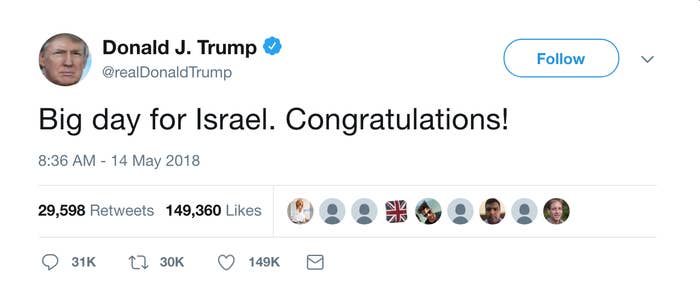 Facebook suspended about 200 apps that potentially misused your data
Facebook is on a mission. The social network announced yesterday it had suspended "around 200" third-party apps from its platform "pending a thorough investigation into whether they did in fact misuse any data."
In the wake of the Cambridge Analytica scandal — words I haven't typed for nearly a month! — Mark Zuckerberg promised that Facebook would take a close look at "all apps that had access to large amounts of information."
Ime Archibong, Facebook's vice president of product partnerships, said, "Where we find evidence that these or other apps did misuse data, we will ban them and notify people via this website."
Quick brief:
It doesn't look like Meghan Markle's father will attend the royal wedding
Thomas Markle, 73, reportedly told TMZ that he will not be present this Saturday.
He admitted he staged and sold photos of himself to a paparazzi agency and said he doesn't want to embarrass the royal family or his daughter by going to the wedding.
Last weekend, the Daily Mail reported that Markle had been paid "up to £100,000" for posing for photographs "preparing" for the royal wedding.
Markle said he was not paid anywhere close to that amount, and only agreed to take the pictures to recast his image — he said he had been harassed by photographers and previous photographs depict him as disheveled.
It's a good time to be a reporter covering Trump if you like money and going on TV
Covering the Trump presidency has been a whirlwind for journalists, and for reporters who are good at it, it has also meant fame and fortune.
This in part comes from a shift in strategy by CNN and NBC News. In an effort to move past the "talking head" model, the networks have been on a spree, signing print reporters who break the news to lucrative "contributor" contracts.
That way after, say, the New York Times or the Washington Post breaks a story — as they often do — the network has exclusive access to the reporter. You've heard the words on TV: "and the author joins us now."
Contributor contracts are no small potatoes, either — starting rates for political reporters fall between about $30,000 and $50,000 a year. Top reporters can earn between $50,000 and $90,000. The seasoned pros make as much as $250,000. This is all on top of the salary their main employer is paying them.
Steven Perlberg's look into all of this is fascinating.
Bartenders are sharing their best fake ID stories after a truly epic one spread on Twitter
I love this story so much. Kleo McHugh, a New York bartender, was doing her thing and ID'ing patrons when a group of girls came in.
The first ID she was handed she recognized as fake — she knew the girl in the photo, so she laughed and handed it back.
The next ID she was handed, she had to take a closer look — it was her own missing license, which she lost a couple of years ago! She started laughing and the girls were so confused.
McHugh shared the story on Twitter, and it has inspired bartenders to share their best fake ID stories. The whole thing is a joy.
Stay true,
Elamin
Enter your email below to sign up for the BuzzFeed News newsletter: