They played dominoes outside their apartment for decades. Then the white people moved in, and police started showing up.
We analyzed 17 million 311 calls, and there are way more #PermitPatties out there than you might think.
For one Harlem block, that means a dramatic increase in 311 quality-of-life complaints starting in 2015, the majority about noise. The uptick coincides with the neighborhood's gentrification, with more white people moving in and homes getting more expensive.
The numbers are dramatic: Between 2015 and 2017, 311 received 3,000 complaints from that block, a massive increase from the previous three years, which saw only 130 calls.
None of the police interactions from those calls have gone viral, like the #PermitPatty story, involving a woman in San Francisco who apparently called police because a nonwhite little girl was "illegally selling water." They haven't generated headlines, like this black woman who was detained because she didn't smile at her white neighbor, or the black firefighter who had the cops called on him while he was doing routine safety inspections.
Still, the numbers show a clear propensity of people to call authorities for innocuous behavior by minorities. And with those calls often come the police.
That increased police presence has changed the way of life for some longtime residents. One local, who's lived on the Harlem block for 30 years, told us: "We laugh loud; that's who we are. We have a lot of new people moving here who come with new rules."
Those new people are mostly white residents, increasing from 2% to 10% of the block's population between 2000 and 2016. In that time, median home prices rose from $239,540 to $461,200, adjusted for inflation.
Our analysis found that the median rate of complaints to 311 was higher in areas that had been gentrified than in all other areas.
SNAPSHOTS
Attorney General Jeff Sessions is withdrawing Obama-era "guidance documents" about affirmative action. This is the second wave of documents repealed by Sessions as part of a broader effort to undo what he has characterized as inappropriate rulemaking by the Justice Department. Other documents that Sessions has pulled include juvenile detention policies and guidance on the right of refugees and asylees to work.
Uganda now taxes social media use, and people are pissed. The country's new law came into effect this week. If you're curious how it works, people are required to pay 200 Ugandan shillings — around 5 cents — a day to have access to platforms like WhatsApp, Facebook, and Twitter, while a 1% tax on mobile money transactions, a popular payment method, was also introduced.
A health care worker has been arrested on suspicion of murdering eight babies at a hospital in the UK. The arrest of the woman — identified only as a health care professional — is part of a police investigation into the neonatal unit at the Countess of Chester Hospital in Chester, England, launched in May 2017. In total, the deaths of 17 babies are being looked into, as well as 15 "non-fatal collapses," between March 2015 and July 2016.
This guy's grandma had been wearing a Panama flag every 4th of July and didn't know until she watched the World Cup
Dale Cheesman shared this wonderful story about his grandmother Shirley, who has worn the same shirt every 4th of July for more than 25 years.
It wasn't until this year that, while watching the World Cup, Dale noticed a similarity between the Panama flag and what he's grown to call "Nana's July 4th shirt."
Everyone in the family burst out laughing after he told them, including Shirley.
Dale posted on Twitter about his grandmother having "accidentally committed over 25 years of treason." The internet can't get enough of this story.
Panama flag or not, here is Shirley rocking it: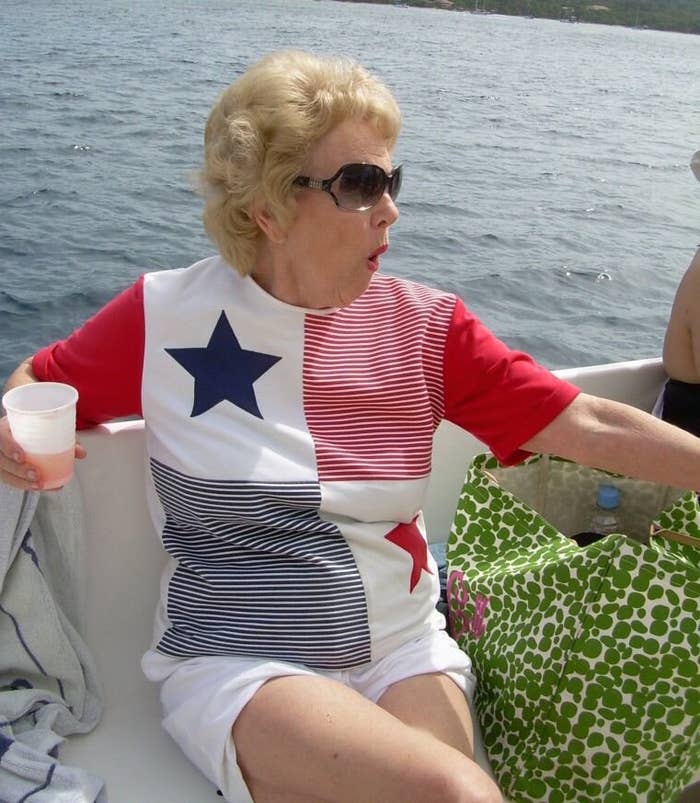 Enter your email below to sign up for the BuzzFeed News newsletter: