It's official: Brett Kavanaugh is now a judge on the US Supreme Court
It wasn't the way these things usually go, but it's done.
Brett Kavanaugh, who faced multiple sexual misconduct allegations, has been sworn into a lifetime appointment on the United States Supreme Court.
Kavanaugh was confirmed after a historically tight victory in the Senate — 50 votes for, 48 votes against. The only smaller margin was in 1881.
The larger context here: This is the seat. Kavanaugh replaces Justice Anthony Kennedy, who was seen as the moderate swing vote. His appointment could move the balance on the country's top court to the right for a generation.
Under a cloud of anger: Initially, Kavanaugh's nomination seemed all but assured. Then California professor Christine Blasey Ford came forward and said Kavanaugh held her down and groped her during a high school party. The accusations and how they were handled caused a surge in grassroots anger on the left and right.
They like beer: During his testimony about the sexual assault allegations, Kavanaugh mentioned beer roughly 30 times. So this weekend, people drank beer and documented it to celebrate his confirmation.
This moment is different: Hundreds of people swarmed Capitol Hill for unprecedented protests. Democrats and Republicans agree that while there have always been protests on the Hill, they weren't like this one. Republican Sen. John Kennedy put it like this: "I can't say that I've really seen the dark side until now."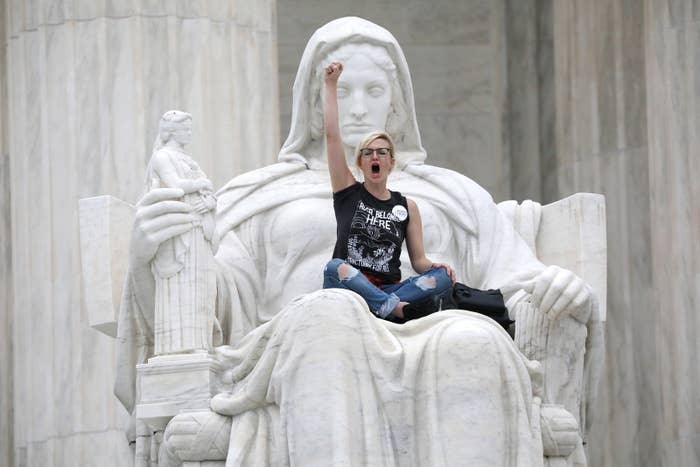 Exposing Harvey Weinstein was impossible. Here's how one year changed everything.
This weekend marked the first anniversary of the day the New York Times hit "publish" on its Harvey Weinstein investigation, launching with it a movement.
Now, a year later, we are taking stock of the progress the #MeToo movement has made. It may have started in Hollywood, but it has touched nearly every industry. It has also given us new language to discuss sexual harassment, assault, and sexism in general.
Our #WhatNow series, rolling out all this month, will look back at the evolution of the movement and assess its future.
We begin with Kate Aurthur's excellent essay on attempting to report on Weinstein: "I was one of many reporters over the years who tried and failed to investigate Harvey Weinstein; it seemed impossible, and unreportable. And then suddenly, it wasn't."
SNAPSHOTS
The Chicago police officer who killed Laquan McDonald was found guilty of murder. The jury deliberated for about six and a half hours before convicting Jason Van Dyke, the white officer who fatally shot 17-year-old McDonald 16 times in 2014, of second-degree murder. All across the city, from bars to bus stops to offices, Chicagoans stopped in their tracks to watch the verdict.
More than 5,000 people are missing after the earthquake and tsunami in Indonesia, as rescuers plan to end the search for survivors. At least 1,763 people died after a magnitude 7.5 earthquake and 10-foot tsunami hit the island of Sulawesi. Indonesian authorities say the search efforts will stop on Thursday, two weeks after the disaster.
Twenty people died in a limo crash while on their way to a birthday party. The limousine failed to stop at an intersection in Schoharie, New York, and veered into the parking lot of a store, hitting an unoccupied vehicle and two pedestrians. Both pedestrians and all 18 people in the limo, including the driver, are dead. It is the deadliest transportation accident in the US since a February 2009 plane crash near Buffalo, New York, that killed 50 people.
Taylor Swift will be supporting Democrats in the midterm elections. Look what you made her do. The singer has always been careful to keep her political leanings to herself, but not this year. She didn't mention President Trump, but Swift, who has a home in Nashville, said she's opposing his pick for Senate in Tennessee, Marsha Blackburn. Swift wrote on Instagram, "In the past I've been reluctant to publicly voice my political opinions, but due to several events in my life and in the world in the past two years, I feel very differently about that now."
Pete Davidson hated Kanye West's monologue on SNL and told him so. The 24-year-old comedian said that West's unplanned speech in support of Donald Trump at the end of last week's Saturday Night Live episode was "one of the worst, like, most awkward things I've ever heard, and I've seen Chevy Chase speak to an intern." Speaking about West's "off the meds" comments, Davidson said, "Being mentally ill is not an excuse to act like a jackass, okay?"
PROFILE
Joe Crowley was once seen as a safe bet, potentially the next Democratic leader in the House. Then he lost a shock primary battle to newcomer Alexandria Ocasio-Cortez. Crowley's loss interpreted as a sign of undercurrents of change for the next generation of Democratic voters.
He was on our show Profile, talking about his defeat and this shift: "It really was millennial votes — people that were not familiar with who I was," Crowley said. "This millennial movement … bodes well for our party, as well, in terms of the excitement."
Women are retreating from public life in Iraq after several high-profile murders
Multiple well-known women have been killed in Iraq since August.
On Sept. 27, Tara Fares, former Miss Baghdad and Iraq's sixth most-followed person on social media, was shot in Baghdad while inside her car, by unidentified bikers.
Two days before that, human rights activist Soad al-Ali was shot by unidentified men as she entered her car. In August, two beauty experts, Rafeef al-Yaseri and Rasha al-Hassan, died in unexplained circumstances in their homes.
Activists say these killings correspond to a pattern. "All women entering public life are targets," women's rights activist Hanaa Edwar told us. Read why activists say many Iraqi women are withdrawing from public life.
This Banksy painting self-destructed after it was bought for $1.3 million
Should I feel bad that this brought me joy?
In what appears to be an excellent troll of the art world, moments after Banky's iconic Girl With Red Balloon fetched a record price at an auction, the painting began to shred itself through a device in the bottom of its frame, apparently triggered remotely.
Needless to say, people are shook. You should really watch the video.