Morning Update: "Even If You've Ridden Out Storms Before, This One's Different"
Hurricane Florence is on the way, the kids who come after 9/11, Apple's new iPhone event. Your BuzzFeed News newsletter, September 12.
Widespread evacuations have been ordered as Hurricane Florence threatens the Carolina coast
Hurricane Florence is as serious as it gets.
The Federal Emergency Management Agency has issued dire warnings about the storm, which is expected to hit in the coming days. FEMA Administrator Brock Long was quite direct about it: "The power is going to be off for weeks and you will be displaced from your home and the coastal areas."
More than a million people began evacuating portions of North Carolina, South Carolina, and Virginia ahead of the powerful storm. North Carolina Gov. Roy Cooper made a plea to those under evacuation orders: "Even if you've ridden out storms before, this one's different."
An important piece of context here: Hurricane Florence looks a lot like three past deadly hurricanes: Matthew, Fran, and Hugo. One coastal geologist compared possible flooding from Florence to the "flood of the century" left behind by another deadly storm.
Yesterday, we published maps of where Florence may hit hardest.
After a FEMA briefing in the Oval Office, President Donald Trump said the hurricane is "tremendously big, tremendously wet. Tremendous amounts of water."
The kids who come after 9/11
Seventeen years ago yesterday was the most major "Where were you when…" moment of my generation. Those of us who have a distinct memory of 9/11 remember what politics was like before and after.
Here's the thing: Next fall, people born after that September day will be able to vote. Katherine Miller wrote a thoughtful piece on this massive generational divide and its political consequences.
Here's Miller: "For the last 17 years, a foundational understanding of the political moment is that it started on 9/11. What happens when an important segment of the adult population didn't experience the sheer abruptness of that day?"
Meanwhile, President Trump fist-pumped as he arrived in Pennsylvania for a 9/11 memorial service. It looked like this: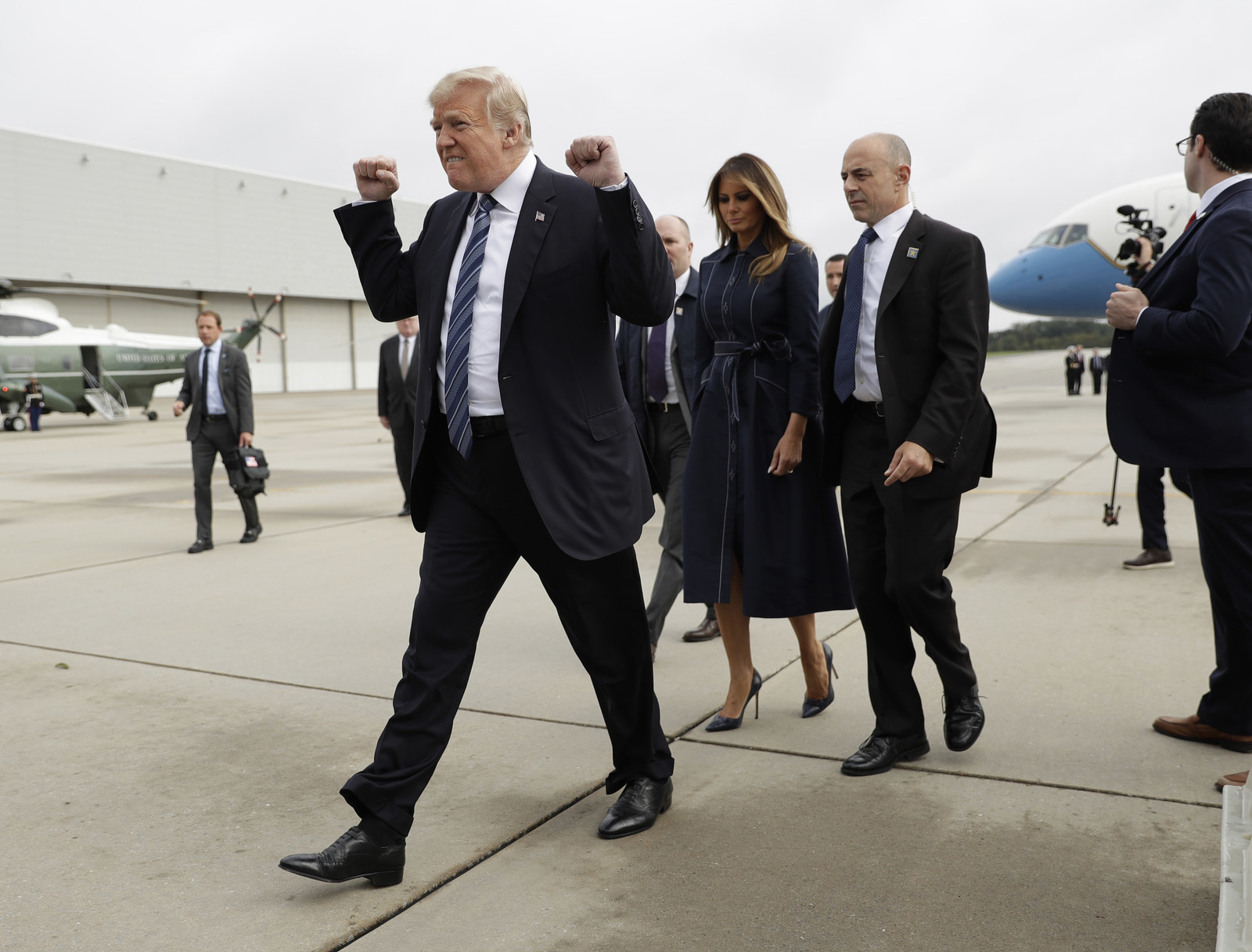 SNAPSHOTS
Time in prison is what European terrorists have in common, according to a new study. An academic research group says that more than half the Europeans who joined ISIS in Syria and Iraq had criminal backgrounds unrelated to terrorist activities. The research backs up what has long been suspected — that prison is a convenient recruiting zone for radical groups seeking new adherents.
A man allegedly yelling "fuck Trump" tried to stab a Republican congressional candidate. Farzad Fazeli, who has previously criticized the president online, was arrested for trying to attack California candidate Rudy Peters. Peters told us the attack happened Sunday afternoon while he was manning his campaign booth at a street festival.
The Australian cartoonist behind the Serena Williams cartoon deactivated his social media accounts. People called Mark Knight's cartoon racist, and Knight was widely criticized on the internet for his illustration. Despite the backlash, the cartoonist initially defended the image. He told a radio station: "You can't punch down these days. What that means is you can't criticize minority groups for poor behavior … There's nothing inaccurate in the cartoon, but I'm sorry it has been taken by social media and distorted so much."
Viola Davis said she regrets her role in The Help. "I just felt that at the end of the day that it wasn't the voices of the maids that were heard," the actor said in an interview with the New York Times. "I know Aibileen. I know Minny. They're my grandma. They're my mom. And I know that if you do a movie where the whole premise is, 'I want to know what it feels like to work for white people and to bring up children in 1963, I want to hear how you really feel about it,' I never heard that in the course of the movie."
You'll be be able to get a fresh, 7-foot Christmas tree on Amazon Prime. Amazon is reportedly planning on selling live Christmas trees — and wreaths and garlands — starting in November. The varieties include Douglas firs, Fraser firs, and Norfolk Island pines, and they will be bound and shipped within 10 days of being cut. Amazon said some trees will even be eligible for free Prime shipping. Is it even Christmas if you don't get into a fight about which tree is the right one?
Here's what you need to know about Apple's iPhone event today
"Gather round," says the invitation, in a metallic gold color. As with all things Apple mythology–related, many think it's a hint of the upcoming iPhone's new shade.
Beyond color, though, expectations are high for today's event, where Apple is expected to announce new iPhone, Watch, and iPad models.
On top of that, the company is expected to announce the public release of macOS Mojave for Mac, watchOS 5 for Apple Watch, and iOS 12, the latest operating system for the iPhone and iPad.
As always, we've got you covered — follow us for live updates from the event, which begins at 10 a.m. PT.
People are loving this dad who gave himself a tattoo and livestreamed it on Facebook
Twenty-one-year-old Dihnai is a big fan of his dad, Outhay.
The young man saw that his father was livestreaming on Facebook and decided to tune in. That's where he saw Outhay casually giving himself a tattoo.
Amused, he took a screenshot and posted on Twitter, commenting, "My dad really the coolest mf ever lmao I went on Facebook and he had a live story of him tattooing himself."
The tweet blew up, in part because the cool dad's cool photo looked like this:
The thirst for Ink Dad is real — Dihnai said "everyone's asking to be my stepmum or my stepdad." Whatever happened to being wholesome on the internet?