Morning Update: Don't Swim With Sharks, Even If It's For The 'Gram
An incredible rescue in Thailand, the government's looming deadline to reunify families, Facebook is fined in the UK. Your BuzzFeed News newsletter, July 11.
The government's struggle to reunite children with their families is about to get more complicated
On June 26, Judge Dana Sabraw issued an order that halted most family separations at the US–Mexico border. He also set a timetable for the government to reunite already separated families: The Trump administration had 14 days for children under 5, and 30 days for children aged 5 and over.
The government struggled to meet the deadline for reunifying fewer than 100 children under 5. Now, it is against the clock as the deadline approaches to reunify all children 5 and over, a much larger undertaking that needs to be complete in two weeks.
Officials are expected to run into at least some of the same problems that plagued efforts with the under-5 group, only on a far greater scale — including not knowing how to find a deported parent, delays in confirming a parent–child relationship, and checking a parent's criminal history.
Sabraw said he expected the government's trouble finding deported parents to be a big issue going forward, considering the nearly 3,000 kids still in custody and the fact that it proved to be a problem for the under-5 kids.
How an incredible rescue mission saved the Thai soccer team trapped in a flooded cave
Finding the boys and their coach was hard enough. Then officials said conditions meant the rescue could take several months to execute.
Now, after 18 days underground, all 12 boys and their coach have been successfully extracted from a flooded cave complex in Thailand. Details are emerging of an absolutely extraordinary rescue mission, where divers ventured into narrow passages to retrieve two boys at a time, giving them full-face masks for oxygen and tying them with a rope.
The dangerous journey
Each boy was accompanied by two divers, one holding the child and a second air tank, while another followed behind. The boys were given anti-anxiety medication to prevent them from panicking as they squeezed through crevices.
The hazardous round-trip lasted at least six hours. Not only did divers have to navigate passages no more than 3.6 feet wide, but they also had to swim against a strong current.
Some parts were so narrow, divers had to remove their oxygen canisters from their backs and swim with them held out in front.
The aftermath
In total a team of 90 divers took part in the operation, including 40 from Thailand.
After the 12th boy was freed on Tuesday, volunteers spontaneously broke into song. There were about 1,000 people involved in the operation overall.
The boys will spend at least a week in the hospital until the risk of infection has lifted. So far those treated have been described as in a good condition.
By this way, this adorable cartoon shows how the world worked together to free the trapped group.
SNAPSHOTS
India might finally remove a 157-year-old law that criminalizes gay sex. A bench of five judges from the country's highest court began hearing arguments against a law known as Section 377. The law was introduced under British rule in 1861 and states that all sexual activity apart from heterosexual intercourse is "against the order of nature." If India's Supreme Court strikes down the law, it will transform gay rights in a country of more than 1 billion people.
Pfizer said it's postponing drug price increases after meeting with Trump. The pharmaceutical giant said that it is deferring recently announced price increases until the end of the year after an "extensive discussion" between the company's CEO, President Trump, and Health and Human Services Secretary Alex Azar. Pfizer says that it'll delay the increases "to give the president an opportunity to work on his blueprint to strengthen the health care system and provide more access for patients."
Johnny Depp is being sued for allegedly punching a man on a film set. Gregg Brooks, the location manager on City of Lies, which is due for release this September, said Depp assaulted him as he tried to tell the actor that they needed to stop filming because they were not permitted to continue working past 11 p.m. "Who the fuck are you?" the actor allegedly said to Brooks. "You have no right to tell me what to do!" Brooks said that as Depp screamed at him, the actor punched him on the lower left side of his ribcage.
An Instagram model was attacked by a shark while trying to get a pretty beach picture. Katarina Zarutskie, a 19-year-old college student and model, was in the Bahamas on vacation, and noticed a pool of nurse sharks. Swimming with nurse sharks is a common activity in the Bahamas, so she decided to give it a go. That's when one of them attacked. Instead of freaking out, Zarutskie said she remained calm and pulled her arm out of the water to stop the blood from dripping in and attracting more sharks. Yes, there are many pictures. Here's what it looks like when a nurse shark comes for you: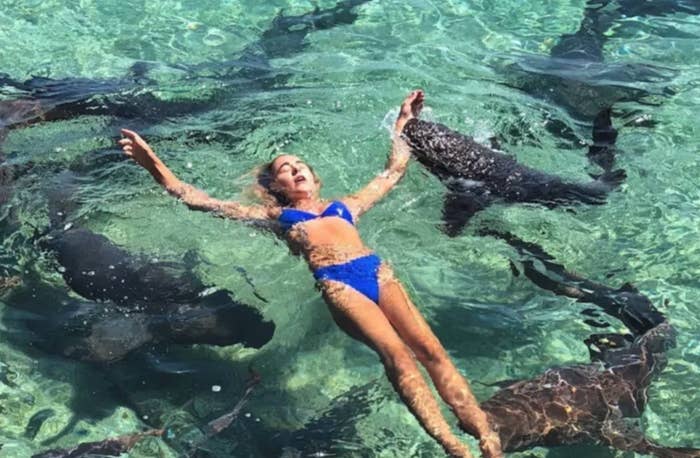 Facebook just got hit with the biggest possible fine in the UK for improperly protecting people's data
The United Kingdom's independent data authority is fining Facebook for violating data protection laws.
It follows the company's admission that its loose data-sharing policies with developers led to an app, backed by London-based SCL Elections, obtaining the data of up to 87 million Facebook users without their explicit permission.
Some of that data was later passed on from SCL to its subsidiary Cambridge Analytica, which then used it to develop political advertising in US elections.
In addition to fining Facebook £500,000 (about $660,000) for two breaches of the Data Protection Act 1998, the UK's Information Commissioner's Office announced a criminal prosecution against the parent company of Cambridge Analytica following a four-month investigation into the firm.
People love these LGBT activists who secretly took rainbow photos in Russia
Right now, displaying the pride flag in Russia can lead to fines or even arrest.
So a Spanish digital ad agency teamed up with Spanish LGBT activists for a project called "Hidden Flag." The idea was to send people from different countries, all dressed in different-colored soccer jerseys, to the host nation of the World Cup.
Those shirts, when the models stood in the right order, ended up forming the pride flag. The idea allowed volunteers to get in and out the country before the photos were released.
All the pictures are so, so good. I love this one: