Republicans are fighting to keep Brett Kavanaugh's documents from holding up his Supreme Court confirmation
The US midterm elections are two months away(!!), but the battle might as well begin now. That's because the confirmation hearings for Brett Kavanaugh, President Donald Trump's Supreme Court nominee, start today.
For both major parties, Kavanaugh's confirmation is likely to become a central focus — the Republicans trying to make it happen, the Democrats aiming to block it.
What you need to know: As the hearings begin, the Trump administration has directed that documents related to Kavanaugh's activities in the George W. Bush White House be withheld from the Senate. The documents involve some of the key work the judge did in the early 2000s, when he worked in the counsel's office.
In total, 27,110 of Kavanaugh's documents from that time — 101,921 pages — are not being turned over to senators considering his Supreme Court nomination.
Chris Geidner breaks down the convoluted process through which the documents are being kept back. The quick version of it is: the Republicans are doing whatever it takes to make the nomination happen fast.
Colin Kaepernick is the face of Nike's 30th-anniversary "Just Do It" campaign
The reason you know Colin Kaepernick: He played six seasons in the NFL before he began to silently protest police brutality and racial inequality in the US by taking a knee during the national anthem.
Kaepernick's protest inspired other athletes to follow suit and sparked outrage from NFL owners, sports fans, and President Trump.
Nike, celebrating the 30th year of its famous "Just Do It" campaign, unveiled that Kaepernick will be the face of it. The ad reads, "Believe in something. Even if it means sacrificing everything."
Nike reportedly signed Kaepernick to its endorsement roster in 2011 and has kept him on, despite him not actively playing for a team. Kaepernick has filed a grievance against NFL owners, alleging they've colluded to prevent him from playing.
In a move devoid of the faintest flicker of logic, some people are destroying their Nike shoes and socks and shirts to protest the company's move.
SNAPSHOTS
Two journalists have been sentenced to prison for reporting on human rights abuses in Myanmar. Reuters journalists Wa Lone and Kyaw Soe Oo were arrested in December after they investigated the killings of Rohingya Muslims at the hands of soldiers and Buddhist villagers. Prosecutors claimed that the two reporters got hold of confidential state documents, breaking the country's colonial-era Official Secrets Act. In handcuffs, Wa Lone told Reuters, "We know what we did. We know we did nothing wrong. I have no fear. I believe in justice, democracy, and freedom."
Mollie Tibbetts's father told Donald Trump Jr. to stop exploiting her death to push "racist" views that she "vehemently opposed." Rob Tibbetts wrote a scorching op-ed in the Des Moines Register Saturday, blasting those who used the case as a talking point in the immigration debate. Tibbetts took aim at people who have "chosen to callously distort and corrupt Mollie's tragic death to advance a cause she vehemently opposed." He wrote, "The person who is accused of taking Mollie's life is no more a reflection of the Hispanic community as white supremacists are of all white people."
Brazil's 200-year-old National Museum was completely destroyed by a massive fire. Flames engulfed the Rio de Janeiro museum, destroying millions of objects that it housed, including some of the first fossils found in the country. Known as the Museu Nacional, it was one of the largest museums of natural history in the Americas. It held artifacts from all over the world and covered topics like anthropology, archaeology, and paleontology. A spokesperson for the fire department said that, with the help of museum staff, some of the items had been saved. It wasn't clear how the fire started. There were no reports of injuries or deaths.
The New Yorker invited and then disinvited Steve Bannon to its festival, and everyone has feelings. The magazine announced that the former Trump strategist would be headlining the annual festival. Then the internet erupted in backlash. Artists and thinkers and comedians and performers voiced their opposition by canceling their appearances at the festival. After an overwhelming wave of anger, the magazine changed its mind and decided to yank Bannon out of the lineup. The whole thing was extremely 2018.
The bishop who had his arm around Ariana Grande at Aretha Franklin's funeral has apologized. At the service, Grande performed "Natural Woman." After the performance, she was joined on stage by Bishop Charles H. Ellis III. While talking to Grande, he put his arm around her and his hand ended up near the side of her breast, and people noted that Grande looked uncomfortable. When asked about the incident, the bishop said, "It would never be my intention to touch any woman's breast... I don't know, I guess I put my arm around her. Maybe I crossed the border, maybe I was too friendly or familiar but, again, I apologize."
Teachers are moonlighting as Instagram influencers to make ends meet
A growing community of "teacher influencers" are amassing large followings on Instagram by posting about how they run their classrooms. On teacher Instagram, perfectly organized bookshelves and color-coded storage bins get you fans. I'm kind of obsessed.
In a fascinating new feature, Julia Reinstein delved into the world of teacher influencers. She found that many are using their substantial online followings to supplement their incomes.
One teacher in Texas told us her annual salary is $50,000, but she made over $200,000 in a year through Instagram.
Many of these educators started out as "teacher bloggers," but most became Insta-famous through Teachers Pay Teachers, an online platform that allows teachers to sell classroom resources they've created, such as worksheets and bulletin board decor.
Another teacher, who said she makes the equivalent of about a fourth of her teaching salary on social media, raises this excellent reminder: "Teachers have to spend so much money — I mean, thousands of dollars out of their pockets. If you saw a classroom before teachers spent any money on it, it's empty."
Lady Gaga is winning rave reviews for A Star Is Born, and her fans are hyped AF
There is very little that's more pure than Lady Gaga's fandom, and this weekend, those fans had reason to be extra happy.
That's because Gaga is getting rave reviews for her performance in the latest remake of A Star Is Born. The Bradley Cooper-directed film opened at the Venice Film Festival, and critics say Gaga is a revelation.
As you might expect, her fans went wild. Also, as a bonus, it briefly rained before the film's premiere, and the setting produced this work of art: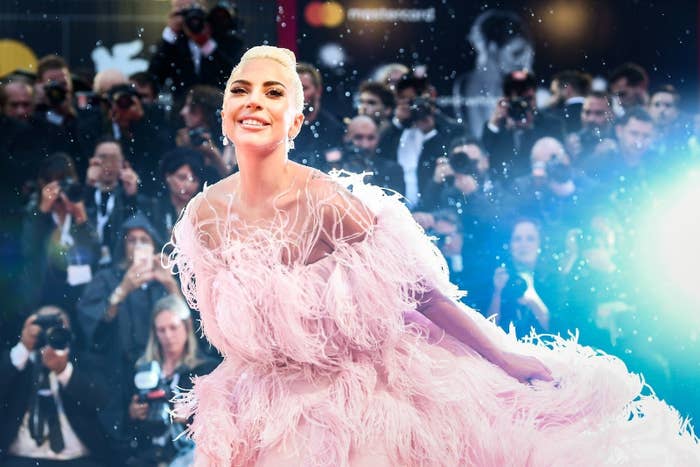 I want to be photographed like that every time it rains.