Morning Update: Big Pasta Is Funding Science To Get You To Eat Pasta
Comey memos released, Prince Harry's sweatshirt, new Kanye album, and Scandal's legacy. Your BuzzFeed News newsletter, April 20.
Comey's memos were released, and Washington had yet another big news day
Your week is ending and you're trying to unwind, but news is impolite, so of course a lot happened yesterday. Let's run through it.
James Comey's memos were released. Here's what he said about Trump:
This is by far the biggest story. Comey made these notes in his final months as FBI director. The Justice Department sent copies to Congress. The Associated Press got hold of them and made them public.
Comey wrote that President Trump expressed repeated concerns about allegations against him, anger over government leaks, and a desire to see an end to any investigation of his then-former national security adviser, Michael Flynn.
The memos detail specific interactions between Trump and Comey, like this description of a call: "He then said he was trying to run the country and the cloud of this Russia business was making that difficult."
According to the memos, Trump apparently told Comey that Flynn "has serious judgment issues."
Here's the rest of what Comey wrote.
A quick tour through the rest of Washington's madness:
Trump got three new lawyers and one of them is Rudy Giuliani.
The president's dwindling legal team got some reinforcements. The former mayor of New York and lawyers Martin Raskin and Jane Raskin will join Trump's legal team, alongside his remaining lead outside lawyer Jay Sekulow and White House lawyer Ty Cobb.
The Justice Department's inspector general sent a criminal referral to prosecutors about Andrew McCabe.
A criminal referral does not mean the former FBI deputy director will be charged, but that the inspector general's office had reason to believe a crime may have been committed.
The top Democrat in the Senate now supports decriminalizing cannabis.
Chuck Schumer crafted a broad outline for a bill that includes "removing marijuana from the list of scheduled substances" and boosting minority- and women-owned cannabis businesses. His office shared that outline with us.
Also, yes, today is 4/20.
Quick brief:
Two sheriff's deputies in Florida were killed in an apparent ambush after a shooter opened fire through the window of a restaurant, authorities said.
No one will face criminal charges in Prince's overdose death. The legendary artist was taking pills he thought were Vicodin but they were actually laced with fentanyl.
The Justice Department just lost a major sanctuary city case
This is a big blow for Attorney General Jeff Sessions and his plan to pressure sanctuary jurisdictions into helping with Trump's immigration agenda.
A federal appeals court ruled that local governments are not required to provide certain types of help to federal immigration authorities in order to get millions of dollars in federal grants.
The AG was trying to appeal a lower court ruling that the Justice Department couldn't deny $254 million to jurisdictions that refused to notify federal authorities when an undocumented immigrant was in their custody.
Pasta is good for you, say scientists funded by Big Pasta
Did you see the headlines from a little while back? "Eating Pasta Linked to Weight Loss in New Study," was the word. Newsweek ran it. So did the Independent and Business Insider.
One problem: What those and many other stories failed to mention was that three of the scientists involved in the study had financial conflicts, including ties to the world's largest pasta company, the Barilla Group.
As food trends like paleo and keto diets have dominated the past few years and carbohydrates ended up the enemy, Big Pasta has been funding and promoting research that noodles are good for you.
This story made me hungry, and it's so good.
PSST
We're talking about ideas both big (giving up having children in the name of sustainability) and small (peanut butter and pickle sandwiches?) in the Outside Your Bubble Facebook group. It's a place to share stories and experiences that gave your perspective a nudge, and we'd love to hear yours.
How Shonda Rhimes changed the TV landscape with Scandal
Yesterday, after seven seasons, Scandal ended. The show managed to keep audiences hyped, twist after twist, for its whole run.
However, as Sylvia Obell writes, "it's easy to forget that in 2012 Kerry Washington became the first black woman to lead a network drama in 40 years."
Here's what Shonda Rhimes told us: "I didn't know from the beginning that I wanted Olivia Pope to be a black woman, I knew from the beginning that Olivia Pope was a black woman."
In the six years since Scandal's debut, there have been more black women leads on network TV than ever before, and as Obell writes, "increasing blackness on television may be Olivia Pope and Associates' greatest 'fix' of all."
The whole piece is great, and you should read it.
People think Prince Harry posed in a Golden Girls sweatshirt, and it's a whole thing
You know the guy: tall, ginger, handsome, getting married this spring to Meghan Markle.
Well, we looked into Markle's deleted Instagram posts and found one from October 2016 that appears to be of the prince wearing a Golden Girls sweater. Please enjoy our investigative process of how we got there.
Thank you for being a friend. Have a good weekend.
Here is the photo: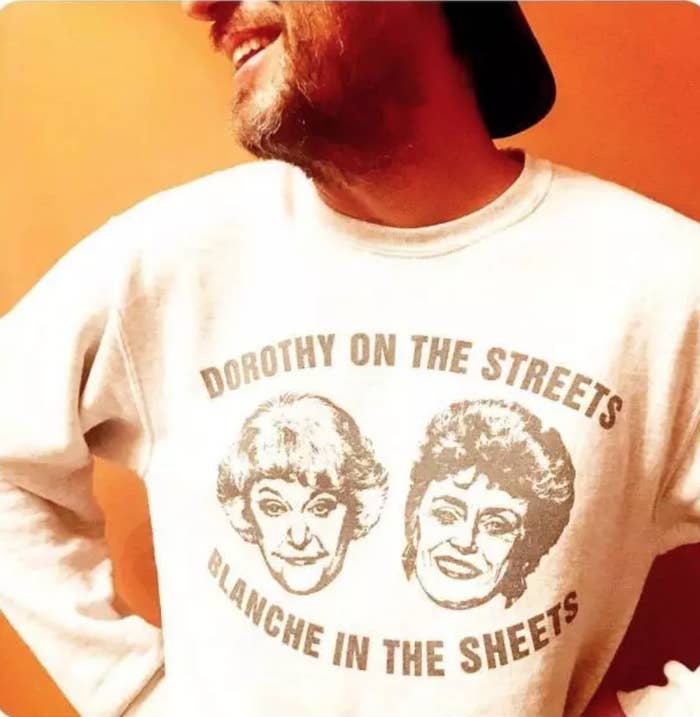 Enter your email below to sign up for the BuzzFeed News newsletter: