A new bombshell letter alleges "unethical and potentially illegal" acts by EPA head Scott Pruitt
One of the key ways that news has changed since January 2017: We're all accustomed to moving on to a new big story. Just two years ago, this would've been the story for weeks.
According to shocking letters from congressional Democrats, Scott Pruitt, the head of the Environmental Protection Agency, acted improperly.
Where did they get this info? Congressional Democrats interviewed Kevin Chmielewski, who was former deputy chief of staff for operations at the EPA. He came forward with the allegations of Pruitt's misconduct.
Just a few of the jaw-dropping allegations from the former staffer:
Fired FBI director James Comey has no chill in his new book
Advance copies Comey's highly anticipated book, A Higher Loyalty: Truth, Lies and Leadership, were released Thursday, and boy does he have a lot to say about his former boss, President Trump. We obtained a copy and wrote up some of the highlights. Three big ones:
Comey repeatedly likens Trump to a Mafia boss. Remember when Comey said that at a private White House dinner, the president told him, "I need loyalty, I expect loyalty"? Of the incident, Comey writes: "The demand was like Sammy the Bull's Cosa Nostra induction ceremony — with Trump, in the role of the family boss, asking me if I have what it takes to be a 'made man.'"
John Kelly told Comey he was "sick" about Trump firing the FBI director, and planned to quit in protest. Comey says that John Kelly, now Trump's chief of staff, "said he didn't want to work for dishonorable people who would treat someone like me in such a manner." He goes on to say, "I urged Kelly not to do that, arguing that the country needed principled people around the president. Especially this president."
Comey makes fun of Trump's hand size and complexion. Trump's face, Comey writes, appeared "slightly orange, with bright half-moons under his eyes" that he assumed were caused by small tanning goggles.
Quick brief:
The BBC got the guy who played Emperor Palpatine to re-create a controversial speech and honestly, it's a lot
An extremely British controversy here — let me run you through it.
Way back then: In April 1968, Conservative British politician Enoch Powell gave an intense anti-immigration speech that became known, notoriously, as the "rivers of blood" speech.
What do you mean "intense?": In a 45-minute speech, Powell called on immigrants to return to their home countries. He also predicted a coming race war. A taste: "in 15 years time the black man will have the whip hand over the white man."
That's intense. Told you.
What's happening with it now? Well, the BBC announced that it got Ian McDiarmid — the actor who played Emperor fucking Palpatine in Star Wars — to read the speech in full.
Wait, what, why? Great question. The BBC says it's for the 50th anniversary of the infamous speech. The re-creation will be broken up into sections, with several historians on hand to offer critique of the speech.
And how are people taking it? Well, there's a whole bunch of people wondering why the BBC would do this. One person called it an example of "the creeping normalisation of racism."
PSST:
Freeganism, fighting to be heard by doctors, and coffee mixed with oatmeal: These are some of the experiences people shared in the Outside Your Bubble Facebook group. We'd love for you to join us and share stories that have changed your perspective.

Quick brief:
How an obscure Islamic concept became an obsession for anti-Muslim activists
There's an idea in Islam called taqiyya, and it comes from a time when Muslims were minorities in hostile societies. It instructed Muslims that hiding one's faith could be permissible to escape death, torture, or persecution.
Somehow this idea has mushroomed into a false claim — especially popular among anti-Muslim activists — that Muslims are permitted, or even commanded, to lie to non-Muslims as part of a larger project to take over Western countries.
Ishmael Daro traced the false use of taqiyya by anti-Muslim conspiracy peddlers, and it's an excellent read. Turns out this comes up time and again, nearly every time there's a Muslim in the news.
Choice quote from an expert: "I mean, 99.99% of Muslims don't even understand what taqiyya is, but every alt-right Twitter troll is an expert on Islamic theology now, which is completely absurd." I lol'd.
A teacher said no phones during exams, so a kid brought in a record player
A physics teacher said students wouldn't be allowed to use phones to listen to music during an exam, because they could use them to cheat. The teacher, however, did joke they'd be able to listen to music if they brought "a Walkman or something."
My dude didn't see it coming — one student showed up the next day with a record player and a copy of Kanye's The College Dropout.
People absolutely love it. The kids are alright.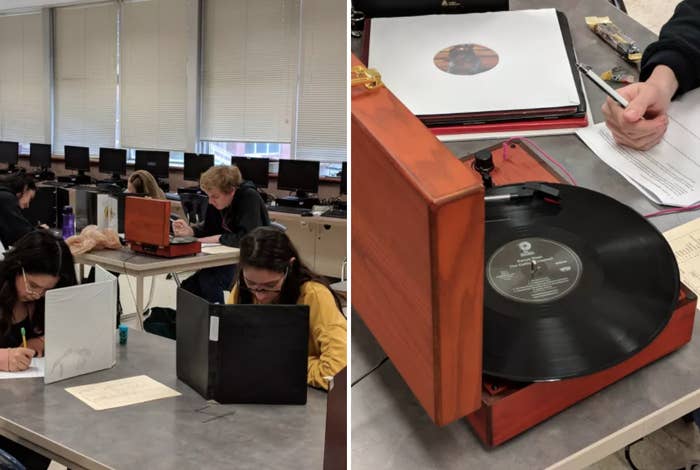 Enter your email below to sign up for the BuzzFeed News newsletter: