Morning Update: California's Wildfires Lead To 31 Deaths
The most destructive wildfire in California's history, Trump skips a WWI ceremony due to rain, Florida's recount is on. Your BuzzFeed News newsletter, Nov. 12.
At least 31 people are dead as entire California cities flee wildfires
Over the weekend, three major wildfires in California wreaked havoc.
So far, more than 190,000 acres have burned, and 272,000 people have been evacuated. Around 8,200 firefighters are battling the flames, according to state officials.
In Northern California: A blaze dubbed the Camp fire has destroyed 6,700 structures, making it the single most destructive fire in the state's history. At least 29 people died as the flames swept into the town of Paradise. This makes it the third-deadliest fire in the state's history.
In Southern California: Two wildfires, the Woolsey fire and the Hill fire, have caused more than 200,000 residents to flee their homes. This includes people living in Thousand Oaks, where they had to evacuate less than a day after a mass shooting.
The Woolsey fire is around 15% contained. Many celebrities have had to abandon their homes because of it, including the Kardashians, Jake Paul, and Lady Gaga.
In a tweet, President Trump blamed the catastrophe on "gross mismanagement of the forests." Gov. Jerry Brown, who's seeking a major disaster declaration from the president, pushed back against that remark.
Haunting images have emerged of animals trying to escape, while the photos of the total destruction are shocking.
Required reading: In July, science reporter Peter Aldhous explained why a booming population and climate change have made California's wildfires worse than ever.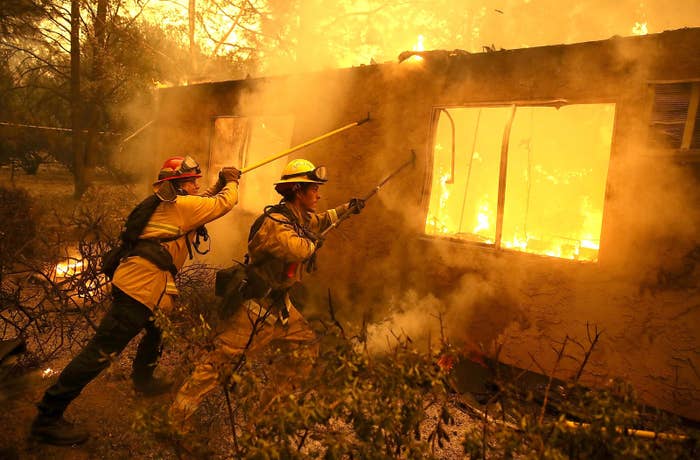 Florida ordered recounts of the close governor and US Senate races
State election officials announced a statewide machine recount in the two contests. The results are due by 3 p.m. ET on Nov. 15.
Florida's electoral battles have become lightning rods for conservatives. Shortly after the recount was ordered, President Donald Trump tweeted without evidence that Democrats were trying to "steal" the election from Republicans, who currently hold narrow leads.
Why a recount is needed: The Senate race shows Republican Gov. Rick Scott just 0.15% ahead of incumbent Sen. Bill Nelson. The governor's race results show Republican Ron DeSantis 0.41% ahead of Democrat Andrew Gillum.
Florida law requires a machine recount when a race's margin is under 0.5%. A recount by hand is necessary when the margin is less than 0.25%.
Scott wants an "emergency" court order to impound ballots. Gillum readied for the recount by turning to his faith.
Merkel and Macron embraced at a WWI memorial. Meanwhile, Trump couldn't visit a cemetery due to bad weather.
One hundred years after their countries fought each other, leaders from France and Germany embraced and laid a wreath at the site of the end of the First World War. A German leader had not visited the site since WWII.
President Trump and the first lady were set to visit a different site, the Aisne-Marne American Cemetery and Memorial, where many American soldiers who died in WWI are buried.
However, the visit was canceled due to bad weather, with the White House chief of staff and the chair of the joint chiefs of staff attending in their place.
Trump was supposed to travel by helicopter, which became impossible because helicopters can't fly in such inclement weather.
This explanation did not sit well with a few former Obama White House staffers. One tweeted, "I helped plan all of President Obama's trips for 8 years. There is always a rain option. Always."
SNAPSHOTS
Trump's new acting attorney general is already in trouble — and he just started. Matthew Whitaker's appointment is being questioned as possibly illegal. His qualifications aren't winning praise either.
"I hope people call me insane": The Thousand Oaks shooter posted to Instagram during the massacre. The man who opened fire inside a bar in Southern California wrote during the attack that he hoped people would call him "insane" and said that he "had no reason to do it." He killed 12 people.
Supreme Court Justice Ruth Bader Ginsburg is out of the hospital and "doing well." The judge fractured three ribs in a fall in her office on Wednesday. She is now working from home.
Trump is giving the Presidential Medal of Freedom to Miriam Adelson, a top GOP donor. He will give the honor to seven people, including Elvis Presley, Babe Ruth, and Adelson. Adelson, a doctor and founder of two research centers, is also the wife of billionaire casino magnate Sheldon Adelson, and together they are the largest donors to the Republican Party and Trump.
Kendall Jenner has been granted a permanent restraining order against her stalker. John Ford, 37, was ordered to stay away from the model after being caught on her property twice. After Ford's latest arrest, Jenner tweeted her frustration with TMZ, blaming the site for providing stalkers a road map to her home.
An infant's death has sparked a debate around the "free birth" movement
"Free birthing," also known as unassisted childbirth, is when a person intentionally gives birth without any medical assistance or intervention.
No scans, drugs, monitoring, or trained personnel are in sight. In some cases, women go to remote locations specifically to give birth.
The free birth movement is becoming increasingly popular in the US: The internet and social media have allowed a niche group to become a much larger online community.
But now, one online community of free birthers is facing backlash and some are moving off social media to private channels after the death of an infant last month. The woman whose baby died during the birth was sharing her experiences in a now-defunct Facebook group while she was in labor.
This story is a difficult read, but it's worthwhile. Read it here.
Congressman-elect Dan Crenshaw made fun of Pete Davidson on SNL after that bad joke
Last week, Davidson mocked Crenshaw, a newly elected Texas lawmaker and veteran who lost his right eye during an attack in Afghanistan.
After significant backlash, Davidson apologized for a joke in poor taste. This weekend, he brought Crenshaw to the Weekend Update desk.
Davidson apologized directly to Crenshaw and thanked him for coming. Crenshaw accepted the apology and said, "Thanks for making a Republican look good."
The congressman-elect then delivered this zinger: "This is Pete Davidson. He looks like if the meth from Breaking Bad was a person."